If there was a moment to officially declare bitcoin has gone mainstream, this is very much it.
Coinbase, the biggest bitcoin, eth and litecoin broker and exchange, is now the most downloaded app on Apple's app store.
It currently stands above Facebook, Youtube, Snapchat, and really any other app on your smartphone with everyone seemingly rushing to get their hands on some crypto.
"We are currently experiencing record high traffic. This is resulting in some customers having slow performance or issues logging into their accounts. We are actively working to resolve this as quickly as possible," Coinbase said yesterday while bitcoin's price flash spiked to almost $20,000.
They no longer provide detailed stats, but the exchange was adding 100,000 users a day, totaling 11.7 million, on October 30th.
By November 22nd, that had risen by another 1.3 million to 13 million users, who had created 44 million wallets, with Coinbase serving some 45,000 merchants.
The only stats we now have left are indirect indications, with Coinbase's rise to the top iPhone App suggesting explosive growth.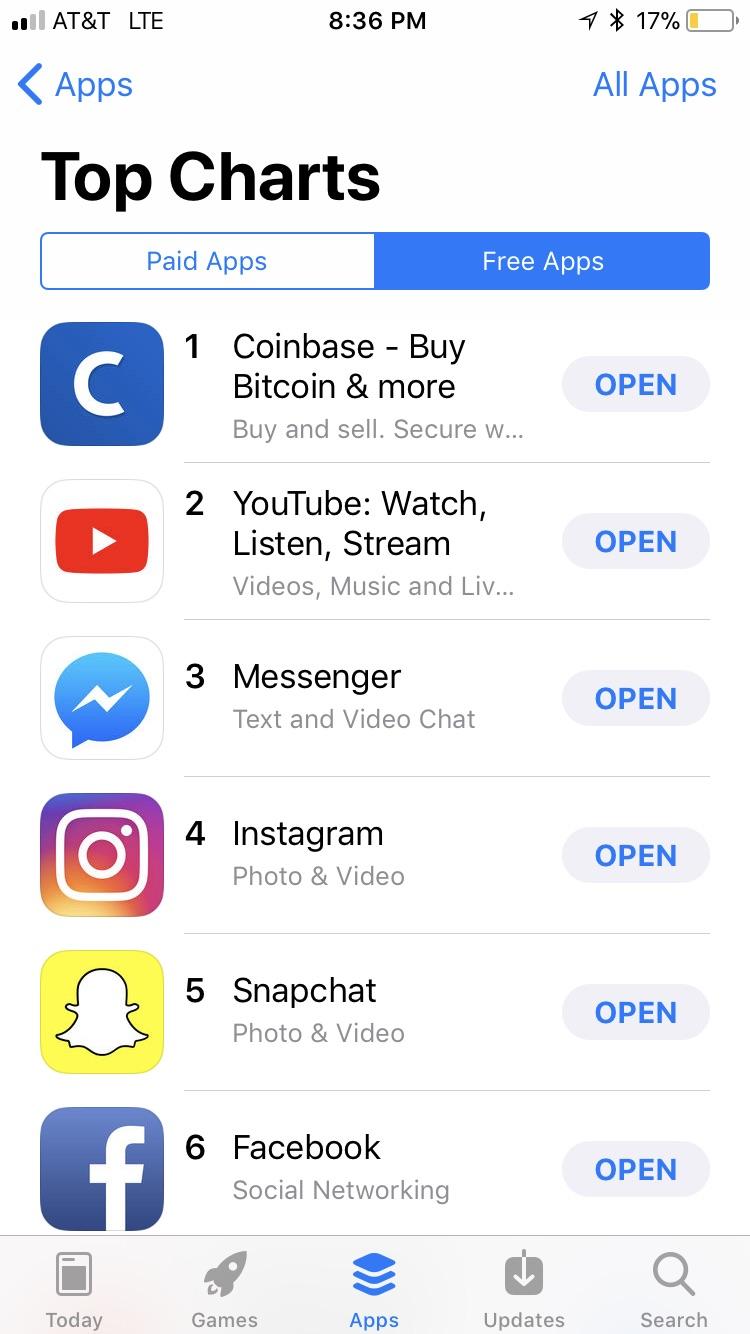 This growth has led to a parabolic rise in bitcoin's price, up $10,000 or more in just weeks, with trading volumes reaching highs of $23 billion just for btc.
Its market cap has further risen to near $280 billion, up $100 billion or more in a month as institutional investors seemingly move in.
Ordinary individuals are now flocking too, as suggested by the app downloads, with bitcoin google searches higher than Trump.
The ecosystem is now awaiting the launch of the first bitcoin regulated futures when Wall Street can start trading btc from their usual and familiar platforms.
Opinion seems divided on whether futures will lead to even more parabolic growth or to a crash, but with just two days to go now, we will find out very soon as an historic moment, when just some string of code is traded for thousands, nears.