While white snow covers London ahead of this miraculous Christmas, the crypto space has turned red today, with everything down.
Not one coin or token has been spared in the top 30, and even Tether, which is meant to equal one dollar, is down 1% today.
Bitcoin is down quite a bit more, falling by around $2,000 yesterday from $16,000 to a current price of $13,700 at the time of writing.
While ethereum and bitcoin cash are both down around 10%, with the story repeating across the board on volumes that remain at a global $24 billion.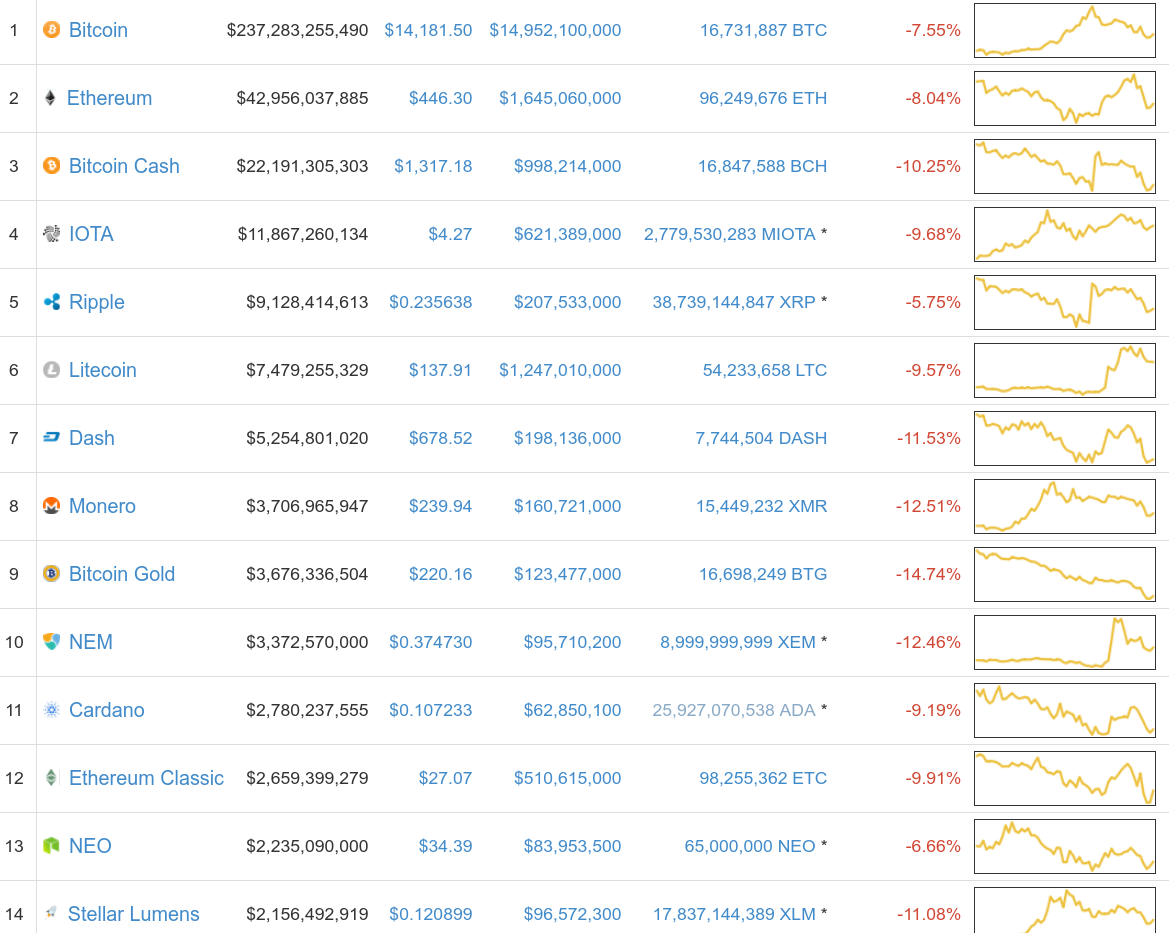 Bitcoin was leading the movement last night from observation. The asset seemingly turned downwards, with the rest following.
It remains a mystery why, say ethereum, should care if bitcoin goes down. Eth was actually breaking all-time high, but then bitcoin started falling, with eth quickly following down.
The reason for this somewhat puzzling relationship may be simply psychological. Ethtraders tend to watch bitcoin's movements, so if it goes down they might think other traders may think eth will go down, so they sell, leading to a self-fulfilling prophecy.
However, there have been times when bitcoin has been down while all else up and vice versa, so there isn't any significant correlation from observation.
For ethereum in particular, there have been times when it has been inversely correlated with btc, times when it seems to follow, and times when, like for much of summer, eth didn't seem to care at all about what bitcoin was doing.
Which suggests the fall across the board is more due to uncertainty regarding the historic launch of bitcoin futures now in just hours starting at 11PM London time today.
No one quite knows what will happen or whether anything will happen at all, so people have seemingly gone to fiat, sitting it out, at least for now.
Which might suggest some sideways action for the day, until we near afternoon for US, evening for Europe and morning time for Asia.
At which point, and probably ahead of it due to front-running, there may be volatility, but whether in a good way or a bad way remains to be seen now in just a few hours.