11PM London time on December 10th 2017 was, for some, bitcoin's moment of reckoning. The oldest digital asset was entering mainstream markets, but no one knew whether bankers would crash it to the floor, or whether bitcoin would spike to the moon and beyond.
Within seconds of the opening of historic bitcoin futures, the decision was clear. Wall street is bullish, very bullish, at least for now.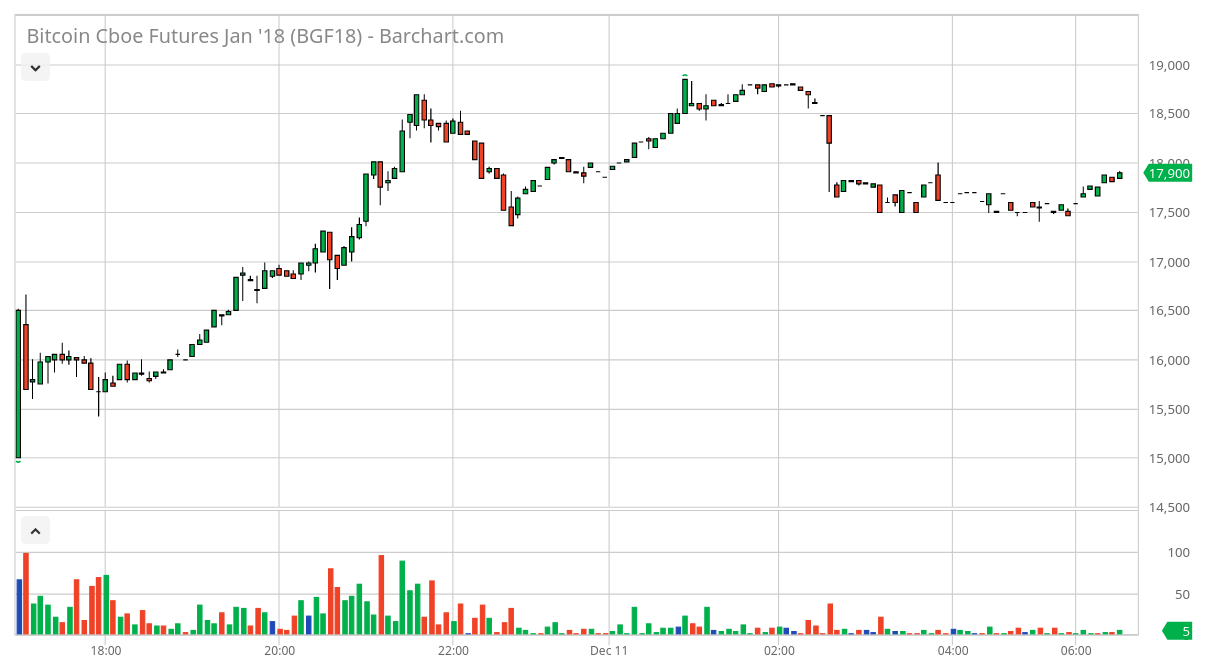 Bitcoin's January futures are trading at almost $18,000. Up around $4,000 since yesterday and some $2,000 higher than current spot price.
There are other contracts, with the shortest time frame usually the most popular. In CBOE's case, there are three futures. A one months future which closes in January, a two months in February, and a three months in March.
In practical trading terms, futures are really no different than buying or selling on an exchange. You place a bid or ask for whatever price and you buy and sell, with you then free to sell it again or buy, etc, just as you would on an exchange.
But while if you bought real bitcoin, you can hold it forever if you like, with futures, the contract closes, say in January. So if you bought now, you have to sell in January, and vice versa, or if it is the two months contract then in February.
The February and March one have been more bullish than the January contract, rising to above $19,000 earlier before falling somewhat, with March standing above $18,000. But volumes are minuscule compared to January.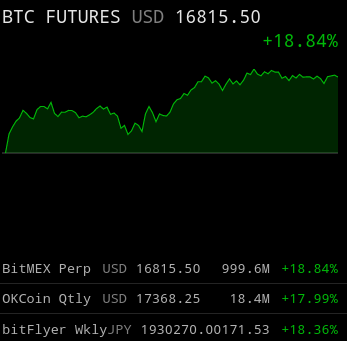 Bitcoin has its own futures, and while they are more bullish than spot price, they are somewhat less bullish than CBOE's.
Generally, when spot price is bullish, futures tend to be even more bullish, and in a bear market vice versa.
It can therefore often be difficult to read market sentiment from futures action because both spot and futures can suddenly turn.
However, CBOE's higher level of bullishness does seem to suggest that its market participants expect spot price to rise, but of course that doesn't necessarily have any predictive value regarding the actual price movement, which as stated earlier can very quickly change.
Nonetheless, uncertainty has now been reduced in this aspect, and the fact futures opened much higher than spot price yesterday turned the market towards a bullish direction.
Whether that will continue remains to be seen, but bitcoin has entered the mainstream financial market with a bang, opening a new era for the digital asset.