What a run! Ethereum has risen to a high of $715, up $300 in just one day, crossing $500, $600 and then $700 on December 12th 2017.
While its market cap has risen to an all-time high of $64.3 billion, almost as much as the market cap of the next top three cryptos combined, but still far below bitcoin's, which remains at near $300 billion.
With trading volumes up to a new all time high for eth of above $5 billion. Much of it comes from Coinbases's Gdax, at more than half a billion, quickly followed by South Korea's Bithumb at near the same levels.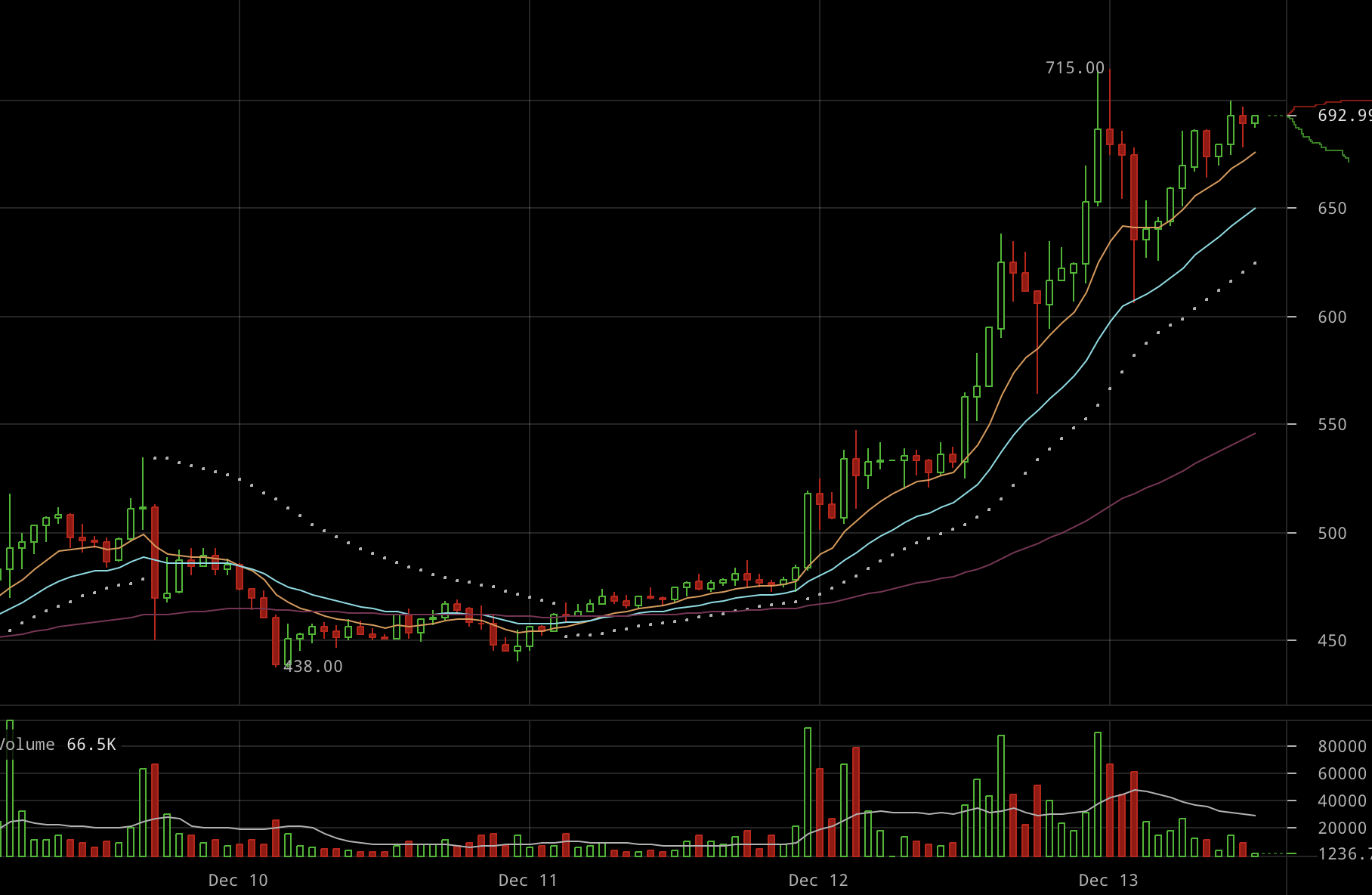 Coinbase is leading in price and has a premium of $10 even above South Korea, a very first, suggesting something has very much changed in the past few days.
That something may be those great people of the land of the free. They are flocking in unseen numbers with all indirect indications at all time highs, including Coinbase gaining top spot in the app store.
That has fueled the three currencies listed on the exchange-broker, bitcoin, ethereum, and litecoin, with the latter two going parabolic yesterday.
Something which coincides with the historic opening of bitcoin futures on December 10th. An event that may tame bitcoin, they said, and perhaps it has.
The asset has been sidewaying since a quick rise to around $17,000 on the day futures launched, with it retaining that level for much of yesterday, seemingly giving way to the crypto show.That's because the eth bull has apparently finally woken up.
Besides the above potential reasons, a third ignition may have been ethereum's quick resolution to the sudden kitties congestion.
While it appeared for a few days that high fees and transaction delays may become the new normal for eth, miners opted to save the day, raising the soft gas limit (blocksize), returning operations to normal, with fees back down to now just 7 cent.
And to wrap it all up, Jay Clayton, the Trump appointed chair of the Securities and Exchanges Commission (SEC), had this to say:
"I believe that initial coin offerings – whether they represent offerings of securities or not – can be effective ways for entrepreneurs and others to raise funding, including for innovative projects."
A new dawn in the free land? We hope, just as we delude ourselves into thinking our calling out of the SEC for going after a legitimate ICO had something to do with it.
But a new dawn has landed for this space. The beginning of the beginning was from 2009-2012 or 2013. The beginning of the middle of the beginning was from then until this December. While the beginning of the end of the beginning, and at the same time the beginning of the middle, has now begun.
That is to say, an era has ended and a new one has started, with this space now grown up. This is what Sheila Warren, Head of the Blockchain project at the World Economic Forum's Center for the Fourth Industrial Revolution, says:
"We are closer to a world in which digital currency is considered a normal part of a healthy investment portfolio. It's just a matter of time until we see a digital fiat currency, which will mean we are playing a new ballgame. Digital currency in some form or another is clearly here to stay."
With that recognition now at the highest levels that something new was invented and has something to offer, a new dawn arises, and does so, quite fittingly, during Christmas time.