The warrant canary of a respected coder and a Bitfinex employee, Chris Ellis, has suddenly disappeared today, raising questions regarding Bitfinex – the biggest crypto exchange – Tether, and potentially even law enforcement.
A pseudo-anonymous individual going by the nickname of Bitfinexed noticed that a symbol used to indicate that someone has been silenced by simply no longer showing the symbol (warrant canary) was today no longer showing for Ellis.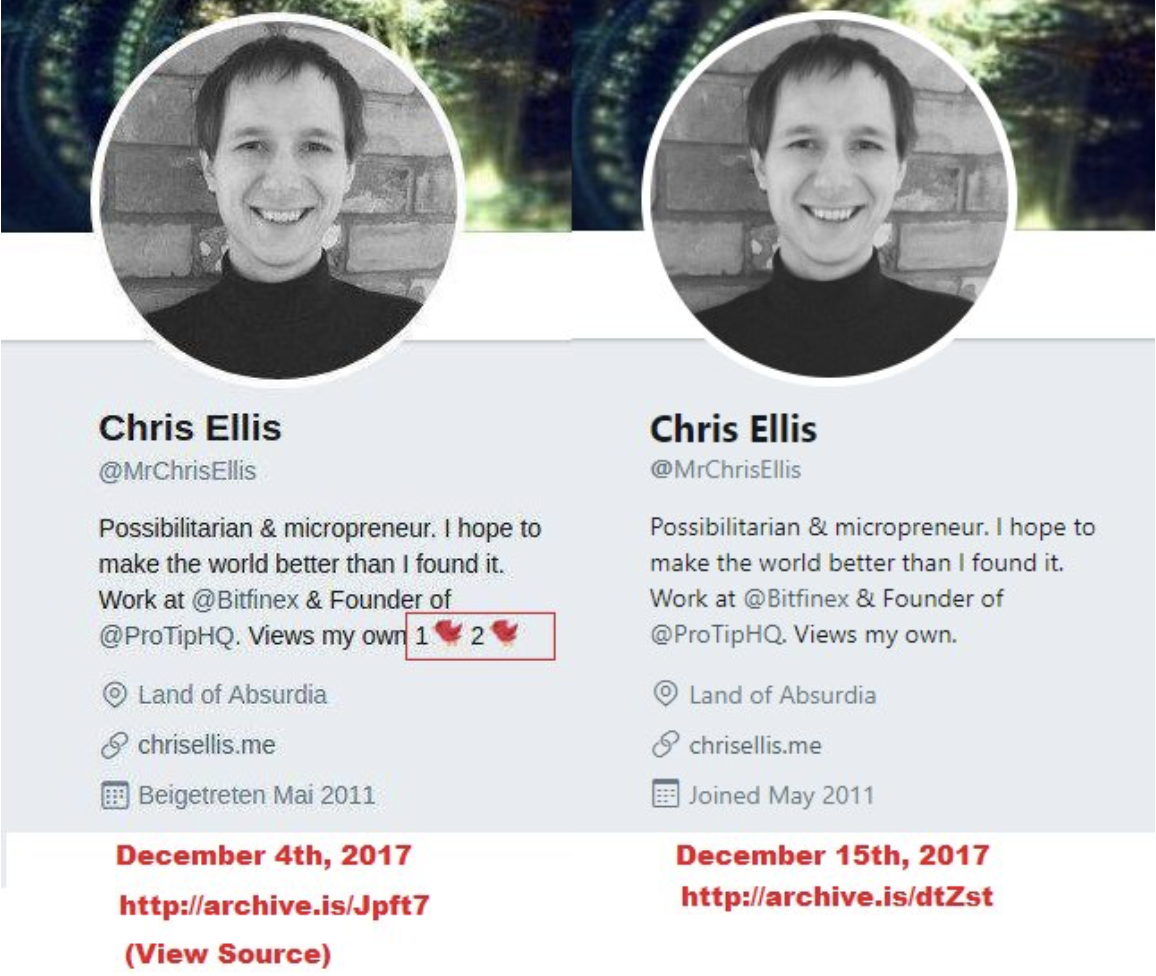 This symbol is often used to say, while not saying, that something has happened, gaining prominence after it came to light NSA uses gag orders.
However, its application can be considerably wider to simply suggest that something is "wrong" but the individual can't speak about it.
There are probably two likely scenarios here, one is law enforcement itself and the other is Tether. On the first, we hear that Bitfinex is apparently tightening accounts supervision, with reports users are sometimes asked to provide more information.

But what appears to be more likely is Tether, because there seems to have been a series of events which led to what seems to be the silencing of this respected coder.
On November 21st Tether was allegedly hacked out of $30 million. That zoomed in the lens even more on the Bitfinex connected centrally issued currency, which is meant to be pegged to the dollar, yet has seen its market cap rise another $300 million in the past few days to now above $1 billion.

Questions continued to be raised as to how hundreds of millions are flowing in days when Bitfinex was, and to a large extent remains, under a banking blockade.
That seemingly led to Bitfinex hiring a new Public Relations firm, the outcome of which was a public offer on December the 1st to show solvency and to show the Tethers are backed by USD, but only under a non disclosure agreement (NDA).
That appears to have spiked the interest of Ellis, who on December the second said:
"At the moment I believe the "Fake Tethers" theory is a Post Hoc Fallacy. Happy to be proved wrong. If I find said proof I will gladly spread it far and wide." That was just after he had stated "if there's fraud I am so blowing this **** up."
Ellis appears to have gained interest in the matter on that day, and replies to a critic: "You have me on the inside. Tell me where to look for the fraud. I will continue to push out information as I find it. I need verifiable claims even if circumstantial so that I can account for as much as possible."
The next day, a confident Ellis goes to speak to traders. He says he wouldn't sign the NDA, and publicly on twitter a few hours earlier says:
"I just told them I wouldn't do it. And I am not promising to get to the bottom of it either. If I quit that would also be very damaging."
At this stage Ellis, although open minded, appears to be supportive of the Tether side of the story, but on December the 4th something happens:
"Ok I have a copy of the document. I have requested a meeting with counsel in Canada to discuss it," he says, referring to a Tether audit.
Why he considered a meeting with counsel appropriate or what he wanted to discuss, remains unclear. But after a few tweets giving some detail on the Tether hack, the last statement by Ellis was this:
"No bank is going to loan a crypto business this kind of money. Tether doesn't make huge profit but there's interest on deposit in a full reserve account with the fees on redemption and withdrawals."
He has made no public statement since December the 4th as far as we are aware, and this action now 11 days later might be a classic canary in the coal-mine case, warning that something may be wrong.
Whether that is so, we do not know, but these series of events are quite interesting, to say the least. Amplifying questions about Tether, and perhaps more importantly at this stage, raising questions as to what exactly did Ellis want to say, but seemingly can no longer.