All top 29 digital currencies and tokens are now unicorn, with the 30th digital currency just about $50 million away from it, for the first time ever.
A sight that used to be rare for any digital currency just a year ago, besides bitcoin, has now become very common with, amazingly, all top 12 digital currencies now standing at a market cap of above $5 billion.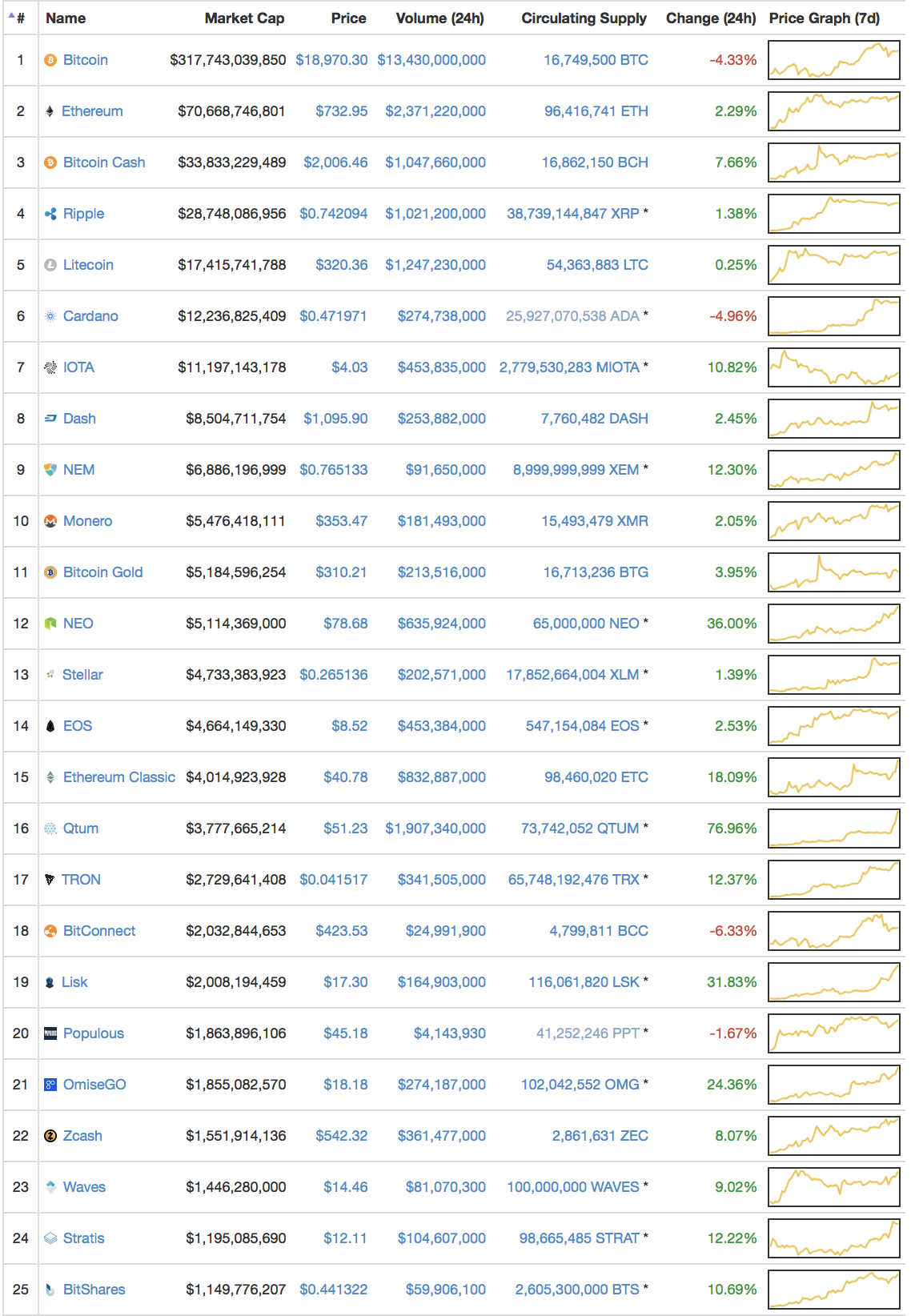 Bitcoin retains more than half of the global market cap at around $300 billion, with the other top 11 taking $200 billion, leaving more than $100 billion for the rest.
There are a number of new entrants in the top ten, such as Cardano and IOTA, which share in common a huge number of tokens in the billions, compared to btc's 17 million and eth's 95 million.
IOTA is centralized in one co-ordinator, while Cardano might be interesting, led by Charles Hoskinson, from IOHK.
It is a smart contracts blockchain that takes a layered approach with one layer for transactions and another for smart contracts as we detailed back in October.
They are also working with the University of Edinburgh, so something might come out of it, at least judging by the recent market action which has increased its market cap from $500 million to above $12 billion in two months.
That rise, however, isn't very unique. Dash, amazingly, stands above $1,000. While litecoin, which began the year at only $4 now stands at $320. That's an almost 100x rise in months.
Which means plenty have gotten rich in a boom the likes of which we have never seen before in this space and more widely as digital currencies enter mainstream awareness.
That may also mean some very smart coders might now have the resources to launch their own potentially world changing projects as the second leg of the digital revolution continues.
As was the case with the dotcom boom nouveau riche, with Elon Musk and his space rockets the poster boy of changing fortunes and changing times.