Charlie Lee, litecoin's founder and probably the only LTC developer you've heard of, surprised the litecoin community by telling them he had actually sold all of his litecoin:
"It is conflict of interest for me to hold LTC and tweet about it because I have so much influence," Lee says before adding "for this reason, in the past days, I have sold and donated all my LTC."
Ryan Selkis publicly said: "It's so brave to recognize a "conflict" after a 100 bagger this year. Better for you to keep skin in the game."
Litecoin has skyrocketed this year, from around $4 at the beginning of 2017 to a high of $420, but it fell to a low of $275 after the announcement before slightly recovering to $320.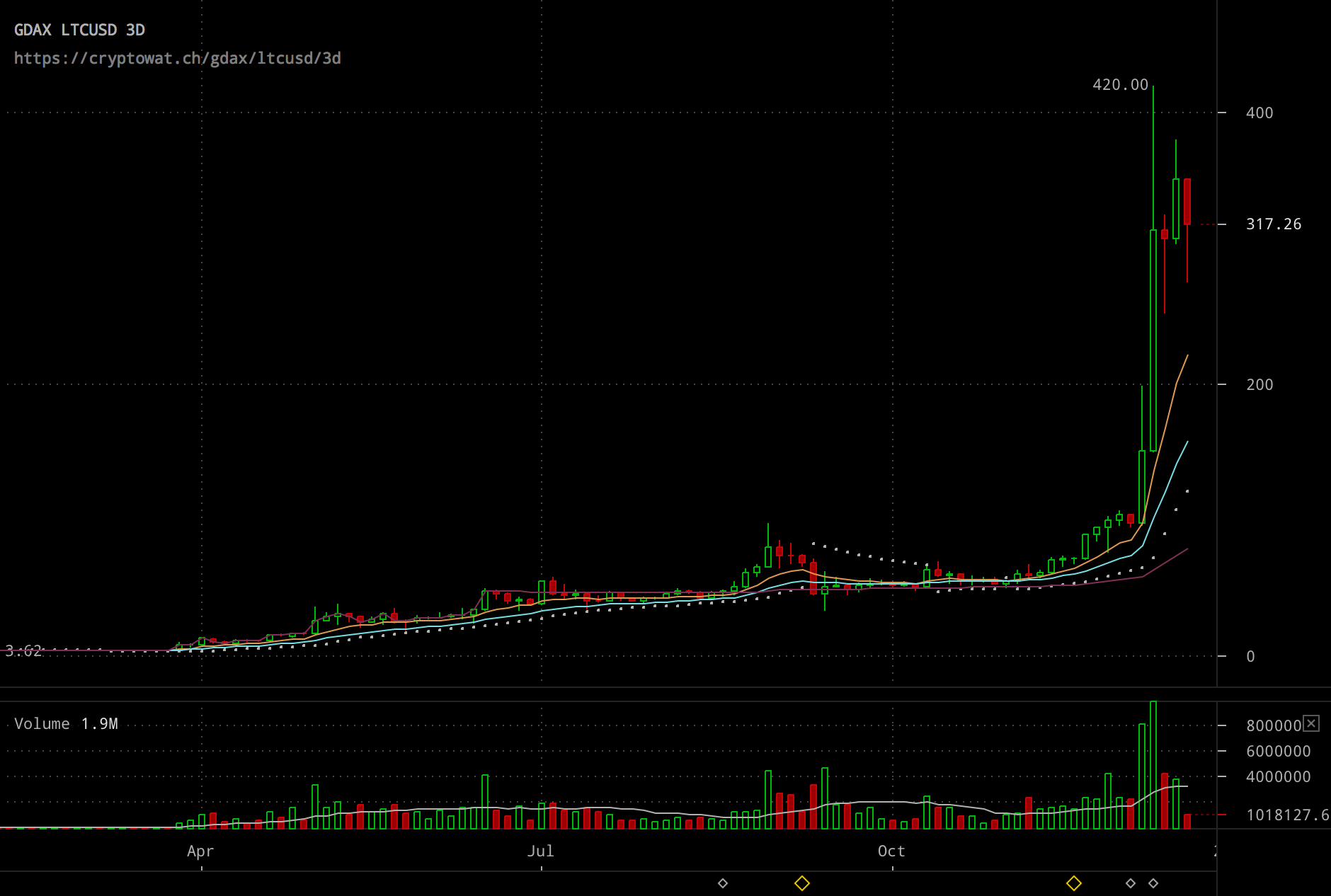 "I'm not CEO of a company. The currency can exist and thrive without me," was Lee's reply to a critic before telling another one he had sold all his litecoin for dollars.
That's at a time when some Bitcoin Core supporters tell bitcoiners to use litecoin due to very high bitcoin fees, but now we're told even litecoin's founder doesn't use litecoin.
As the announcement was made shortly before Coinbase announced they have added Bitcoin Cash, some speculated he might have sold it all for BCH. Lee denied:
"I sold my 2 BCH on GDAX before they halted trading. I can't believe people think I'm trying to manipulate people to buy bcash."
That suggests Lee might have 2 BTC as all bitcoiners were given an equal amount of bitcoin cash, but whether he sold his bitcoins is unclear.
"I've sold almost all my other coins also," Lee said. An "almost" which wasn't there for LTC, suggesting he has kept some coins, but which ones and in what amount remains unclear.
Not that it necessarily matters, but we'll certainly run out of popcorn supply if he suddenly announces he is to start working for Blockstream.
That's complete speculation we've plucked out of nothing, but he is not employed, leaving Coinbase recently, and might perhaps be rewarded for forcefully activating segwit on Litecoin through UASF earlier this year.
Or perhaps he just thought litecoin's price was now so high it suddenly was creating a conflict of interest somehow. Who knows, but what we do know is that even litecoin's founder no longer uses litecoin.