Ripple has nearly doubled in one day, reaching a market cap above $73 billion and an average price of nearly $2 across exchanges just days after it reached dollar parity for the first time.
After overtaking Bitcoin Cash recently, it jumped to briefly overtake ethereum on considerable trading volumes of some $5 billion, with South Korea's Bithumb alone handling $1.6 billion at the time of writing.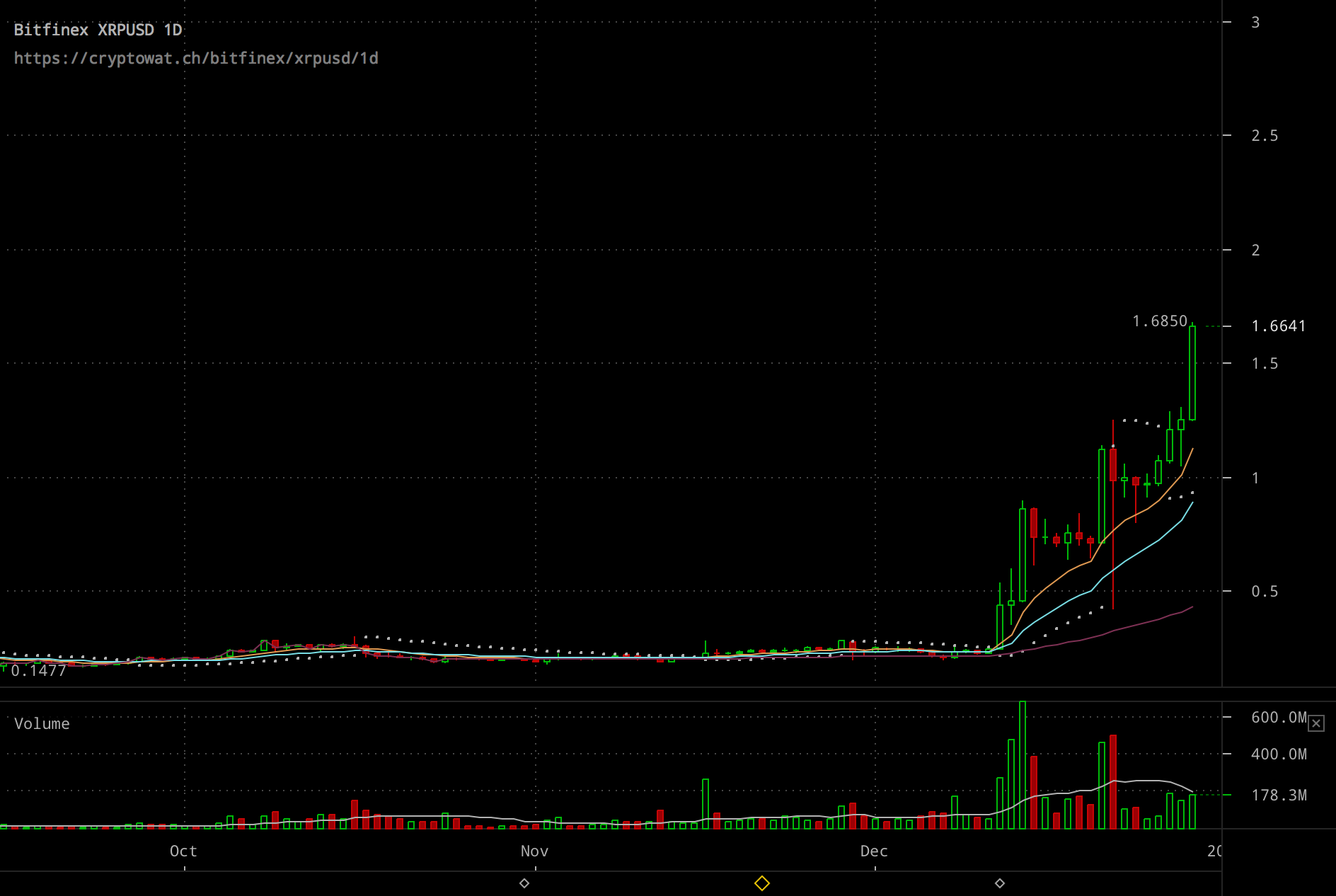 The jump coincided with a tweet by John McAfee, who told his half a million followers to buy XRP alongside other coins.
McAfee, whose name virtually means security for most people, later claimed he was hacked and the tweets were not by him, but bots perhaps rushed off anyway in a race to be the first.
Each "coin of the day" named by McAfee gets pumped, then usually dumped. Within seconds of his tweets, bots raced to the market, with some now even selling Mcafee coin of the day bots.
They even bought the wrong coin once, with McAfee later saying he was no longer doing coin of the day, moving it to coin of the week. Sure John, and if you change your mind, you can always claim you were hacked anyway.
But perhaps it is slightly unfair to attribute the Ripple rise solely to McAfee pumps. XRP's supporters are clinging in justification of the price rise to what they claim is huge news.
W3C is apparently working on an inter-ledger protocol which may be incorporated in browsers allowing you to pay with crypto, including btc, eth, bch, and of course XRP.
A doubling for that yet no movement for the others? Maybe. Sad day, eth fans are saying. While bitcoiners are not even paying attention, not least because it is das forbidden to speak of anything else but the holy Bitcoin Core in their shores.
Yet Ripple doesn't seem to care. It keeps on rising for some reason. Its trusted protocol is a bit like the banking system. Third parities, who you need to trust, advance IOUs in a credit and debt manner with busts possible.
Those trusted third parties can be your friends, but it is usually banks, with many of them testing the protocol to see if it works for them.
A significant amount of XRP's total supply at around 50% is held by Ripple (Corp? Inc?), the company, giving them the highest concentration out of the top three and perhaps top ten.
That's because XRPs were not mined, but issued in a centralized manner, with some of it given away sometime in 2013 in what might be the first airdrop.
Many received 50,000 XRP for fully free, so creating a base, with the currency retaining longevity and jealously guarding its position first behind bitcoin, then behind eth, and now perhaps behind Bitcoin Cash.
That may be because it is sufficiently unique from the others, thus perhaps it does deserve fourth position, until something else that is more interesting and sufficiently distinguished comes along.