Ethereum has finally woken up with the currency now just dollars away from that big $1,000, up $300 since new year's day to rise from $670 to a new all-time high of $985 at the time of writing.
While its trading volumes have picked up some steam too, above $6 billion, with, quite curiously, the ETH/BTC pair taking the top spot for the first time in a very long time (well, crypto time.)
Very interestingly, a coin no one has heard of, Tron, which nonetheless has somehow gained a market cap of $13 billion with no one noticing, has taken second position, with TRX/ETH at around half a billion in 24 hours trading volumes.
TRX is up 150% since yesterday. Founded by Justin Sun, of whom Forbes asks whether he is the next Jack Ma, the smart contracts blockchain with a supply of 100 billion TRX has seemingly instantly gained top ten position.
Interesting in itself, but a lot less interesting than something which appears to be developing for ethereum: a trading pair of choice.
This is the second time we have noticed a token or coin gaining top positions in eth's trading pairs, suggesting that their rise is, at least in part, fueling eth's rise too, probably because the only way to buy the token/coin might be by buying eth first.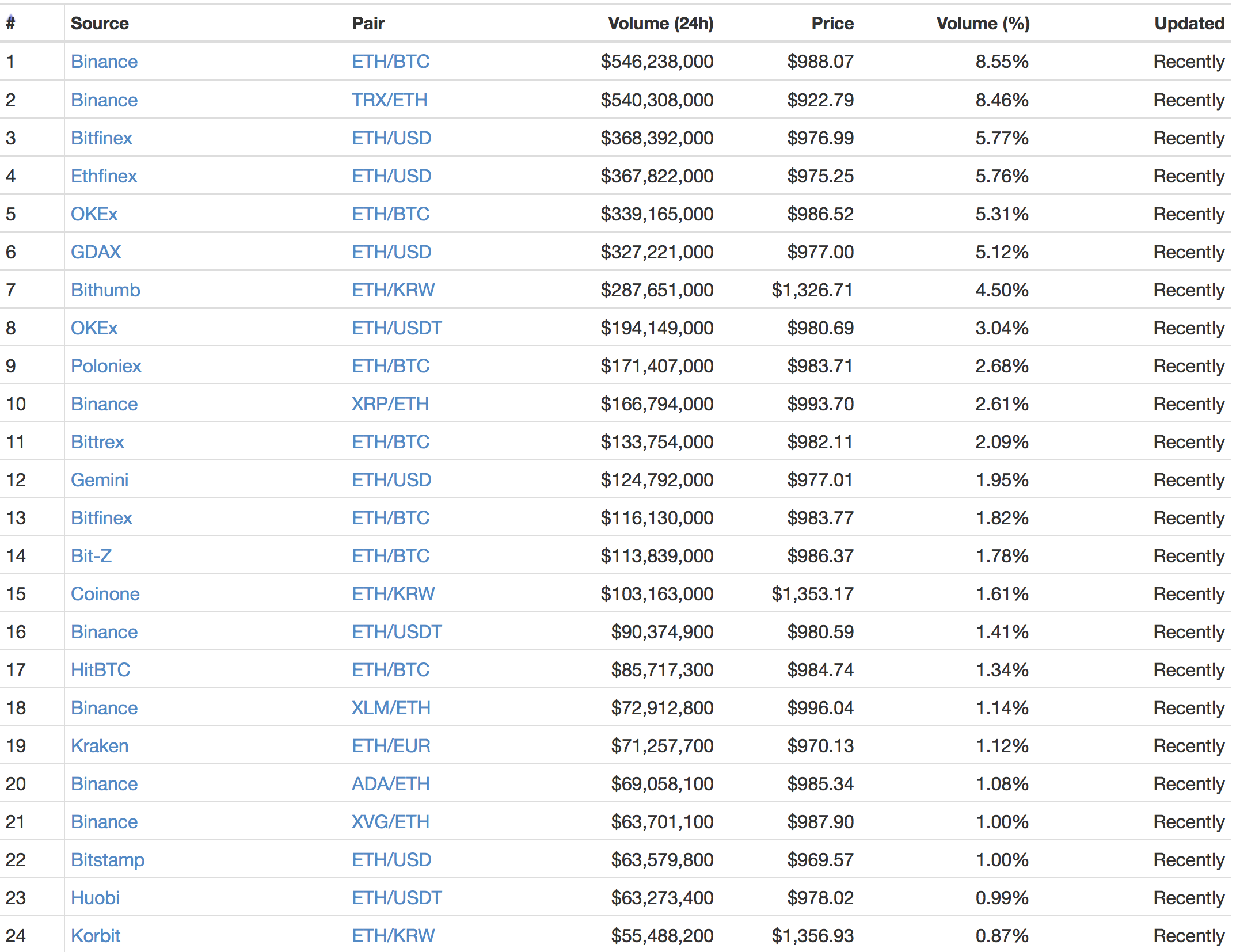 The function that ethereum is now beginning to play used to be the privilege of bitcoin alone. But with the entrance of Binance, an exchange that has quickly risen to prominence, ethereum has started to take off the one ring to rule them all.
That's because individuals can now choose to enter a token or coin through ethereum or bitcoin, with eth in many cases the only choice due to its token economy.
This may have contributed in part to ethereum's transactions rising to a new high in this new year, with the network processing some 1.2 million transactions a day.

That has led to rising fees, currently at around 50 cent, but ethereum miners may continue increasing capacity as we wait for developers to finish their Casper testing.
Hopefully, the much anticipated Proof of Stake/Proof of Work hybrid upgrade will go live by summer, so allowing for more capacity while Sharding work continues.
But demand for ethereum is outstripping capacity as the platform now takes centre stage around which revolves a vast and diverse token economy.
Its blocksize, however, is just around 1MB for every ten minutes. Same level as BTC. It can probably afford to simply increase it to 4MB and perhaps even 8MB, giving time and space for the full solutions.
Yet whether miners will do so in what might be a crucial year for eth, and perhaps the entire space, remains very much to be seen.