Slow and steady, rising somewhat gradually, ethereum has crossed $1,000 again today, after shying away from it for the past few days.
Its market cap has now risen above $100 billion on some decent trading volumes of $5 billion, with the ETH/BTC pair accounting for some 10% of it.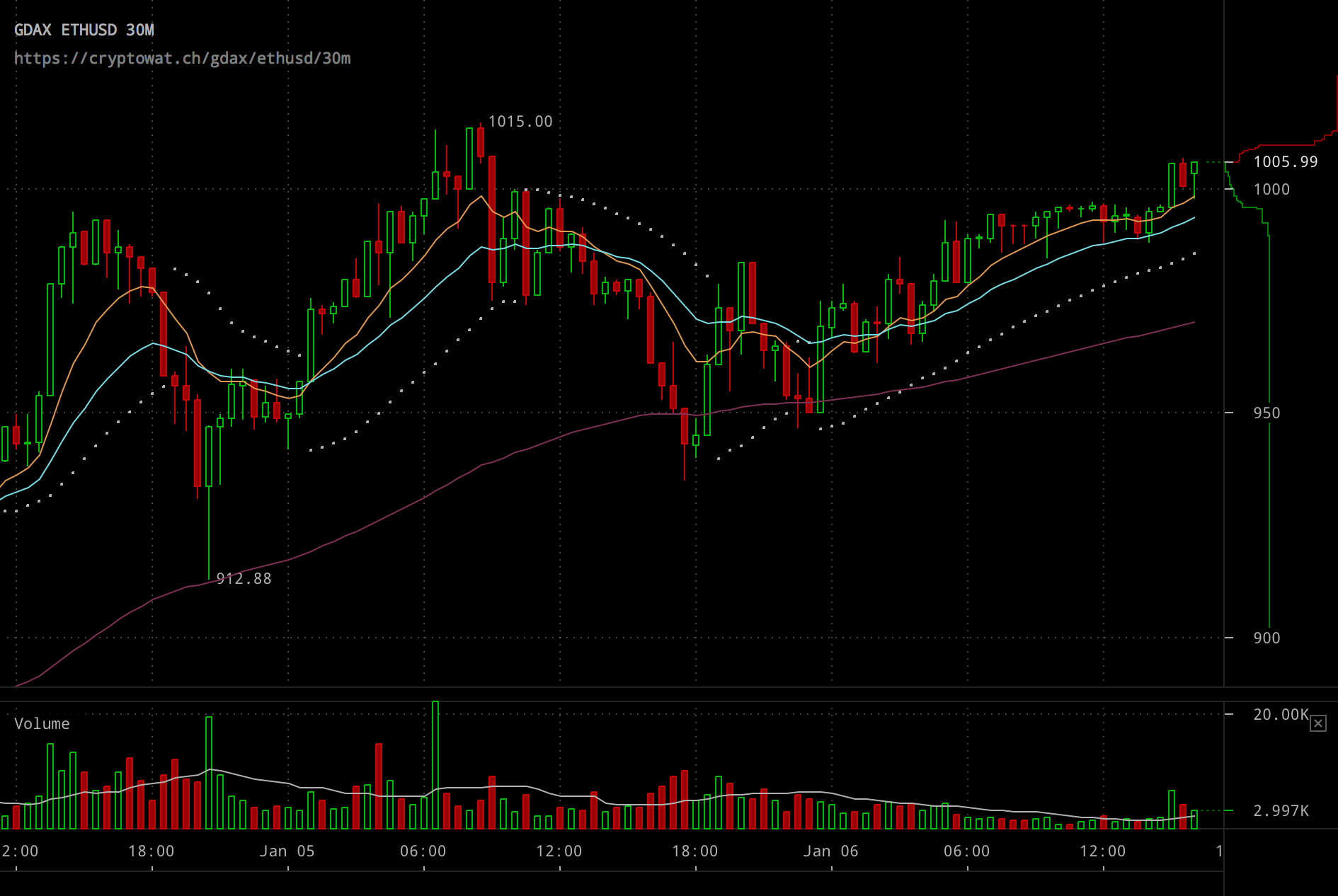 It remains to be seen now whether it will hold this price level or shy away again, but the currency is not far off from taking back its second position, "just" $20 billion away.
After a considerable run, Ripple has fallen to around $3 across exchanges, while ethereum has been gradually rising for weeks since it woke up in December and started moving upwards.
There does not appear to be any specific reason for the rise except perhaps for a general bullish sentiment across the space. Ethereum has, however, seen increased usage with its network handling a new high in transactions.
That has sent fees to near $1, with the network becoming somewhat congested, but miners will hopefully increase capacity again and return normal operations.
If they don't, then the situation may be temporary as the network is working on upgrading to a Proof of Stake/Proof of Work hybrid, which, once implemented, might alleviate some constraints.
In any event, this increased usage does suggest ethereum's network effects are growing, with it now handling more transactions than even some centralized digital currencies.
The platform powers a token economy, all running on top of it, giving it an advantage even over bitcoin, not least because most of these tokens are primarily traded against eth.
Unlike Bitcoin Cash, however, ethereum doesn't focus on merchants adoption, with eth more focused on dapps and creating a new economy where eth is often needed and acts pretty much as a currency.
That has given it a competitive edge and might make it complementary to other digital currencies as ethereum is fairly unique due to its smart contracts capabilities.