An ethereum based token that suddenly gained a $14 billion market cap without anyone noticing until recently, fell by some 30% before slightly recovering to a current market cap of $10 billion.
The whitepaper only project with no launched product came under scrutiny recently with an individual alleging Justin Sun, the project's founder, had sold 6 billion TRX for $300 million.
Sun denied the allegations, stating it was a market maker who "uses an account to trade and increase the liquidation of #TRX not sell $TRX." He further adds:
"I think the funny part is that the market maker has the same first name with me and registered himself on the @CryptoKitties. It is very unprofessional. When it comes to registration I use my Chinese name "Yuchen" rather than English name."
That's where this story would have ended and most likely would have not made these pages if it was not for a tiny detail. In a video posted by Sun yesterday he shows at around 34 minutes his cryptopuppies account that uses justinsun as a handle: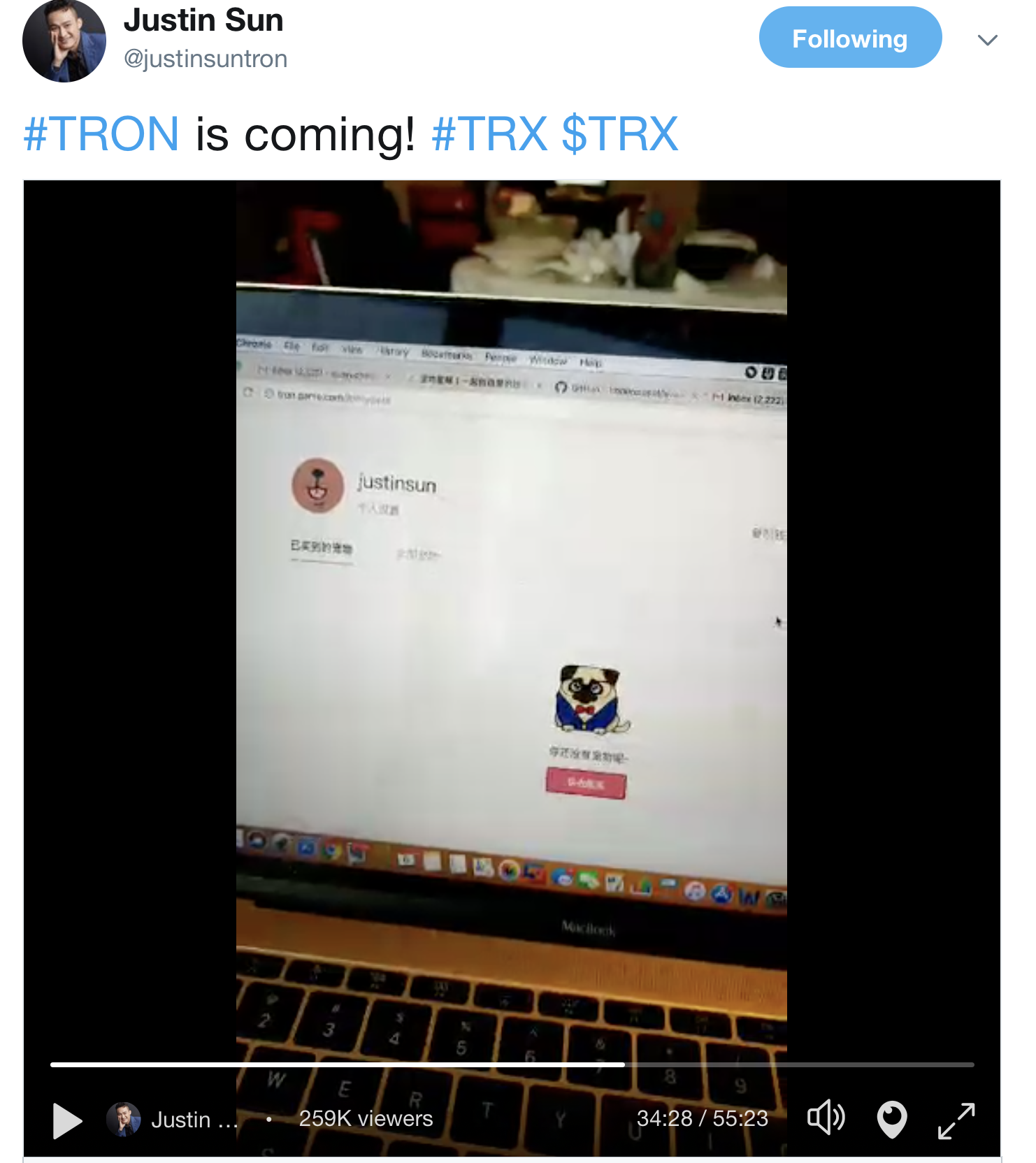 We asked him to clarify, but have received no response at the time of publishing. With it all pretty much resting on whether that justinpets cryptokitties account was actually that of Justin Sun, because the address that sold the 6 billion TRX sent some funds to that justinpets account.
Whether that is indeed the case or not we can not say without further evidence, but the relationship between 6 billion TRX and the justinpets account appears to be admitted. What is still in question is whether that justinpets account belongs to Justin Sun or a market maker with some $300 million worth of TRX.
In another interesting twist of sorts, although Sun had said the Tron Foundation had locked 34 billion TRX, apparently they're not locked in any real sense meaning of the word and have just been sent to a normal wallet accessible at any time.
"The #Ethereum smart contract has numerous loopholes and risks to lose tokens," Sun says before continuing:
"Before we have 100% confidence on lock-up smart contract we would rather use simple cold wallet to lock up the tokens we have. We post our address publicly so everyone in the community can see it."
Tron has come under scrutiny recently for having no product, with the project seemingly focusing on marketing and partnerships rather than coding and roadmaps.
Although they have recently open sourced some code, it looks quite unrefined, containing some novice mistakes. Sun said yesterday they have brought in new developers, but what roadmap is laid out on the whitepaper does seem to suggest it will be quite some time before they deliver on their promises.