Ethereum has reached a new all-time high today of $1,200 per coin just days after it broke that big $1,000 for the first time.
While its trading volumes have increased considerably above $7 billion, with trading pairs seemingly equally spread between BTC, South Korean Won and the dollar.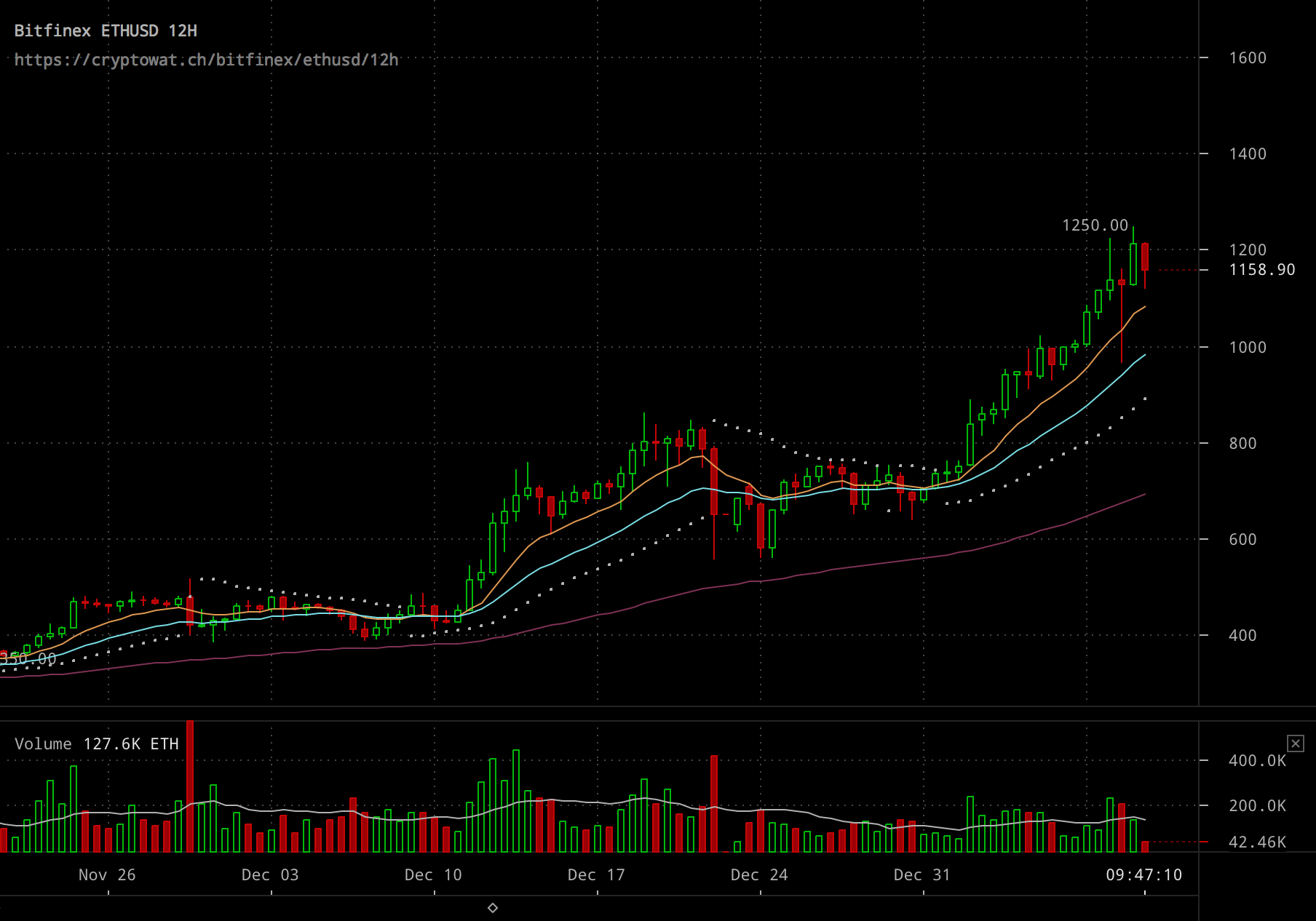 The currency now has retaken second position with its market cap rising to $114 billion while Ripple has nearly halved to $86 billion.
Much of everything else is down, including bitcoin, while ETH has gained a bit, quickly recovering from a brief sell-off to just below $1,000 to currently trade at $1,160.
There has been no specific news as far as we are aware to propel this rise which began after the announcement Casper had entered testnet.
That's the last stage of the process before implementation into the live network which might perhaps be expected by summer.
The market, therefore, might be accumulating in anticipation because once Casper launches then ethereum becomes an interest bearing asset, paying dividends like stocks.
That would make ethereum unique among the top digital currencies as it would be the only one to grow the invested capital in eth itself.
The actual details are not finalized as far as we are aware, but you'd probably need quite a bit of eth to stake, in the process so securing the network and earning interest through mining like staking.
But, it is probable the amount doesn't hugely matter as staking pools would probably rise for the little guys, although it would likely be preferable if solo staking is most accessible to increase decentralization as pools can have significant influence.
The other unfinalized parameter is the level of interest, which for non stakers means the level of inflation. You'd hope it would eventually settle at around 1%-2% a year as that would probably be a level that kind of keeps it at zero due to lost coins, but we'll have to wait and see what is decided.
The initial implementation of Casper will be a hybrid Proof of Stake/Proof of Work, so miners will still be around, but gradually they will be phased out fully, with ethereum so transitioning to operate from just laptops, without requiring specialized hardware.
No top currency has operated in this manner, therefore few can predict with certainty how exactly incentives will change, but the upgrade will be one of the biggest, to be topped only by Sharding once that comes hopefully by 2020.