Ethereum continues its bullish run today, with the currency up another $200 to a new all-time high of almost $1,400 before currently settling at around $1,300.
While its trading volumes are up now to around $10 billion, more than half of BTC's trading volumes for the past 24 hours.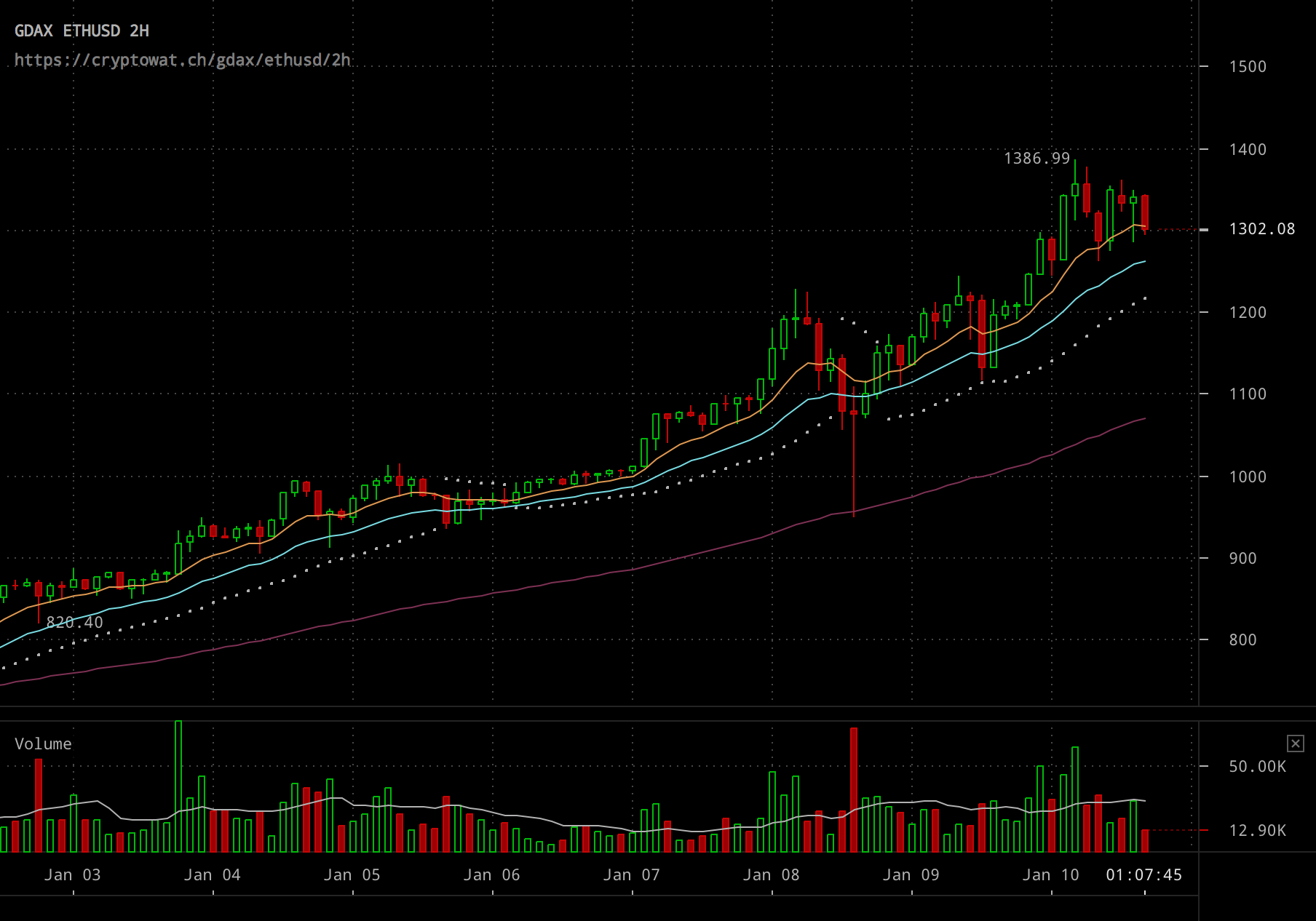 Ethereum's market cap has also risen to more than 50% of bitcoin's market cap, currently standing at $128 billion.
With some suggesting ethereum is headed for $2,000, which would give it a market cap of around $200 billion, not far off from taking that top spot. But is that realistic?
It is of course the case that no one knows with price being unpredictable by nature as future events could bring all sorts of news, but ethereum seems to have decoupled from bitcoin recently in an inverse correlation of sorts.
While ethereum's price has been rising, bitcoin's price has been falling, down from some $17,000 to $13,000 before somewhat recovering to $14,000.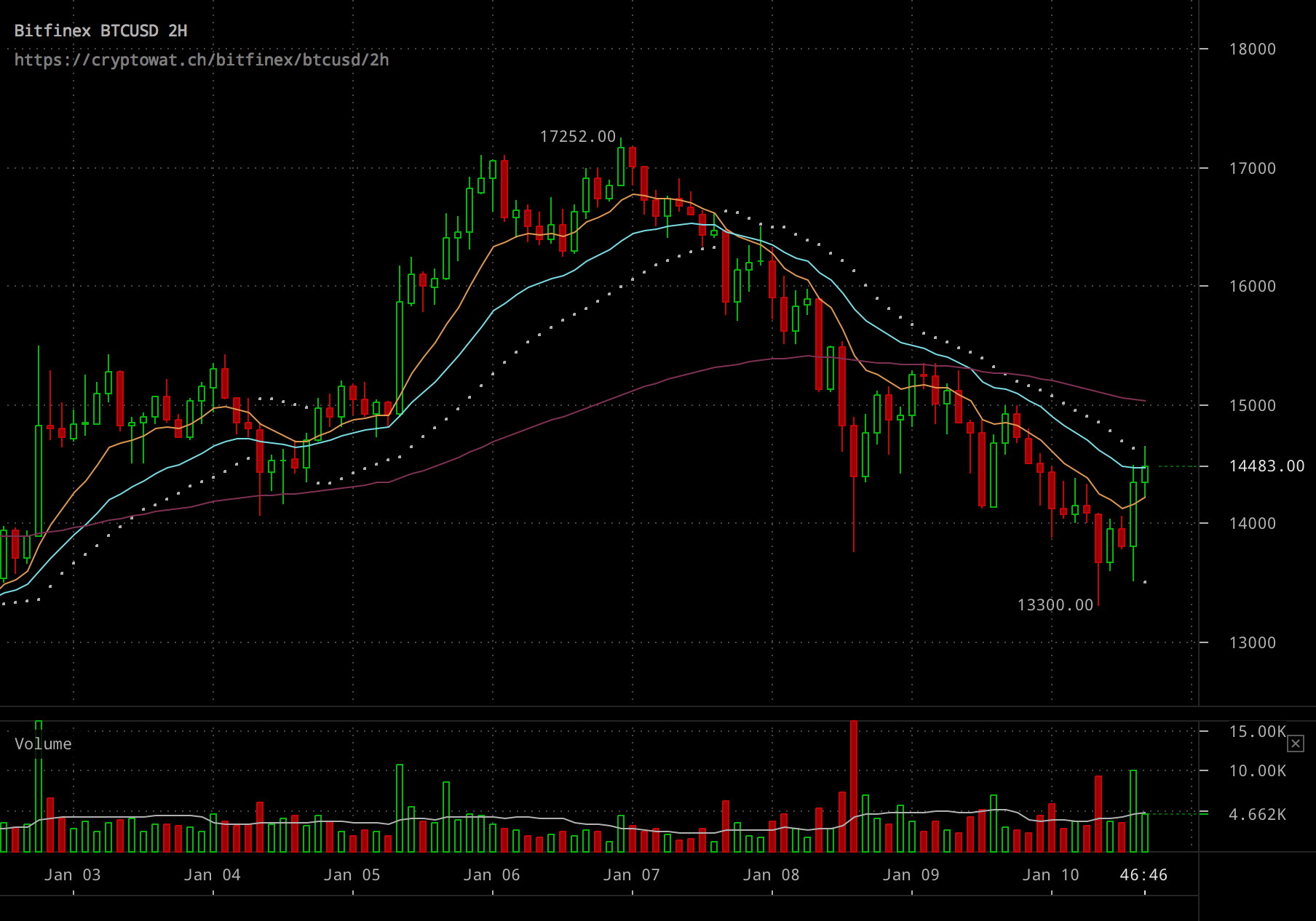 After reaching a high of $20,000, then briefly halving to $10,000, bitcoin might have seen its peak, at least for now, so giving way to the show to Ripple first, which overtook eth in market cap, and now seemingly to ethereum, which stands at nearly twice the current market cap of XRP.
Bithumb has returned to top position for eth, with the BTC pair following very closely, handling some $700 million in trading volumes.
Considering the apparent inverse correlation in the past few days, most of that volume might be one way, from BTC to eth.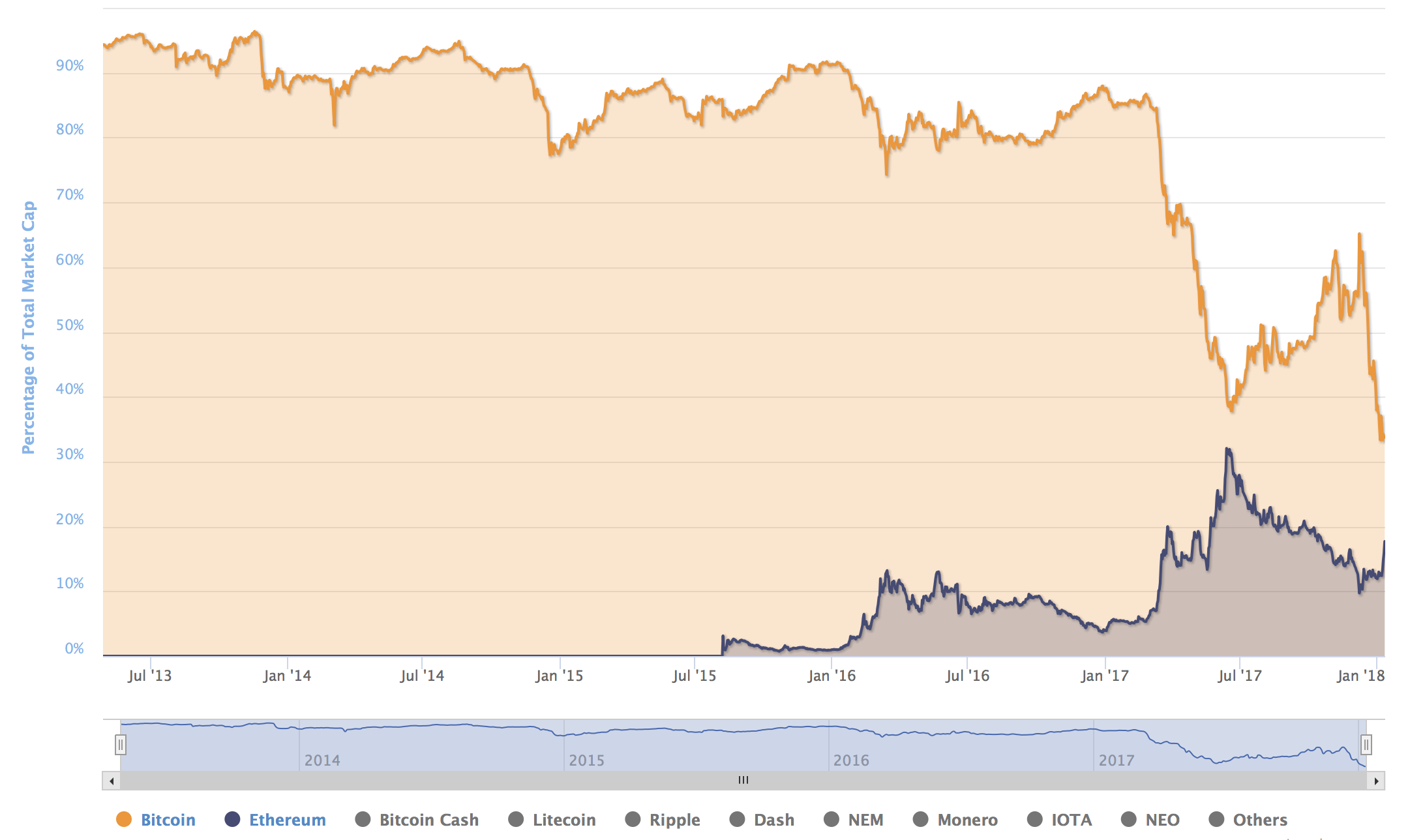 Spring might have come early for ethereum. As can be seen above, the currency tends to start slowly moving up in around late January/early February. Then, it tends to move somewhat fast near summer.
It almost overtook bitcoin in market cap last May, but a sell-off after a quick rise scared the eth market away, with it entering bear territory for months while bitcoin took the spotlight.
It may be the bitcoin sell-off at 20k might do the same in reverse, but whether that is indeed the case only time itself can say.
However, as far as fundamentals are concerned, ethereum processes far more transactions than bitcoin and has a lot of things that bitcoin doesn't, while having everything that bitcoin does.
Ethereum's token economy is vast and substantial. Even Kodak is to ICO now, while Estonia's government itself is to launch an ethereum based Estcoin ICO too.
That's just one of many applications for ethereum smart contracts, including tokenization which might become a bigger and bigger industry.
While for bitcoin we can't really name one use, except for as a collectible. No one really accepts it anymore for payments, with everyone dropping it off because it's just far too expensive in fees, so giving that "niche" to Bitcoin Cash while keeping for itself a store of value which so happens to at times lose 50% of its value.
As it often happens, by the time the masses get there the best have left already. For bitcoin it didn't have to be so, but it is a very first trailblazer and they usually give way to generation two projects that have learned the lessons.
Time will show whether ethereum has indeed done so, but the project is unique in many ways and one of them might be network effects. Because so many projects built on ethereum depend on the underlying platform, necessity forces them to improve the underlying platform.
Other projects have this too but in a far more indirect way. For eth, it is a lot more direct because these projects are not simply transferring value through the network, they are actually virtually built on the network itself.
Thus Grid+ finds it necessary to devote substantial resources towards improving ethereum's on-chain scalability by researching sidechains like extensions. Then there is OMG working on Plasma. That's on top of work on Casper and Sharding.
In other public blockchains, work by projects on the core protocol is somewhat altruistic, or worse, in direct conflict. For eth, they have no choice. When Cryptokitties, for example, clogs ethereum's network, they are not dealing with just a customer service issue, they are dealing with whether they have customers at all.
Likewise, Grid+ needs the ability to process many transactions because otherwise they in effect have no project however nice the idea may be. While in bitcoin, Coinbase doesn't really care how much the fees are, they just add eth, same for BitPay, they're just adding Bitcoin Cash.
The difference here is what can be described between native digital and analogue digital. The latter is like scanning copies of a hardcopy newspaper and showing them online, while the former is something like trustnodes, actually written on the internet.
For bitcoin, except for the transfer of value itself, much has been analogue digital, shown by no better example than merchants accepting bitcoin by instantly converting it to dollars.
For eth, much has been native digital, shown by Cryptokitties pricing everything in actual eth, so utilizing ethereum as a unit of account.
Because ethereum allows for these very new things which haven't really existed before, things that often can only work by utilizing eth itself, the entire nature of much of the ecosystem is natively digital and that is quite an upgrade. But whether that means flippening 2.0 or not, time will say.