Ethereum is rising as the indisputable platform of choice for new tokens, with some 300 already launched on the platform according to data we've compiled from Coinmarketcap.
The combined market cap of all ethereum tokens is now at an incredible $70 billion, with EOS the biggest at near $10 billion, followed by Tron at $7 billion.
There are 12 eth based tokens in total with a market cap above $1 billion, including OmiseGo, Populous, Status, Augur and 0x.
While ICON, a new entrant trying to build a Blockchain ID and a decentralized exchange, has quickly risen to $3.6 billion since the token launched in November 2017.
In combination, ethereum powers an economy of more than $70 billion, all of it running on top of its public blockchain and platform.
The other platforms are no where close, with NEO, Waves, Nxt, Omni, Counterpary and the rest standing at $2 billion or less. While Ethereum Classic has just one token at around $2 million.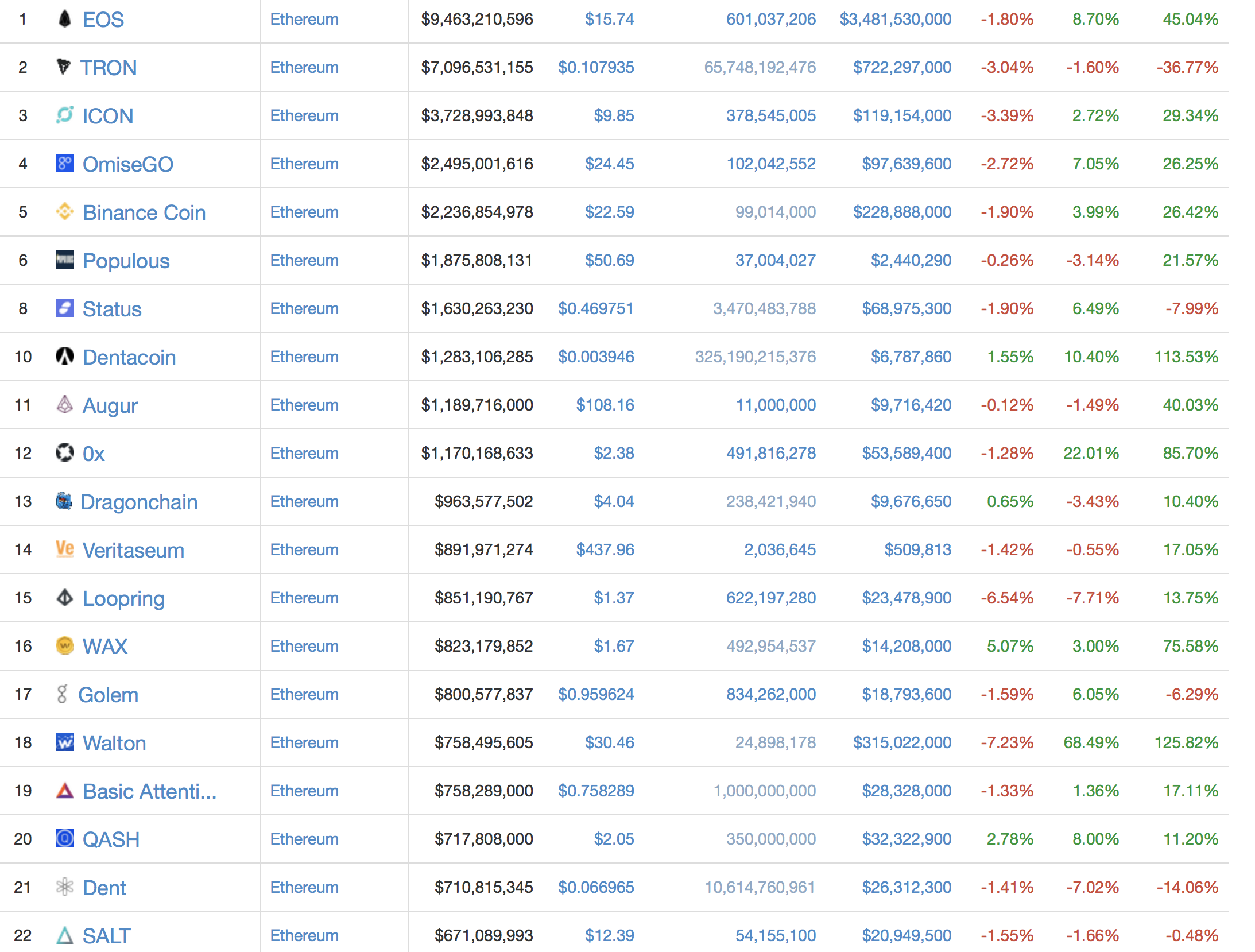 Ethereum's combined market cap is now at $200 billion, $130 billion for eth tokens and $70 billion for all the other tokens running on top of eth.
Which means the platform might not be that far off from a flippening with bitcoin, which currently stands at a market cap of $240 billion.
Making eth's combined market cap just $40 billion away from top position, while its plain market cap has still some way to go, requiring a doubling to flip.
Will it do so? It came close last year, but that did not last long as bitcoin's feelings got hurt, with the currency going onto a bull run to an all-time high of $20,000 as its brand went mainstream in USA.
It now seems to have cooled off a bit, potentially giving way to eth as we await Spring 2018, a season when ethereum usually blossoms.
It remains to be seen whether history will repeat itself again, but there does seem to be a general feeling of anticipation as ethereum comes out from its short bear summer and winter months to continue its bull run with this space so continuing to be spared a black swan event.
Yet, there is also a general numbness to the recent price rise. There are no celebratory memes. Nothing like the over 9,000 euphoria or the 420 of last May. So perhaps it has all just but begun, or not. Time will say.