The global market cap of all digital currencies and tokens has almost halved from its all time high of $813 billion to now stand at around $420 billion.
While volumes are at a fairly high level of $45 billion during the past 24 hours, with Upbit, a new South Korean exchange affiliated with the country's biggest internet provide, handling most of the volume at around $5 billion during the past 24 hours, followed by Bithumb.

Virtually all digital currencies and tokens are down today, with most of them down 20%-30%, including the top cryptos.
While some are down a lot more. The alleged literal Ponzi scheme BitConnect is down an incredible 97%, from a price of more than $400 to $5.
There are suggestions Trevon James, Craig Grant and other connected to Bitconnect are deleting videos and much to do with it, while its subreddit has been turned private.
Billions have been lost in market cap for the alleged Ponzi scheme, down from some $2.5 billion to just $50 million at the time of writing.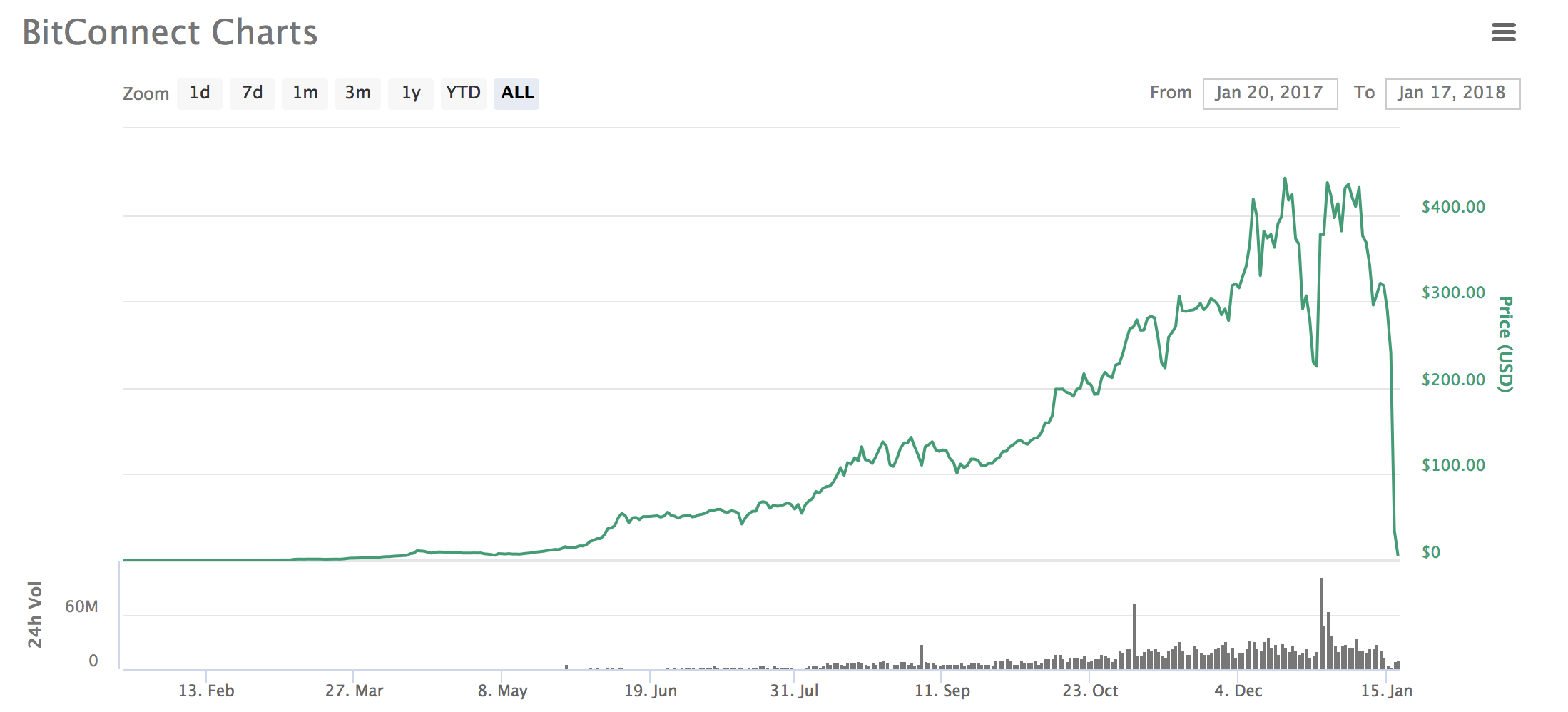 The market has seemingly turned with bitcoin dragging everything down. BTC's market cap itself has lost $150 billion, down to now $160 billion from more than $300 billion at its all time high.
The story repeats across the board, but Ripple has seen the biggest losses, with its market cap down to around $30 billion from its all time high of $140 billion, so losing some 75%. While ethereum, and to some extent Bitcoin Cash, has "only" halved.

Bitcoin is leading the sell-off with everyone else following in lockstep. The currency has turned bearish since bitcoin futures launched in mid-December with a bottom not yet in sight.
That has led to some 10 cryptos being taken off the more than one billion dollars market cap, down from 40 to now 30.
While the global market cap has once more fallen below half a trillion as fear, and perhaps even capitulation, rules the day.