Green greets everyone today as shown by the above image. Ethereum is up nearly 40% according to Cryptowatch, with the rest up 30%-40%.
Some, like Tron, are up 100%. Ripple at 60%. While the alleged literal ponzi scheme, Bitconnect, is up 420%. To give context, that's from $5 to $45 after it plunged from $400 or more. Its market cap remains a relatively minuscule $300 million from its all time high of $2.7 billion.
These percentages, therefore, might be a bit misleading, but ethereum is not far off from its all time high, just around $200 away, while Bitcoin Cash and to some extent BTC would need to double to ATH.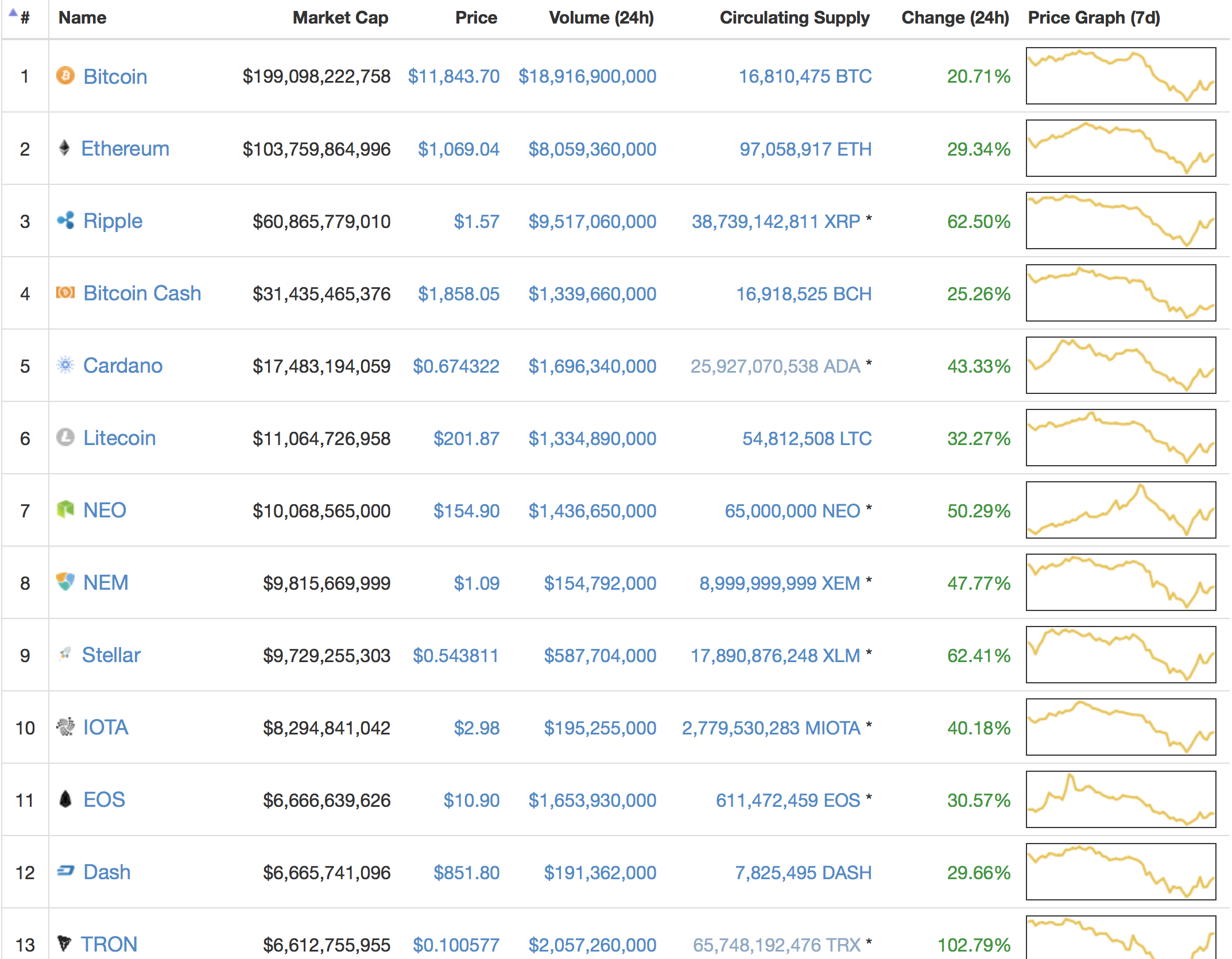 Sentiment appears to have recovered, although might still be a bit fragile. $9,000 could be a local bottom for bitcoin, but we'll have to wait and see.
There is much news from South Korea today following their shambolic handling of a proposed ban then unban of crypto exchanges.
South Korean government officials apparently engaged in crypto insider trading. Hopefully they'll fire and even sanction those who did so at the expense of their citizens, but we'll have to wait and see.
Then, there's a fog around what's going on in South Korea. Perhaps even a power struggle within the government as they decide just how to move forward on digital currencies.
On the other hand the infrastructure keeps increasing with two Blockchain ETFs debuting yesterday, the Reality Shares Nasdaq NexGen Economy ETF under ticker BLCN and the Amplify Transformational Data Sharing ETF under ticker BLOK.
Both are trading at around $24, with both slightly up today at around 1%. Neither invests in actual crypto, with both investing in blockchain related companies.
Yet many of those companies are far bigger in focus than just blockchain, such as Microsoft, Intel or even Overstock. SEC therefore would not allow either ETF to use blockchain in the title because neither could show they are primarily focused on mainly actual blockchain minded companies.
IBM, or if they wished to anger the crypto unfriendly SEC, International Blockchain Machines, is reinventing itself after more than a century pioneering the digital revolution.
They run the world's most crucial infrastructure, things airplane digital systems work on, or national grids, and to their credit they are thinking quite big, championing data analytics, artificial intelligence and the rest.
Including this space. They are after all the very first global corp to fully embrace blockchain not just in name or in ancillary departments but by leading Hyperledger and promoting the technology.
So announcing recently they have entered into a joint blockchain venture with a Denmark-based shipping giant. Supply chains can be a big area for the employment of this technology, and IBM's pioneering of it might turn what once seemed like a stale outdated century old dinosaur into an inspiring global leader of a brave new world.
A world where famous youtubers say they are not paid to promote BAT, and they're not saying whether you should buy it or not, but they are in negotiations with Brave Browser and they do have BAT.
Yes, maybe we're being a bit mean, but it's table chat, we can speak freely here. It does however say quite something about this space's entry into the mainstream when a cute youtuber that many had come across before hand – especially during his episode about celebrities getting paid to promote Hilary – bigs up a project related to this space.
It is a new dawn, and it has but begun. There are new challenges, especially around how regulations will be applied to this very new space, but such challenges do come with transitions to potentially mass market which may occur very optimistically this year yet realistically and far more likely perhaps next year.
We wrote quite some time ago that global politics had come to this space, and now everyone is very much aware of it. It's a difficult field because we're not really accustomed to engaging with the system.
Most in this space are fairly young, and really if you ask them how governments work in the grinder most probably have no clue, including us here at trustnodes to some extent.
Yet that is perhaps what might make it exciting. Because just as this generation discovered how finance works early on, and during the blocksize debate how propaganda and influence works, we might this year discover how governments, its departments, and their relationships between nations, work.
That makes 2018 what we thought it would be, the decisive year. After annus mirabilis, decades and perhaps centuries might be shaped in the next few months.
For it might be this year when we learn whether we are truly free, and if not, where we decide whether we do become free. It may be this year when we learn whether institutions, at least on balance, work to our benefit or very much against us.
Civil servants and politicians, therefore, have a fragile dance to perform, for a new ideology and even a new religion has risen on this world, the digital revolution.
Since ancient times that drive for better is now at the forefront once more. Martin Luther's knocking on the door. Martin Luther King's dreaming on the floor of the world.
Without them we would be cavemen, without the Nakamotos of this world. Those extremely rare geniuses that hold that bright light. And how apt that when we extend our own intellect to the code network, the genius that came up with it dissolved himself within it in a mastery of symbolism.
Was he so smart, could he see what we possibly never can, that a machine itself is now in action, balanced so perfectly, to such scale that in effect it amounts to a checkmate for all see it is good and self evident?
Perhaps. Time alone will tell. And until the next table chat, god bless this free land.