The National Research Council of Canada (NRC), in collaboration with Bitaccess, have begun trialing the use of ethereum's public blockchain for a more transparent administration of government contracts.
"Blockchains provide the ultimate in transparency and trust, making this technology a brave new world for organizations that strive to conduct transparent business," NRC said in a statement.
The Industrial Research Assistance Program (NRC IRAP) works with SMEs across Canada, generating a large volume of financial transactions and recordkeeping that require transparency and public disclosure.
They are now using ethereum's public blockchain to discharge that duty to the public, with Bitaccess suggesting they are using what they call The Catena Blockchain Suite.
A product which enables the publishing of complex datasets onto public or private blockchains utilizing smart contracts and hardware security modules.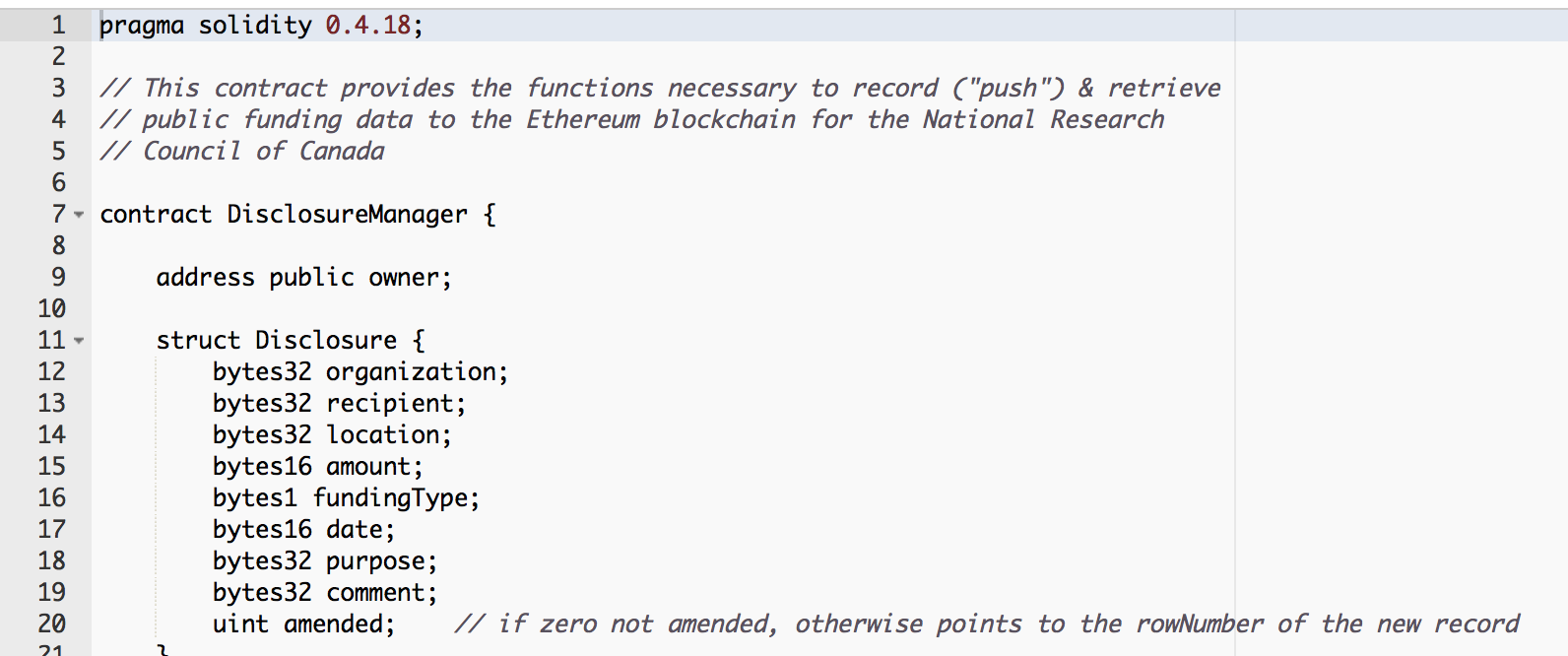 This is all already live, as shown by a screenshot of their smart contract, which states at the very beginning above:
"This contract provides the functions necessary to record ("push") & retrieve public funding data to the Ethereum blockchain for the National Research Council of Canada."
The contract contains no eth, but it has performed some 4,138 transactions, arriving from another presumably NRC address that does contain one eth, with each transaction paying the required eth fee.
The smart contract itself is designed to receive eth, but since it does not define a send functionality, it can not transfer it out. Thus any eth sent to it would be locked and burned as the contract's purpose is to only receive record-keeping transactions and not send.
The above is what an entry looks like. A company called Cogismaq International Inc, which describes itself as computer consultants, has received a grant of, we assume, $10,000.
And we assume so because it's the only data we can't account of, with the company having a North American Industry Classification System (NAICS) number of, seemingly, 511,211.
Of course we still have to trust that the above entered data is correct, but now that it is on the blockchain, it is impossible to change. No one, therefore, can go back into the database and add a zero or subtract a zero from that $10,000. This entry is permanent, unchangeable, as good as forever.
And now we can all see it, including data scientists etc, and we can all see it 100 years or 1,000 years from now if ethereum still stands. Which, if this use case does become more widespread, might perhaps be kept standing if for nothing else than history recording.