Spring is coming. Eth's price is up more than any other top coin today and around 3 times more than bitcoin, rising to a recent high of $1,270, just $150 away from its all time high of $1,420.
Volumes have picked up a bit, standing at $5 billion, with South Korea once more ruling the ETH waves at around $1 billion, followed by the USD/T trading pair.
An interesting development for eth is its ever increasing trading pairs. Spearheaded by Binance, now many prominent exchanges are trading other digital currencies and tokens against eth.
That includes OKex, a division of sorts of OKCoin. Coinmarketcap says the Theta/Eth pair is currently handling some $200 million in trading volumes.
We can vaguely recall that name, Theta, from probably some movie, but were unaware of a token so named until today. It seems to be both a peculiar and interesting project, which can be described as a decentralized youtube.
On the peculiar side, they have a market cap of around $150 million, but trading volumes of $240 million. Quite a curiosity. Interestingly, they claim Sony and Samsung invested in them. A claim we have not verified.
All these pairs traded against eth are giving it a status only bitcoin has ever held, with ethereum so becoming the centre of a vast ecosystem.
The market cap between the two is closing the gap, with ethereum decoupling from bitcoin. If that continues, an inverse relationship might form.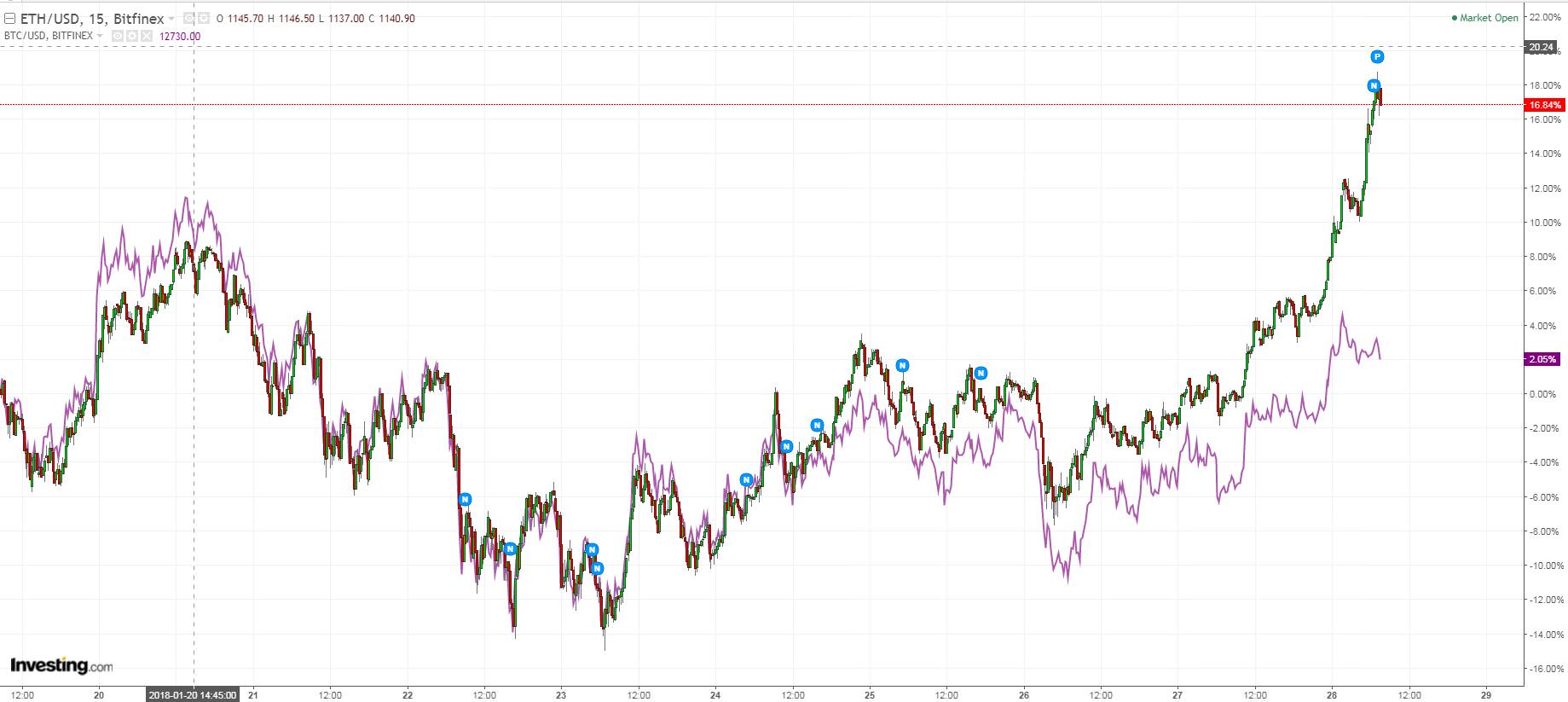 The sudden change in sentiment appears to be primarily due to an update on Casper. The Proof of Stake implementation is apparently running fine as far as its core function of reaching network consensus is concerned according to Buterin.
There are, of course, still ancillary problems with developers working to refine them, but a milestone of sorts has been reached.
Buterin gave a further update suggesting hybrid Casper might launch later than Q2 because the two main eth clients, Geth and Parity, need to implement it once the testing is done.
The other big news was the specifications for the first phase of sharding is now at a "good enough" stage. Ethereum therefore is moving at a somewhat higher speed than expected towards Visa levels on-chain scaling.
As such, the market is seemingly re-pricing the platform in light of recent news, with long term investors usually trying to price in their full implementations minus any risks, while also trying to foresee based on probabilities the value ethereum would have if they were fully implemented.
More simply, you could call it front-running because they're trying to value ethereum not based on what it can do right now, but based on what it might be able to do in 2-5 years.