The weekly Technical Analysis, published every Wednesday, is provided by Dmitriy Gurkovskiy, Chief Analyst at RoboForex.
Needless to say, all statements and views expressed below and any forecasts contained herein are based on the authors' particular opinion.
This analysis may not be treated as trading advice. RoboForex and Trustnodes bears no responsibility for trading results based on trading recommendations and reviews contained herein.
Bitcoin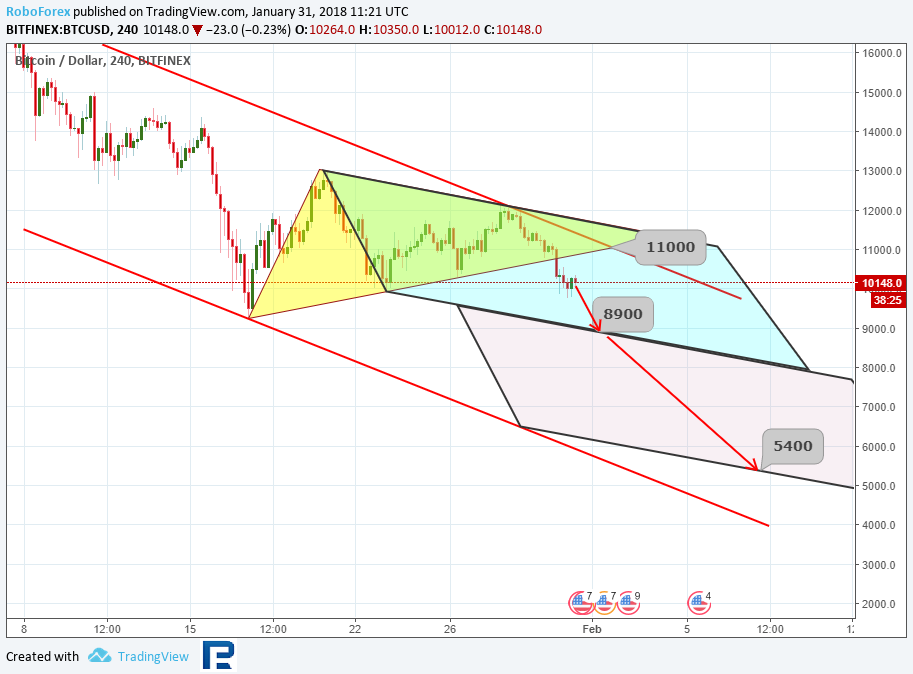 Speaking mid-term, Bitcoin trend is still descending. After testing the resistance, the price has surpassed the consolidation triangle support. This breakout confirms a new downmove with the closest target at the short term downtrend support, $8,900.
Current resistance is at $11,000. If the downtrend continues, the local support may be broken out and the price may enter the lower projection channel. If this happens, the most likely target will be at $5,400.
Ether
On H4, Ether is testing the current ascending channel support. Technically, there may be two possible scenarios here. The first one is the most likely, and it consists in support breakout and the price going down to the projection channel towards $865. Still, even if this is true, the market could still test the local resistance at $1,145.
The other scenario includes the price bouncing from the current support and the price remaining inside the channel. In this case, the target will be at the current high, $1,427, and afterwards there may be a pullback towards the lower local highs.
Stellar
Technically, Stellar is finishing its correction uptrend as the price has broken out the ascending channel support and is heading towards the projection channel support.
The local target may be at 0.4390, while the market may still test the breakout zone between $0.5880 and $0.6550. Speaking long term, one may assume that after reaching the local target/support at $0.4390, the price may start a significant downmove towards $0.3050.
Ripple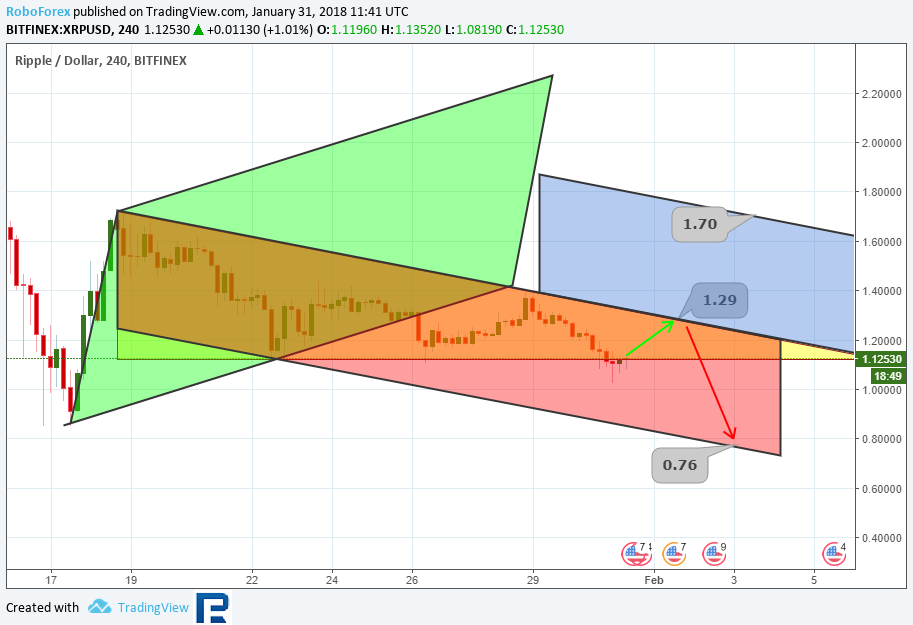 Ripple was unable to form a correction upmove, and after testing the support for a while, the price has formed a new descending channel. Currently, the market is testing another horizontal support; if the price bounces up, it may then rise and start testing the resistance at $1.29 once again.
Bouncing down from this price level may lead to a new downmove that could last until the price reaches the current channel support at $0.76, which is also a major low. If, conversely, the resistance at $1.29 is broken out, the price may go up within the ascending projection channel towards a new resistance at $1.70.