While much has changed in the past two decades, the shopping check-out experience hasn't because those dreaded long entry fields demanding your card numbers are still very much a thing.
Not only do you have to find your wallet, but you'll also have to enter the 16 digits card number, the expiry date, and the last three numbers on the back.
It's a mission, and once you are done, you'll enjoy some suspense to then perhaps be met with a red box telling you the details entered are incorrect. A typo somewhere.
For PayPal, you'll have to go through the signing up process or, if you are signed up, you'll have to try and remember what version of the password and what email address was used.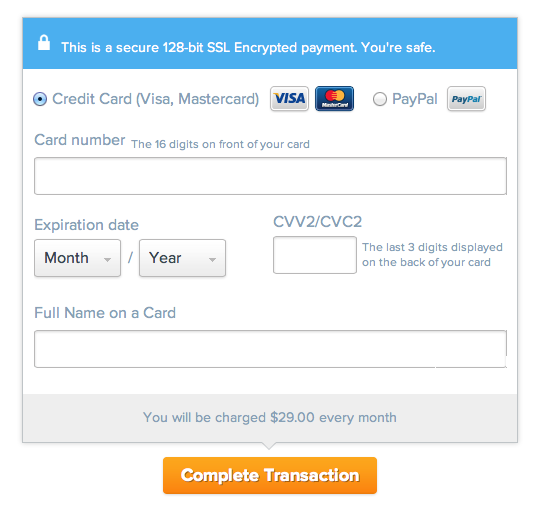 Time is the commodity of commodities. That ten minutes spent on payment might not be much once, but it adds up. And more importantly, from a merchant's perspective, the inconvenience makes customers avoid shopping or might give them a procrastinating excuse to not go through with closing the deal.
What if, instead, you could just pay with one click and be done in about one second? How much more would we enjoy that last part of shopping and how much more convenient would it all be?
That's what Coinbase Commerce, a new PayPal like plugin, might now offer when integrated with MetaMask, an ethereum browser plugin.
MetaMask recently announced their first one million installs, seeing considerable growth in 2017. Unlike centralized wallets, MetaMask is an interface, allowing you to connect it to your own eth node or use Metamask's Infura node provider.
That makes it all decentralized and very much on the blockchain, with the free extension acting as a wallet that sits on your own browser.
As long as you have funds in the wallet, and if you don't you can buy eth through Coinbase or Shapeshift on the interface itself, then to make a payment requires only one confirmation click.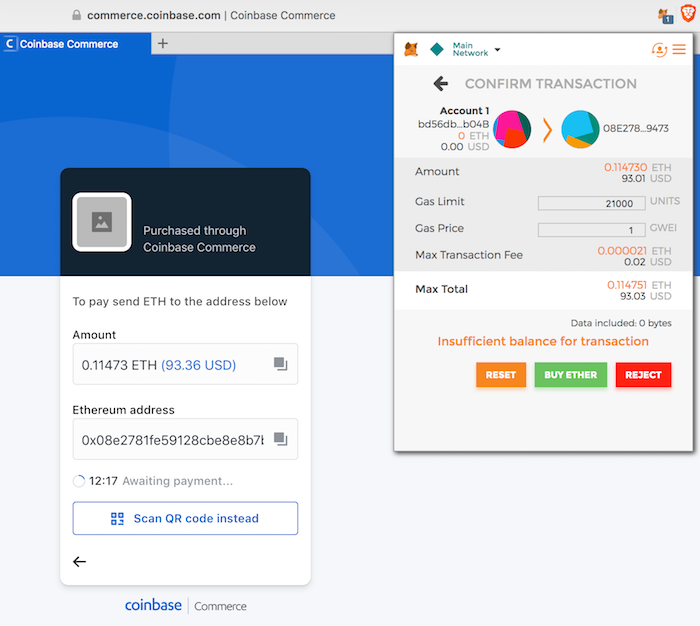 As can be seen above, the MetaMask plugin has automatically copied all the required fields. All it needs at this point is just a final confirmation, giving us the options of rejecting it, confirming the payment or reseting it so that it clears the fields.
We did not really want to go through with the purchase, so in our case it asks us to fund the wallet first. We can fund it by either sending eth directly to the wallet address, or by buying them through the interface.
The fee for this transaction is two cent, although we do not know how much Coinbase Commerce would charge merchants. For their older merchants services Coinbase says:
"Receiving bitcoin payments is completely free on Coinbase. If you decide to cash out your bitcoins to a bank account we charge a 1% fee — but only after your first $1,000,000 in sales."
It is probable they'll apply the same fee model of 1% to Coinbase Commerce, which would make it very competitive compared to alternatives, like PayPal, as they have settled on a fee of around 2%-3% plus 0.30 cents per transaction.
But it is convenience where this crypto button shines, because the payment is, in effect, almost automatically made, so you don't have to move from your chair to go find your wallet and perhaps get lost somewhere doing something else.
The button itself we covered yesterday. It's pretty much just like PayPal. Once you've chosen whatever product and provided shipping address, you just click on Coinbase Commerce, then choose one of the four cryptocurrencies, and if you selected eth while having MetaMask installed with sufficient funds, you click confirm, and done. So reducing ten minutes to ten seconds.
What is important to remember is you don't need an account for anything. You don't have to sign up with Coinbase or Metamask. You don't have to provide any detail to anyone.
So while for goods merchants will obviously need the address, if the provided service is one where just payment is required, such as donations, you can complete the entire process in seconds by only clicking.
That combination of much lower fees, pretty much instant payments, far higher levels of convenience, and lack of details requirements, might make this plugin, especially when MetaMask is installed, very much a game changer.
For it has achieved what many wanted for so long, yet couldn't because dollars or pounds require an intermediary when online. Digital currencies don't, and even Coinbase in this case is acting as an interface where the customer is concerned.
So the last leg of the payment can thus be made pretty much automatically, allowing digital currencies now finally after a decade to reach a stage where they are better than traditional payment methods, especially online.