"Dictators turn to Bitcoin to build investment abroad," Soros said at the World Economic Forum back in January, with us sarcastically commenting at the time "no one in this space could have asked for a bigger endorsement."
We, of course, might be proven right as a Sec filing shows Soros' Fund has bought 2,472,188 shares in Overstock at the end of the fourth quarter of 2017.
That's currently valued at some $150 million, with the exact date of the purchase unknown, but it does appear to be after Overstock announced their blockchain based tZero had entered a joint venture to facilitate blockchain based tokens trading.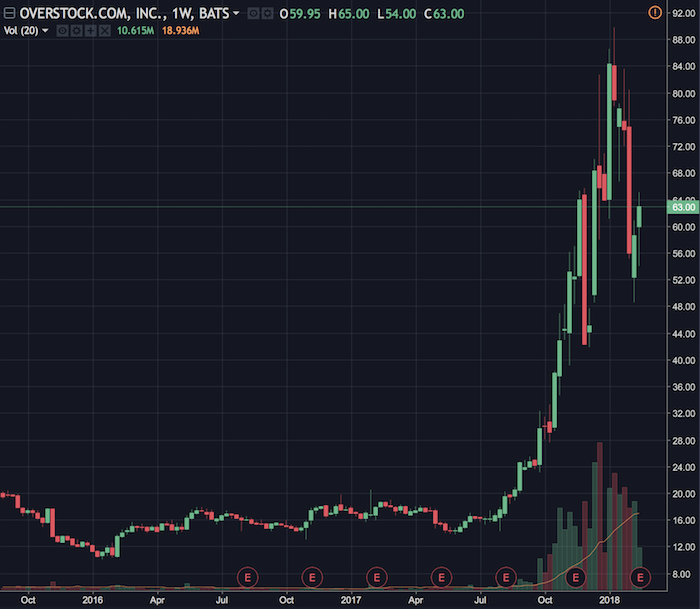 Overstock's share price looks not much different than bitcoin's price, showing just how interelated the two might be due to a number of products, including tZero.
tZero is currently undergoing an ICO of some $250 million restricted to accredited investors only so as to not be bogged down with burdensome SEC requirements.
They have also announced "KODAKOne's token, KODAKCoin, will be the first third-party security token to launch on tZERO's first-in-industry regulated security token trading platform," according to a press release.
With Patrick Byrne Overstock's CEO being a long proponent of this space, accepting bitcoin payments since 2014, their expanding focus on blockchain tech is not much of a surprise.
Nor is it surprising that financiers and old bankers say one thing in public while their companies do something quite different.
JP Morgan, for example, bought some bitcoin days after Jamie Diamon, its CEO, publicly called bitcoin a "fraud," leading to a market abuse filing.
But that the left leaning Soros is betting big on a very crypto friendly company, with the Soros Fund Management becoming its third largest shareholder, might be slightly surprising to some.
Or it might be just another sign that this space is bridging ideological divides between left and right, with many seeing considerable potential in the ever evolving technology.
Including now it seems, at least in part, Soroi himself, of whom Paul Krugman – who himself is kind of coming around to this space – says:
"Nobody who has read a business magazine in the last few years can be unaware that these days there really are investors who not only move money in anticipation of a currency crisis, but actually do their best to trigger that crisis for fun and profit.
These new actors on the scene do not yet have a standard name; my proposed term is 'Soroi'."