Ethereans are full of rumors today regarding a deleted tweet by Vitalik Buterin which seemed to imply a sharding testnet might be launching soon.
We've asked Buterin whether there's any update on sharding and whether a testnet launch is to be expected. We'll update if a response is received. For now have a look at the tweet:

Theres quite a few ways to interpret that tweet, but the main way it is being interpreted is a suggestion that sharding development has reached a stage where a testnet could be expected soon, or soon-ish.
We find that somewhat difficult to believe because the specification reached the good-enough stage only last month. But they do appear to be moving faster than expected and Buterin said at the time: "On the Sharding side, quite a lot of work has started."
Moreover, in a research update Nate Rush does appear to portray a picture of hands on code testing of sharding part one, but the problem he faced and seemingly resolved shows it is all still at a very early stage.
He had apparently found a bug in regards to fork rules with the code not doing what it should be doing. Then, he apparently found a solution to it too.
So consensus rules, which is the core part of sharding, have not yet been fully honed down. On the other hand, it does seem that sharding is no longer just words and design architecture, but has now taken a code shape of sorts.
A testnet, therefore, might perhaps not be that far away, but if this all reaches a stage where it can be implemented this year, that would be a surprise, at least to us.
We expected proof of concepts next year. That estimate, of course, has to be revised, but we still don't expect implementation before 2019, yet it does seem Buterin and some of the eth team has dropped everything to focus on sharding.
That's probably due to a number of reasons. Buterin's criticisms, or perhaps reflections, on what has been achieved so far have often been met with commentary that the lack of capacity in the absence of sharding limits what can be done.
But a bigger reason why this seems to be moving faster than expected might be that all these dapps and all these projects which have raised billions with all their developers, are seemingly allocating some resources towards sharding development.
Nate Rush, for example, is from uPort, an eth based project working on decentralized identity. They, along with many other dapps, need extra capacity, and as mama may have told them, the best way to get what you want is to work on it.
Still, a 2018 implementation of the first part does appear to be unrealistic, although perhaps not far fetched. Hybrid Proof of Stake has been on testnet for around two months now and the core consensus part of it is working fine. So Metropolis might go out in the first part of this year.
While all that is going on, a lot of work is being done on sharding too, so it could go out later, but we refuse to believe a 2018 implementation until we see it or developers provide further updates.
However, where traders are concerned they clearly don't need much update. A deleted tweet that might have been taken out of context was enough to send the price up some 10%: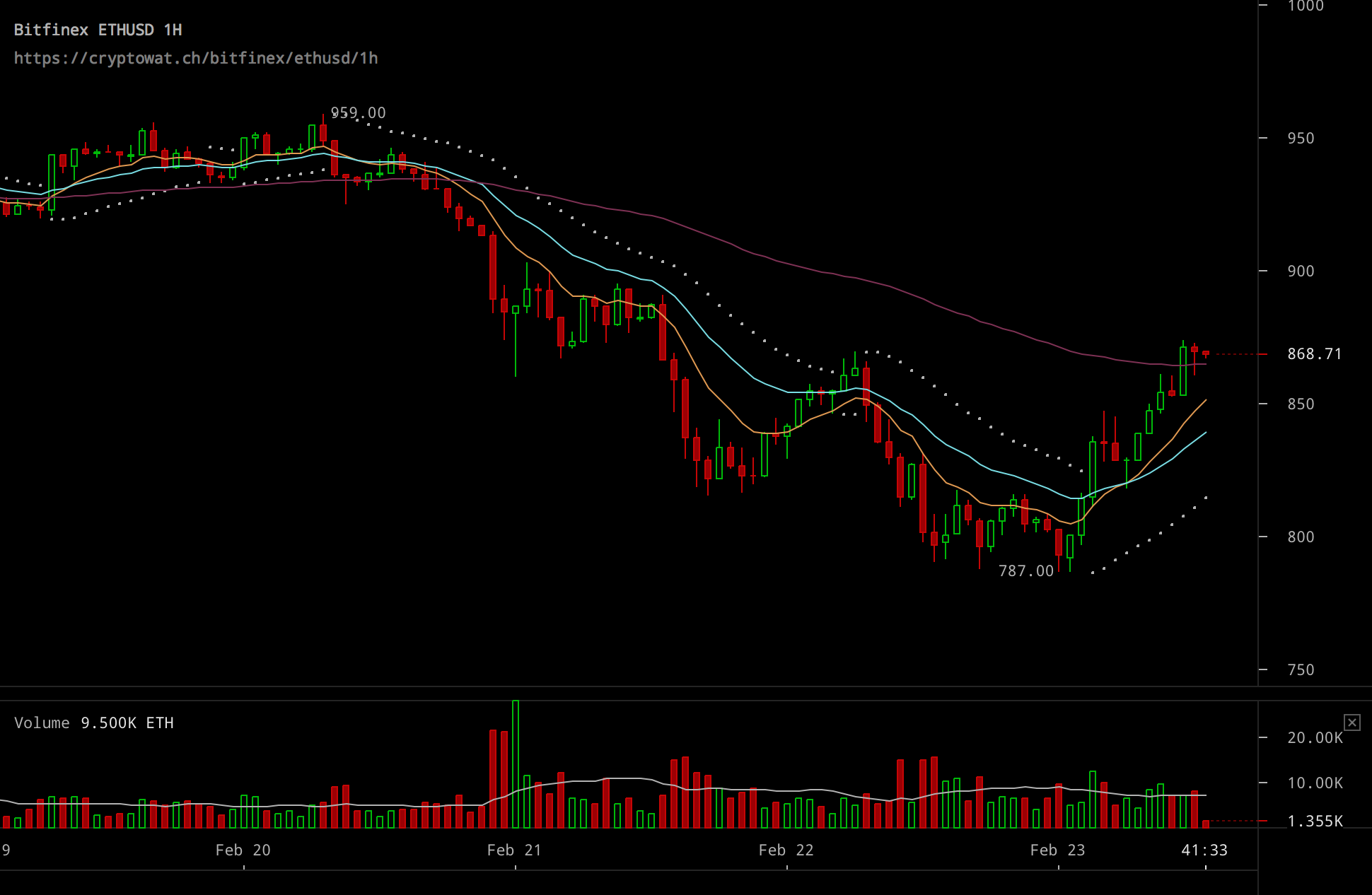 Although that rise could have been due to many other reasons, but as bitcoin hasn't moved much at the same time, the semi-decoupling might suggest eth specific movements.
And there isn't really much that is more etherean than sharding. An upgrade which we think will be the biggest breakthrough since bitcoin's invention for it will considerably increase capacity while maintaining decentralization and the same level of security, permissionless, etc., as currently provided.