Bitcoin's network is currently operating at the same level of transactions as it used to in 2016, handling just 160,000 transactions yesterday. Oscillating at that level since February.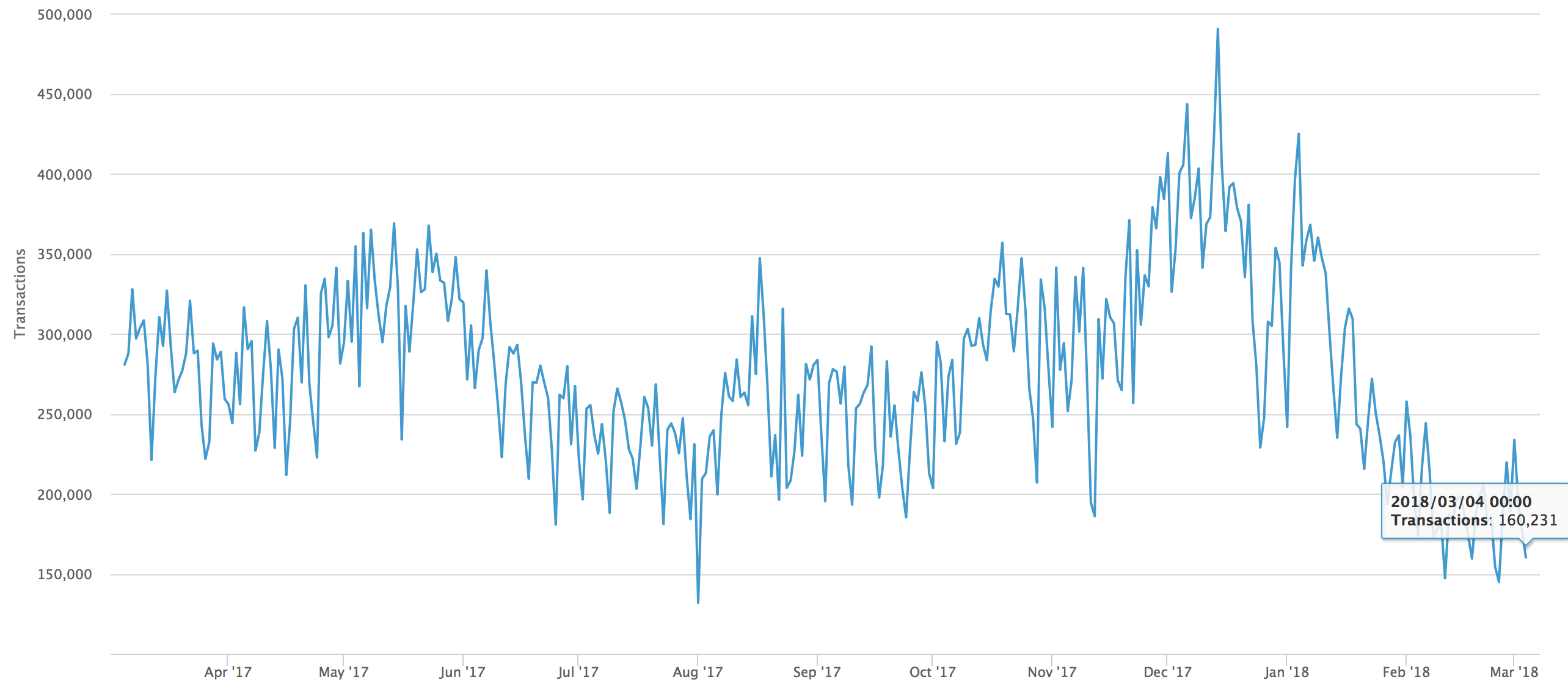 Some are suggesting this is due to exchanges bundling transactions, but curiously unconfirmed transactions remain at 17,000 at the time of writing with the average blocksize remaining at 1MB.
How the average blocksize is still at the same 1MB level when transactions have fallen by some 4x is unclear.
It could be that backloged transactions are processed, but the network congestion effectively cleared recently. So the transaction size must have increased.
That would support the batching theory, but it could also be that segwit transactions are usually bigger with segwit seeing an increase in usage to 30%.
Ethereum has also been seeing a fall in transaction levels, making a new recent low to 640,000. The same level as back in December 2017.

That's despite new projects coming online. Including Etherbots, a game that reached some 3% of eth's total transactions where ethereans are buying fake lambos for some $12,000. Or Idex, a decentralized ethereum asset exchange.
Yet, despite the transaction volume falling, fees have somehow increased for ethereum to 14 cent. That's still far lower than bitcoin's miner fees, but with such reduced demand you'd expect fees to fall.
Which might again suggest the average size of each transaction has increased, but the blocksize has fallen in ethereum from 33kb every 15 seconds to 20kb.
General activity is lower in any event for both bitcoin and ethereum as shown by google searches which have fallen to 20 from their high of 100, down another 5 in recent days.
That might be because of a period of consolidation that has now been going on since February, with the wider ecosystem enjoying a somewhat quieter period after the stupendous boom and winter crash.
But structural changes are occurring, including a very crypto friendly party winning the Italian elections, with this space now very much mainstream, at least in awareness.