Consensus Systems, ethereum's powerhouse, is looking for 186 individuals to join their team in various positions from developers, to project managers, HR, marketing, in-house Counsel and whatever else you can imagine.
Unlike a traditional company, they operate in "spokes." Making them an incubator of sorts with different start-ups sharing a space New York Times describes as:
"Essentially one large room, with all the messy trademarks of a start-up operation, including white boards on the walls and computer parts lying around."
One such project is Adhara, which we had not heard before but is apparently "building a platform for corporates large and small, as well as commercial banks to manage their cash and payments in a tokenised environment based on Enterprise Ethereum."
They have two opened positions. A Digital Product Manager to work from London and a Senior Product Designer. Far less than another project we had not heard before, Balanc3, which quite interestingly is:
"A flexible set of utilities that are built to monitor on-chain transactions and transform that data into the traditional accounting formats needed for reporting and compliance."
Well, we'll definitely need that one come the next tax season if it is ready. They want many engineers, administrators, customer service personnel and of course marketers.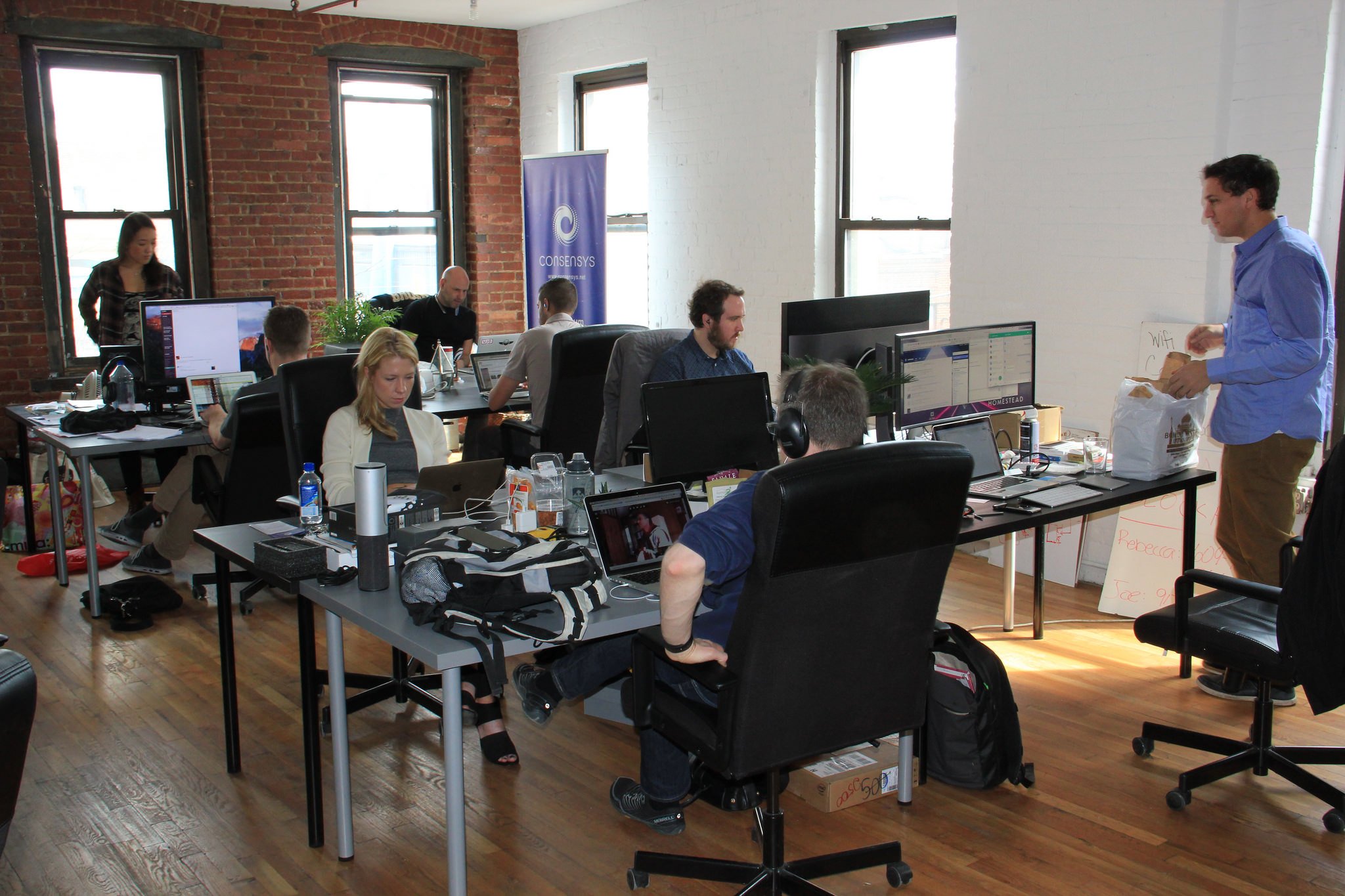 Still, they pale in comparison to ConsenSys Solutions which "helps organizations across the globe build, test, and deploy public and private blockchain solutions." That includes Procter & Gamble, Microsoft, and Smart Dubai.
P&G? Oh yes, they've apparently formed "a partnership to explore the use of Ethereum." What that means exactly we don't know, but health is a big area where blockchain tech can assist.
DC Labs? That's apparently "focused on enhancing government performance and social sector outcomes through blockchain-based solutions."
Oh, god, Gitcoin. We're not even… and what is this? Flying toasters? Now we have Trustology as well. Great name if you want to rhyme with… although decent idea:
"A custody platform to safeguard your crypto assets. Our smart accounts will be customisable to satisfy the diverse needs of individual, corporate, exchange and institutional clients, now and in the future."
We can see why they need many more marketers because Viant is no better name, although their supply chains tracking system through blockchain based smart contracts might be promising. Their designers and illustrators, however, are not bad:
There are many other opened positions in more established ConsenSys spokes, of course. Like Metamask, Ujo Music, Infura and others.
With this considerable demand for new positions suggesting the ecosystem is growing significantly. Just as is the talent shortage, especially for developers, but also for other professionals with some familiarity of this space.
Two hundred is, afterall, nearly half of their current count of around 400 employees, with the start-up giant so seemingly growing exponentially as they move to provide the infrastructure and build those low hanging fruits of ethereum based applications.