More than 100,000 BitPay merchants, including Microsoft, Zynga, Virgin Galactic and others, can now start accepting Bitcoin Cash payments following its full integration in all of BitPay's services.
BitPay has not yet made an official announcement on the matter, but merchants have already started accepting Bitcoin Cash through the crypto payments processor.
One of them is eGifter, a gift cards shop through which you can somewhat indirectly buy pretty much anything at household brands such as Apple and Amazon with bitcoin cash.
"It just went live yesterday with BCH," someone who noticed it publicly said. "Find something you like. Run it through checkout and you'll see the most important evidence there is, BCH enable at checkout."
Interestingly, Bitcoin Cash payments have a zero network fee. While for bitcoin there are screenshots showing a 7.9% network fee and a 2.9% network fee, varying dependent on on-chain miner's fees.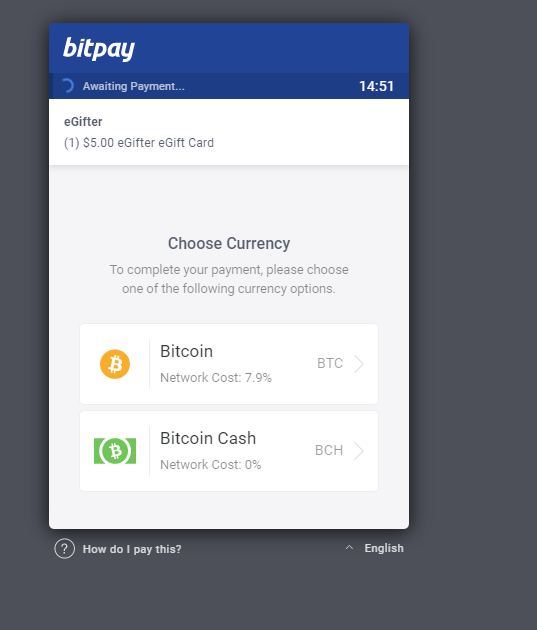 "The extra network cost in your total invoice covers BitPay's miner fee cost to do a UTXO sweep for your payment…
Due to the insignificant average size of Bitcoin Cash miner fees, there is currently no network cost included on Bitcoin Cash invoices.
If Bitcoin Cash miner fees increase to a significant level, network cost will be included in Bitcoin Cash invoice totals by default," BitPay says.
They are showing both currencies side by side, allowing you to choose which one you wish to pay with. For bitcoin, the fee of 8% appears to be incredibly high, which is presumably why they added BCH.
That fee is on top of the miner's fee you pay to send the BTC, as well as on top of the 1% commission BitPay receives for its service of acting as a processor and for instantly converting the crypto into fiat.
With that 8% seemingly being solely to cover BitPay's cost of moving the received BTC either to an exchange to sell or, if the merchant has opted in to receive BTC rather than insta converting it, then to send it to the merchant.
Which is why perhaps many merchants have stopped accepting bitcoin payments, including Stripe and Steam.
However, most of them started accepting BTC when its market cap was far lower than BCHs. Thus, as fees are back to zero for Bitcoin Cash, they might start adding it as an option.
Not least because the addition would hardly cost anything, while allowing them to tap more of a now half a trillion crypto market.