The weekly Technical Analysis, published every Wednesday, is provided by Dmitriy Gurkovskiy, Chief Analyst at RoboForex.
Needless to say, all statements and views expressed below and any forecasts contained herein are based on the authors' particular opinion.
This analysis may not be treated as trading advice. RoboForex and Trustnodes bears no responsibility for trading results based on trading recommendations and reviews contained herein.
Bitcoin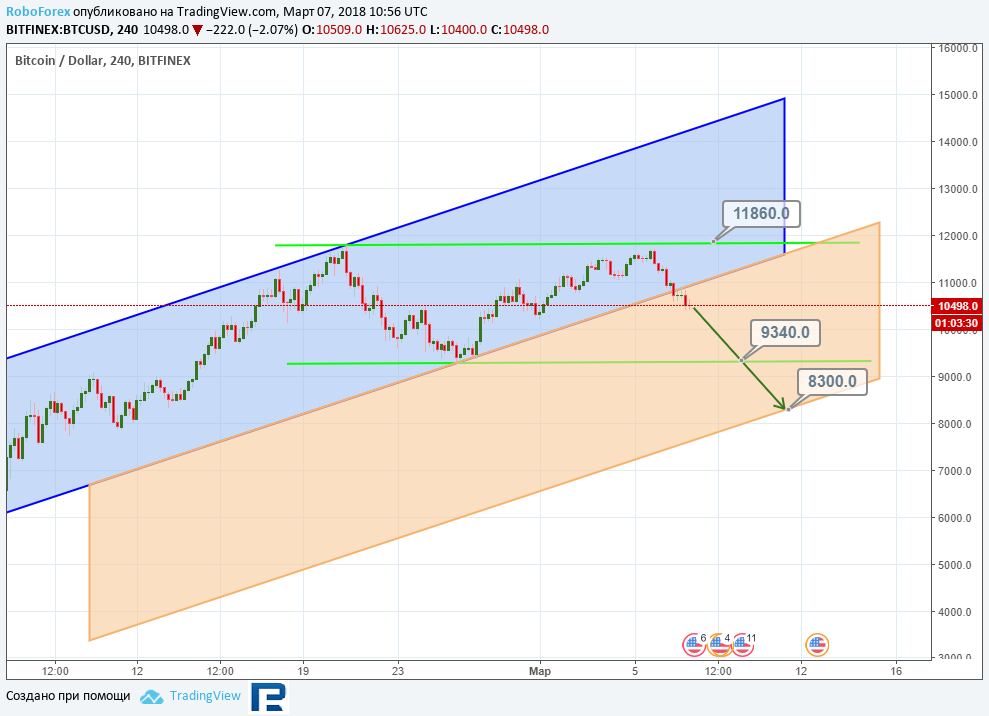 On H4 chart, we can see Bitcoin has broken out the ascending channel support, which could well mean the reversal. The support broken out now becomes resistance, and the price goes to the projection channel.
The new target is the projection channel support at around $8,300. In the short term, the down movement target is at the support level of $9,340. Once this support gets broken out, the downtrend momentum will become stronger. Meanwhile, the resistance is at $11,860.
Bitcoin Cash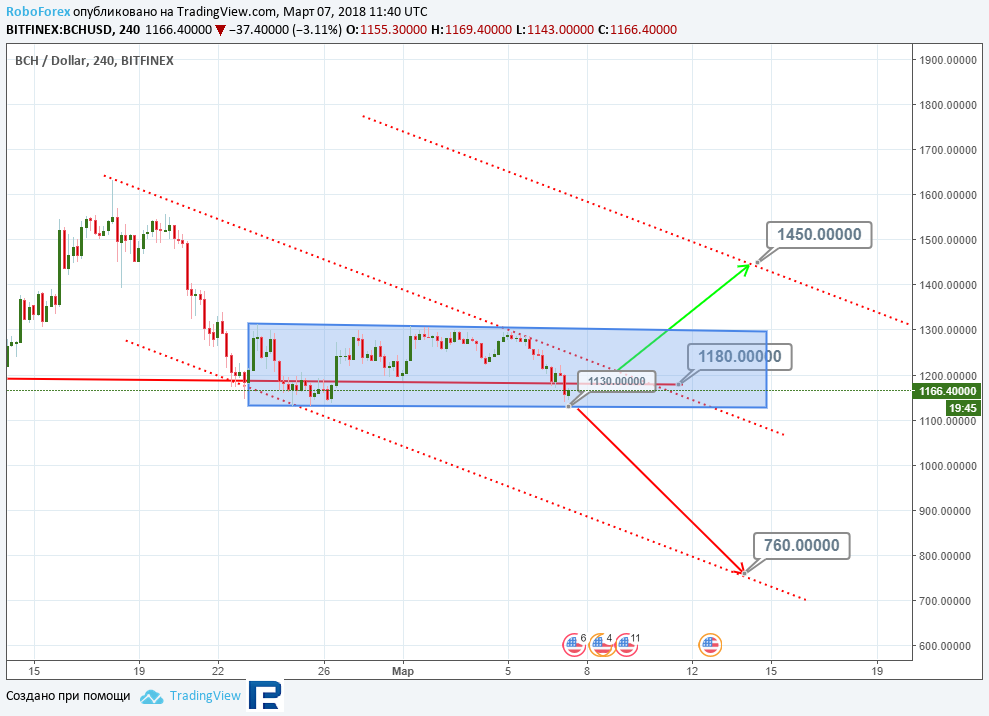 Technically, Bitcoin Cash is range trading, while in a longer term scale, the price is moving within a descending channel. After breaking out the support at $1,130.00, the price may well head to the channel support located at $760.00.
The resistance breakout is also a likely scenario, and in this case the price might head to the upper projection channel towards $1,450.00.
Ethereum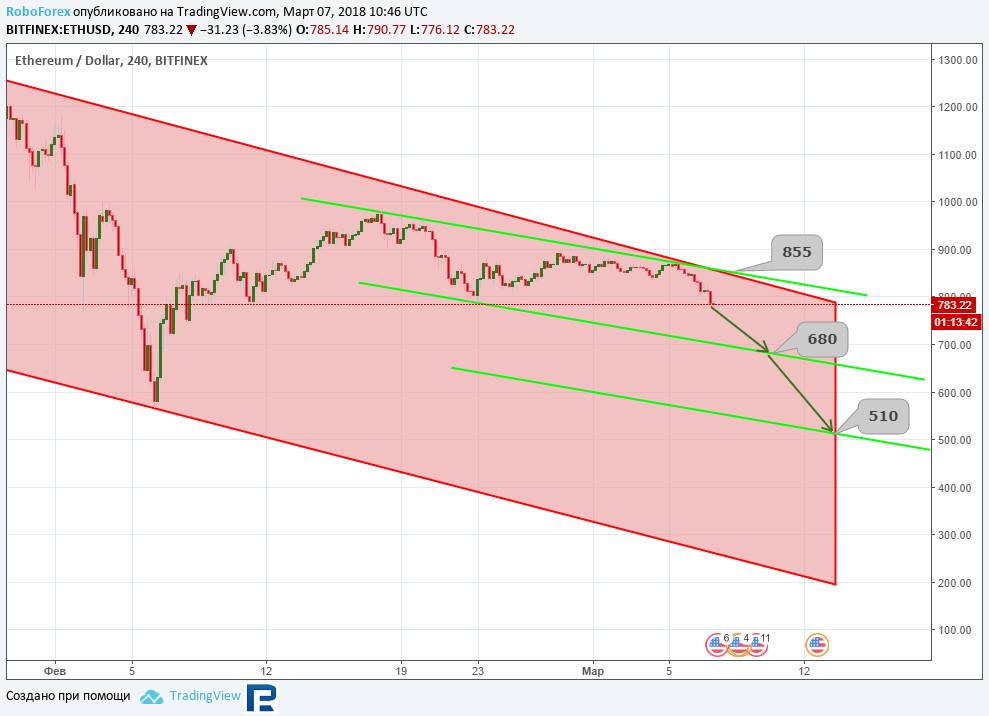 Ether is trading inside a long term descending channel, while the main channel resistance has already been tested. Such situation often indicates a new wave of downward movement.
In the short term, Ether is trading within a very tight descending channel, headed towards the support. The local target is at around $680, and once it gets broken out, the price might head to the upper projection channel towards $510. Meanwhile, the key support is at $855.
Litecoin
When it comes to Litecoin, both midterm and short term trends are descending. The short term chart analysis shows the price is heading towards the descending channel support and is ready to break it out.
This local support breakdown may signal for a strong downtrend with a target at a lower support level, such as $115.00.
On the other hand, testing the resistance at $207.00 is also quite possible. in this case, if it gets broken out, the price may well go up to $240, whether the former ascending channel support was located.
Ripple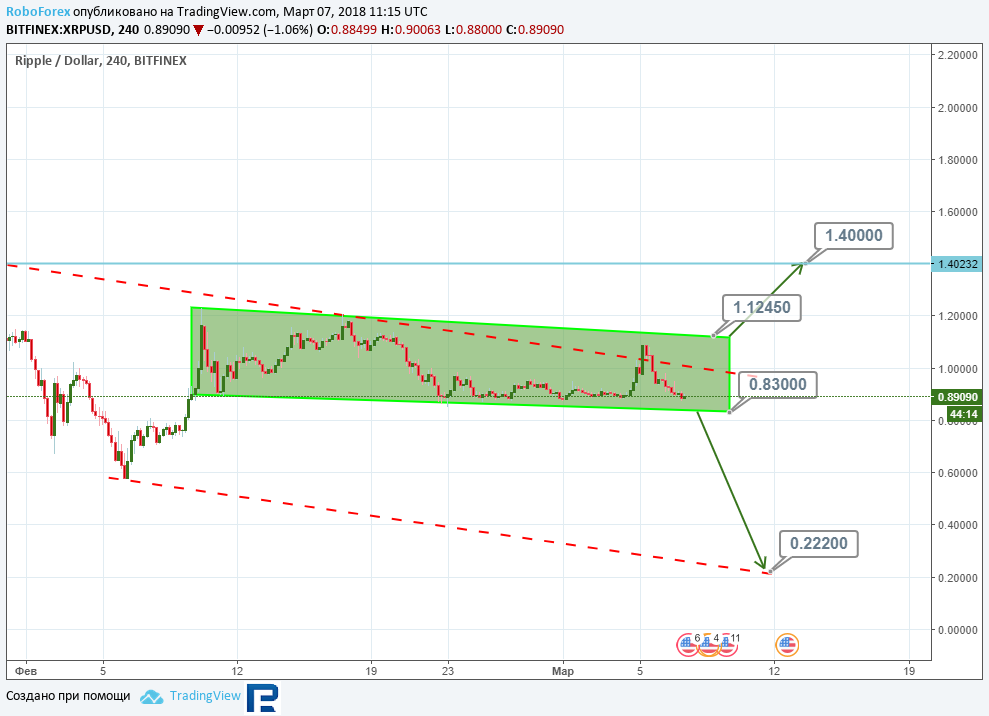 A descending trend is dominating when it comes to Ripple, while in the short term this digital coin is trading mostly sideways, with the range contracting.
As usual, we'll have to wait till the range trading phase is over before seeing what will be going on afterwards.
In case the resistance is broken out at $1.1245, the price may then head forward to the fractal resistance at $1.40.
Conversely, if the support at $0.83 gets broken out, the downtrend will continue until the price reaches the base channel support at $0.2220.