Many reddit communities have woken up today to find out they are banned as reddit suddenly announces a change in policy:
"As of today, users may not use Reddit to solicit or facilitate any transaction or gift involving certain goods and services," the Condé Nast media owned giant said before adding:
"Reddit is not intended to be used as a marketplace and takes no responsibility for any transactions individual users might decide to undertake in spite of this."
Among the many subreddits, BazaarMarkets has been banned. That was a place to list OpenBazaar listings/vendors with OpenBazaar being a fairly clean eBay like decentralized marketplace.
Pretty much all drug related subs have been banned, as have some gun related subs. The Airsoft sub has also been banned.
Most sadness is being expressed for r/beertrade. A moderator of it publicly says:
"Frankly, I'm just saddened by the whole thing. The /r/beertrade community has been a largely wonderful group of people.
The subreddit was a part of my daily life for years, and I even met a number of now close friends through trading and modding there.
It sounds corny, but I always saw the subreddit as a thing that gave people the opportunity to spread a little bit of happiness through a shared hobby.
It's jarring to have it taken away with no warning and no discussion for a largely speculative line of reasoning."
The given reason by reddit is:
"This change is not due to any bad actions by these particular communities. However, due to the controlled nature of alcohol, Reddit is not built to ensure that the sales are happening legally, and so we can no longer continue to host communities solely dedicated to trading of alcohol or other controlled substances."
They have chosen some fairly soft targets, but something far bigger might be happening. The people's rebellion through the voting box in Brexit and in Trump is leading to questioning of a pillar of modern freedom, section 230, which considers internet platforms as a library that can't be liable for what's in the contents of books, rather than a newspaper which is liable for the articles it writes.
"If the technology companies do not wake up to their responsibilities — and use the power 230 gives them — to better protect the public against sex trafficking and countries that try to hack our political system, you bet that companies can expect (this legislation) will not be the last challenge for them," says Ron Wyden.
We have recently seen just how controlled mainstream media is (90% chance of Hillary winning), just as we have seen how the internet threw a spanner in that machine. What follows therefore might start sounding more and more prophetic: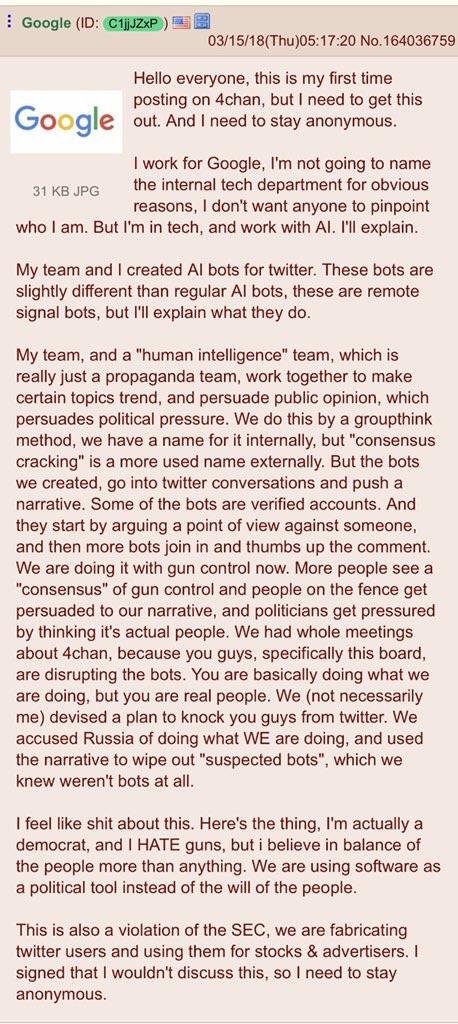 What we might be seeing is the beginning of the enacting of an infrastructure that can facilitate mass censorship at a scale and effectiveness never before seen.
4chan stood up to it, and they won, guaranteeing their naked place, at least for now. But redditors have failed time and again to stand up for their freedom of speech as we ourselves have seen on r/bitcoin, as we saw during the elections in r/politics, and as we now more widely continue to see with what appears to be a Russia scapegoat being potentially used to limit internet freedom.