The biggest democracy on earth and the poorest democracy on earth has shunned the newest innovation, crypto money, with a decree by India's Central Bank (RBI) stating:
"It has been decided that, with immediate effect, entities regulated by RBI shall not deal with or provide services to any individual or business entities dealing with or settling [cryptos]. Regulated entities which already provide such services shall exit the relationship within a specified time."
The central bank says "technological innovations, including those underlying virtual currencies, have the potential to improve the efficiency and inclusiveness of the financial system."
However, RBI's deputy governor BP Kanungo, says "if [cryptos] grow beyond a critical size, they can endanger financial stability."
How they would endanger financial stability, or do so more than the banks which collapsed nearly exactly a decade ago, he does not say.
While the official release says "crypto currencies and crypto assets raise concerns of consumer protection, market integrity and money laundering, among others."
Instead of dealing with such concerns, they have apparently decided to opt-out of innovation completely.
Perhaps because they think the alternatives are fully perfect and one needs not bother with trying to improve a banking and monetary system that is prone to collapse.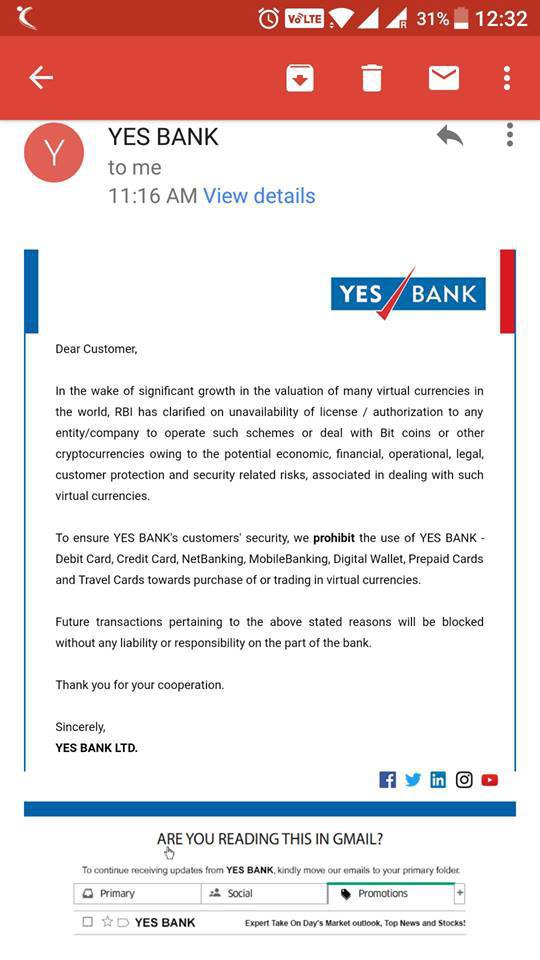 "Rapid changes in the landscape of the payments industry along with factors such as emergence of private digital tokens and the rising costs of managing fiat paper/metallic money have led central banks around the world to explore the option of introducing fiat digital currencies.
While many central banks are still engaged in the debate, an inter-departmental group has been constituted by the Reserve Bank to study and provide guidance on the desirability and feasibility to introduce a central bank digital currency. The Report will be submitted by end-June 2018."
Of course, the best way to make your population familiar with such potential new money, and the best way to have such potential transition with an infrastructure already in place, is to ban the current digital money.
Moreover, the best way to place yourself at the forefront of what some call a fourth industrial revolution, that includes machine to machine payments, is to hamper a key component.
Then once it's all established, India can play catch-up again and remain about a century behind, because who needs all this tech anyway, especially in a country without a functioning banking system as we know it in the west.
A country that descended into chaos in 2016 when their government suddenly announced the most used bank-notes were no longer money effectively immediately in an attempt to control run amok inflation.
Somewhat surprisingly, while that spurred some bitcoin adoption, it did not at a rate you might have expected considering the circumstances with India's biggest exchange handling only around $23 million in combined crypto trading volumes.

One reason might be their very poor literacy rate, far below world average and as low as 60% in some areas of the country.
Suggesting they are generally far less educated or informed, certainly far less than in the west but also significantly less than in China where cryptos boomed before their authoritative government banned crypt0-exchanges.
India's decision, therefore, has had little if any effect in the crypto space as they are so behind our search shows only one Trustnodes news article covering the country.
It's an interesting article, reporting how a certain region in India is trying to establish itself as a tech hub with blockchain tech as the poster boy.
Yet those plans might now face difficulties because once again India's government is showing why this country remains so poor even though it is growing at some 7% a year.
And the reason for that we think is because they lack an enforceable rule of law and/or a functioning civil service which can provide key services, such as pavements.
And while they claim to have a democracy, they clearly lack a key component of it. That being public consultations before taking such drastic decisions, and more importantly, a law to base such decision.
For as cryptos are not illegal in the country, on what basis is this government ordering its banks to prevent individuals from moving their money towards a perfectly legal activity?