Were you guys around a few days ago when ethereum started sort of slowly rising and seemingly headed towards $420?
At a little corner somewhere bulls were chanting 420, 420, with some even howling at the moon: auuuuu (a as in apple and u as in book).
But when price neared $417 everyone got distracted, so price went down again, tried a straight line, and now is seemingly rising again.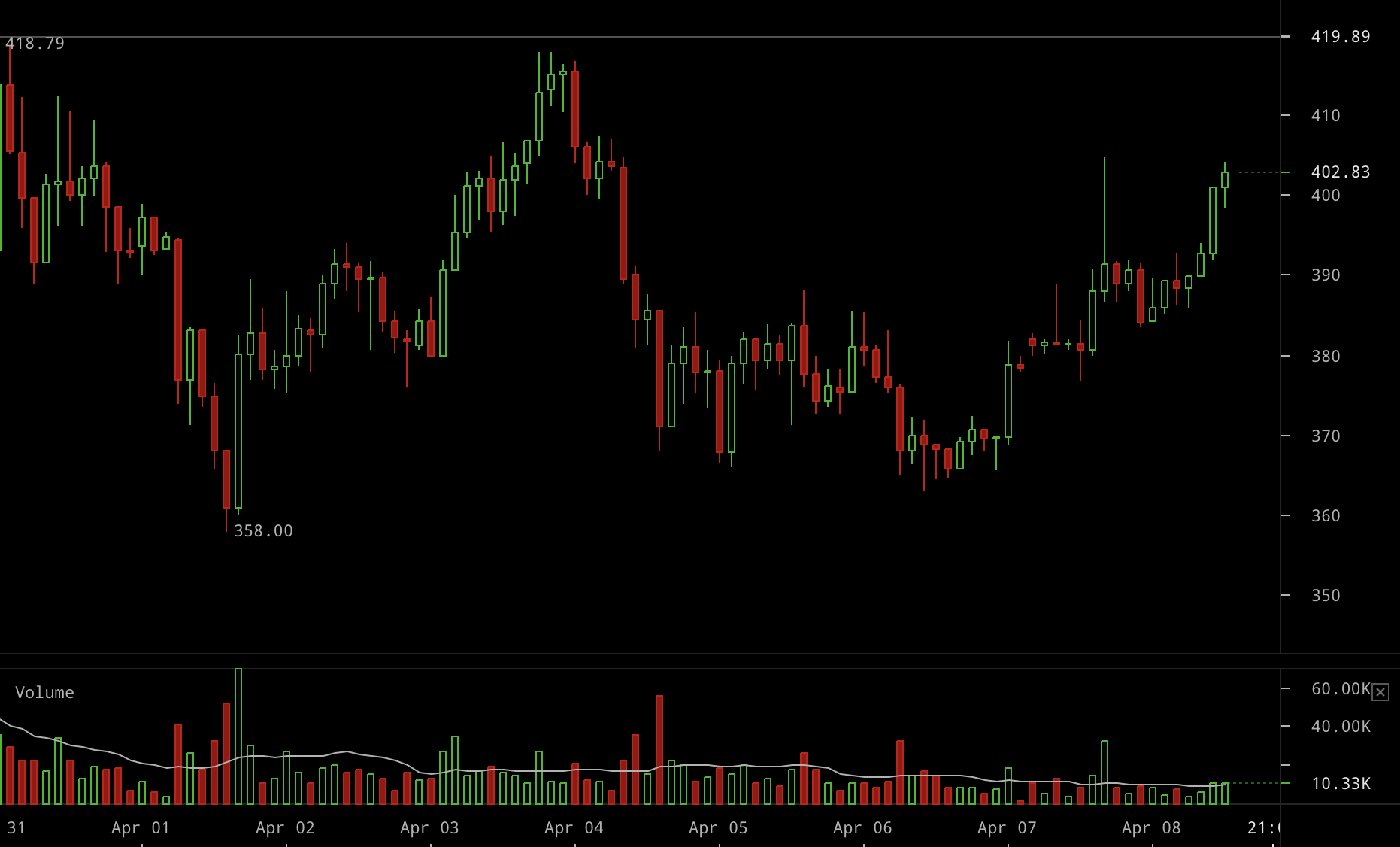 That wasn't the first time. It had done the same thing at the beginning of the month and is now seemingly trying it once more.
Which means April so far has been a flat line for ethereum. That makes a change from the down-line of the previous four months, so some are timidly turning into a little bit of bullish.
Volumes are considerably down too, which is a good thing some say after all this selling as it might suggest there aren't many left to sell now.
While transaction volumes were up on April 5th to around 700,000, then went down again to where they were, at around 500,000. Suggesting they are sort of sidewaying too.
That's presumably because everyone is kind of waiting to see if this $420 will be retaken. If not, then it's probably back to $360-$380. If it is retaken, then $450 might give a little resistance but $520-$550 might be the next big battle ground.
Interestingly there does appear to be some pattern with ethereum and 20 because if we see where it sidewayed it's kind of at $620, $720 and so on.
Of course, ethereum's first big all-time high was at around $20, then at $420, then at $1,420. Making 20 and perhaps even 42 a bit special for eth. Why, we do not know.
Nor do we know if bulls have enough courage to place back into green everyone who bought eth exactly one year ago.
Because there is still quite a lot of bearishness around with that atmosphere requiring quite a bit of time before it changes to a meme party. So there might be some sidways, with perhaps slow rises, but what exactly will happen only 420 can say.