Bitcoin is back to losing market share as altcoins appear to have turned towards some bullish sentiment with some froth seemingly on this spring air.
After some gains since January when bitcoin's market share fell to its lowest of 32%, then rose to around 45%, it has now lost 5% with it seemingly headed down again.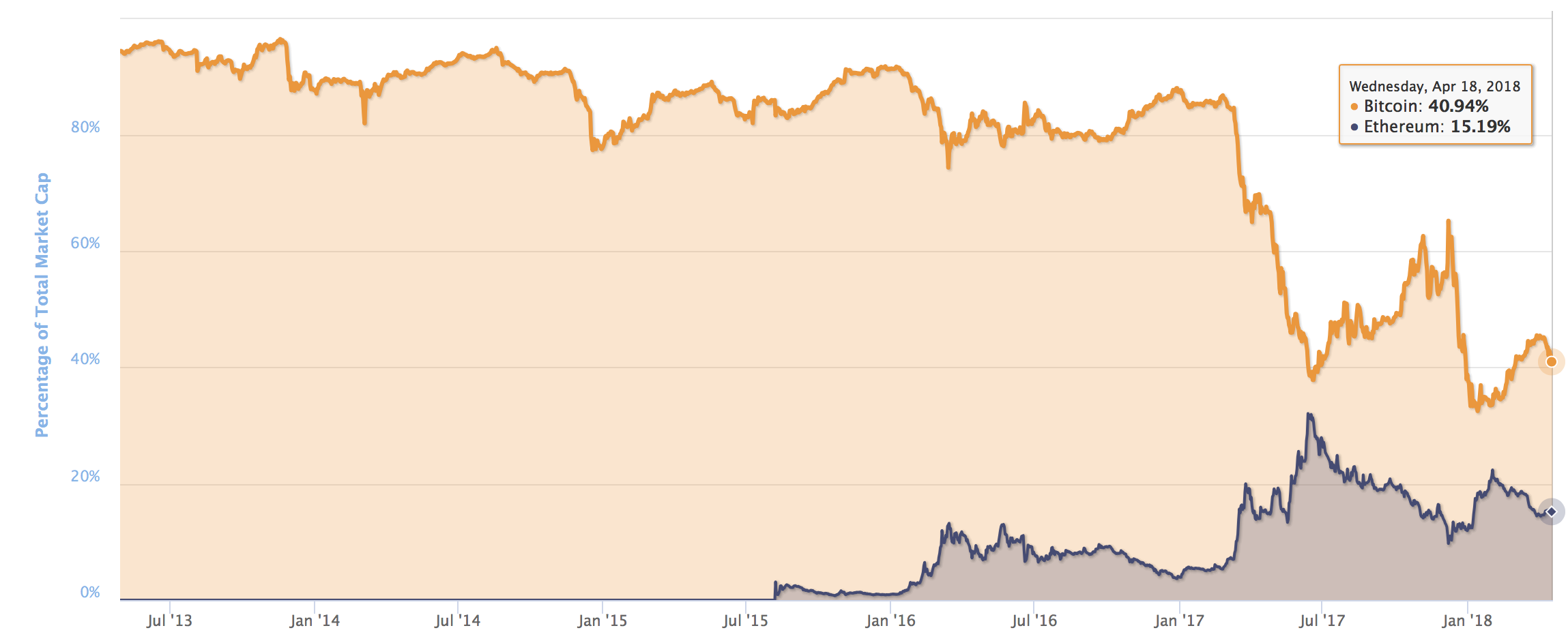 Ethereum's ratio somewhat mirrors the above, with it gradually consistently rising for much of this month after it fell to a bottom of around 0.05.
It now trades at around 0.063, somewhat halved from its all time high of 0.12 during January when it once again neared bitcoin's market share.
The market cap overall currently stands at $334 billion, while global trading volumes are at $18 billion. Some $6.5 billion of it in bitcoin, and $1.6 billion in eth.
The picture for the top cryptos in general appears to be mixed today for the first time in a long time as for a significant period they went up or down together.
Bitcoin Cash has gained quite a bit more than the other big ones today. The reason remains unclear, with no news as far as we are aware. Suggesting it may well be it did not rise as fast previously, so now it might be compensating.
Monero is another notable gainer, more than even BCH. There, too, we see no news, but apparently it is their 4th birthday today.
They grow quickly, and of course they had a PoW fork recently to get rid of asics miners. It may be the remaining miners are now hodling it more, but they're hardly the only gainers so that could be a stretch.
There is one other project we wanted to highlight because while the rest have pretty much followed each other in price moves, they have had a mind of their own, gradually slowly rising for the past week to nearly double.
As we previously described 0x, they are "a decentralized exchange with off-chain order relaying where relayers can create their own liquidity pools and charge transaction fees on volume. That is combined with on-chain settlement and publicly accessible smart contracts that any dapp can hook into."
Here, there appears to be some news. They have published a relay registry, for example, showing development is on-going and the platform is improving. Moreover, the Rockefellers apparently showed some interest in the project. Pantera also has them in their portfolio alongside many other projects/tokens.
Generally the crypto picture appears to start being diversified, or widened. There are still, of course, the top big ones, but this space is now starting to turn into a sort of stock market of sorts with tribalism or animosity now beginning to feel like a relic of the past or limited to some fringes.
The overall crypto space is of course still tiny, with plenty of low hanging fruits ripe for picking as well as space for new innovative projects.
So it may well be winter now gives way to a new spring when the crypto space enters a more mature and perhaps overall interesting stage.