Charlie Lee, litecoin's founder, has confirmed he still has no litecoins at all despite creating the whole thing and sort of leading it.
The implicit statement was made in reply to an announcement by Pornhub of a partnership with Verge, a fairly new crypto with a market cap of around one billion dollars that has as its selling point Tor incorporation.
"History has proven that the adult entertainment industry plays a critical role in adoption for innovative technology. We saw that with VHS, Betamax, credit card payment icons and, most recently, VR goggles. We expect to see widespread adoption of crypto and blockchain in short order," Pornhub Vice President Corey Price said.
In reply to the announcement on twitter, Charlie Lee told Pornhub: "You should start accepting Litecoin. Send me a message."
But their reply was: "I thought you sold all your LTC?" With Lee then revealing he indeed still has zero litcoins, stating:
"If you accept LTC, I will buy some just so that I can spend LTC to pay for porn."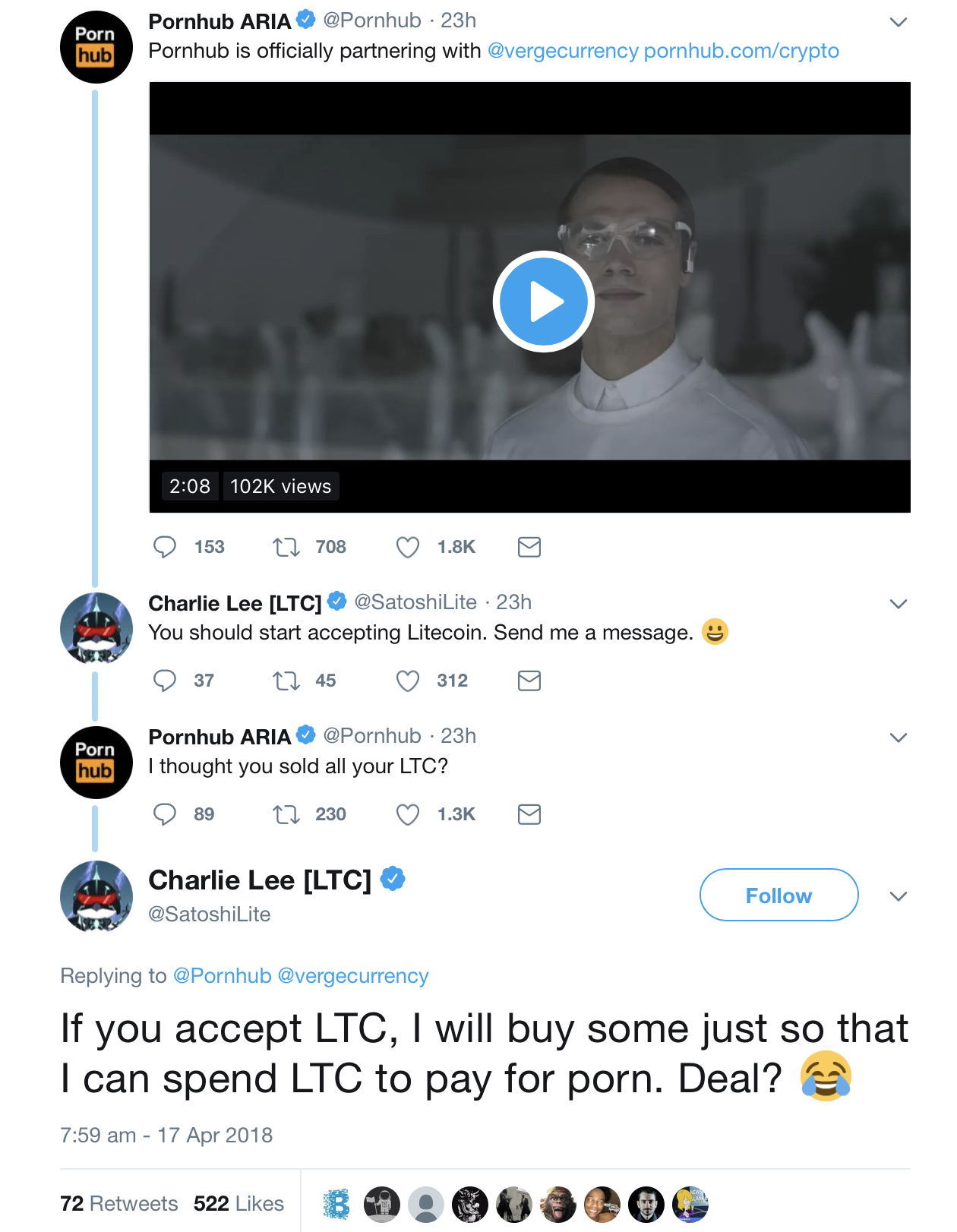 Charlie Lee announced he sold all his litecoins pretty much at the top in December 2017 with his stated reason being conflict of interest.
Making him the only prominent founder to not hold the coin he himself founded as far as we are aware.
But LTC has managed to chug along regardless despite their ecosystem facing some problems after LitePay, a BitPay like project, ceased operations.
Verge, on the other hand, has nearly tippled during April despite their protocol being hacked earlier this month and their seemingly sole dev facing some difficulties towards fixing it at the time.
Making Pornhub's decision somewhat peculiar as the YouTube like x-rated site has nearly one hundred million users, while Verge's market cap is barely above one billion.
Raising the question as to why they've decided to go with this tiny coin instead of far more established cryptocurrencies, or indeed why they've limited themselves so fully rather than adding a number of cryptos and so allowing their users to decide.
Questions for which we have no answer, but this does now show some diversity in what cryptos businesses accept for payments after the market cap has increased considerably.
Which may suggest that there is probably a need for a crypto option that within it incorporates all of the say top 20 or more cryptos. So that business don't have to choose, but can instead just use that one point of sale option that does it all for them.
How it would be done technically, or even if it can be done, remains to be seen, but it does appear there is demand for it.