When there's some excitement in the air, children are first to get a bit bubbly, and then of course to jump up and down happy like no other.
That may be what is currently going on in the crypto-space. After sentiment begun to turn at the beginning of the month, with ethereum and bitcoin slowly rising, Neo jumped like a little child in excitement.
Then Golem jumped, although they had some good news, OMG jumped, yesterday Monero joined the party, but today it's bitcoin cash raising the question: why is it rising?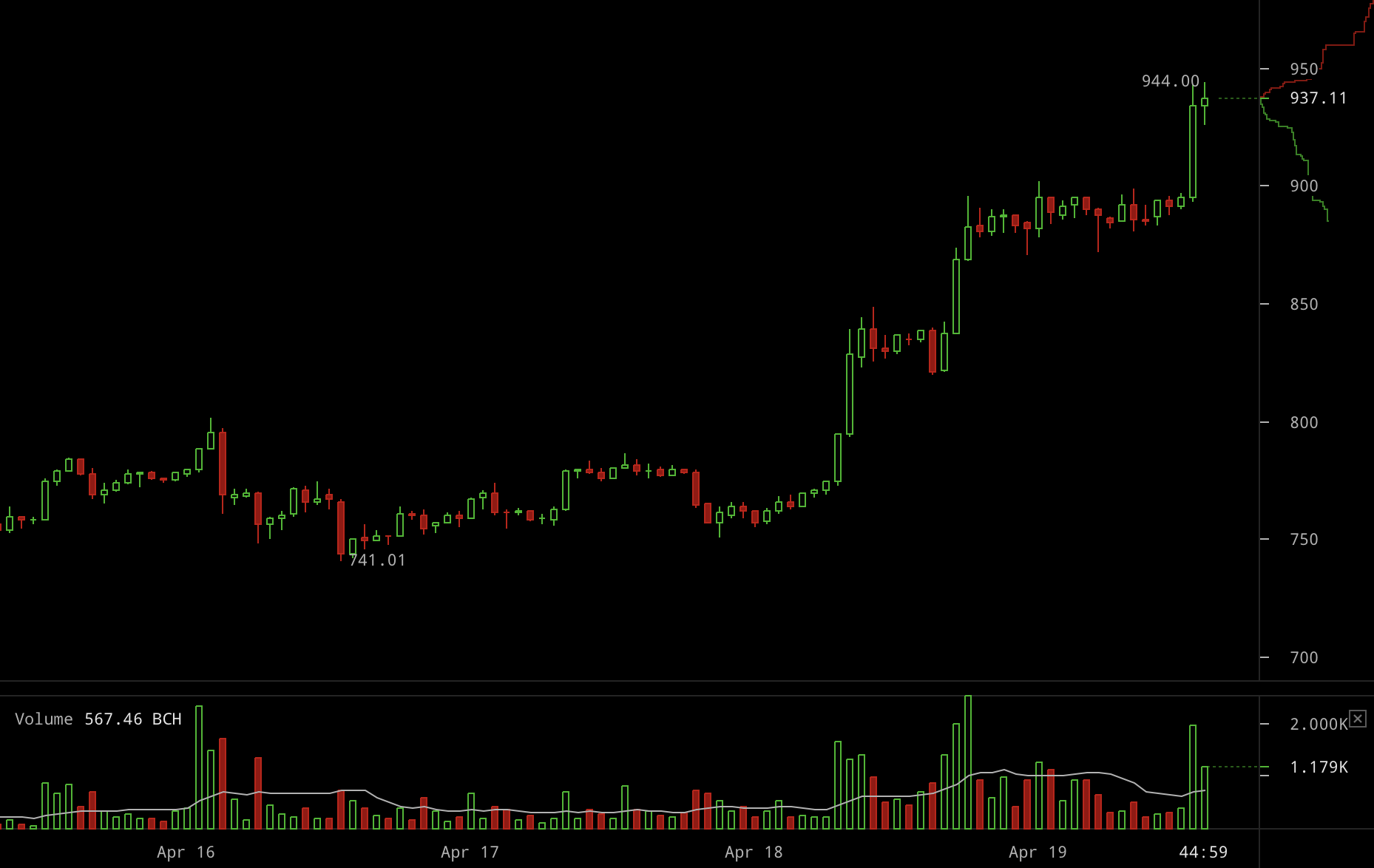 We don't see any particular reason for it rising slightly faster than the others in the past two days, so it may well be just sentiment and perhaps sort of pricing in of news not taking into account during the bear market.
Pent up demand, otherwise said, but it may well be their on-chain decentralized social network, Memo, has made the currency/platform slightly more interesting.
That's because Memo's approach is quite unique to other approaches. While in eth usually they hash data-links to IPFS, in Memo the data itself, the tweet-like statements, are actually stored on the blockchain.
Something which might show what could be possible in Bitcoin Cash that can't really be done in bitcoin (out of choice) or really in ethereum (because IPFS seems to be preferred for storage).
That's especially the case as BCH has an upcoming consensual upgrade on this May 15th, which will increase the capabilities of bitcoin cash's script language, a very simple smart contracts like language.
The current price rise, therefore, might be a front-running of sorts ahead of the fork. Moreover, BCH is currently at 0.1 BTC, so priced at around 10% of bitcoin's value.
That does appear fairly low, considering the two are pretty much identical including in ecosystem infrastructure, so it may well be bears just overshot a bit.
Another more general factor may be that CNBC recently said BCH is bullish, not that it is for them to do such things, but, free speech and all that.
And we should mention the debate between Roger Ver and Samson Mow at Deconomy. Just to give you a taste, how many shops does LN have, Ver asks as far as memory can recall. Ok, so three shops? Ok.
It was a complete KO. Bitcoin Cash has some 100,000 merchants through BitPay, as does bitcoin, of course. So Ver does make a decent point in that all of bitcoin's infrastructure needs to upgrade for LN and that's unlikely any time soon, especially as it is all optional with LN having some advantages but also some disadvantages.
We should however say it was or it felt a bit unfair to have Mow, who appeared to be very inexperienced in public speaking/debating, against Ver, who of course has been championing bitcoin, and then BCH, through public events and otherwise for at least seven years.
We can't see any other event that may have affected the recent price movements of Bitcoin Cash, but spring does appear to be finally here, and in Britain, you might actually be mistaken to think it is summer.