Global investment in fintech companies has hit a new high with 323 deals closed during the first quarter of this year, the highest level since data begun.
Some $5.4 billion was raised so far in 2018, compared to $2.8 billion during the same period last year, a near 50% increase according to CB Insights' Global Fintech Report Q1 2018.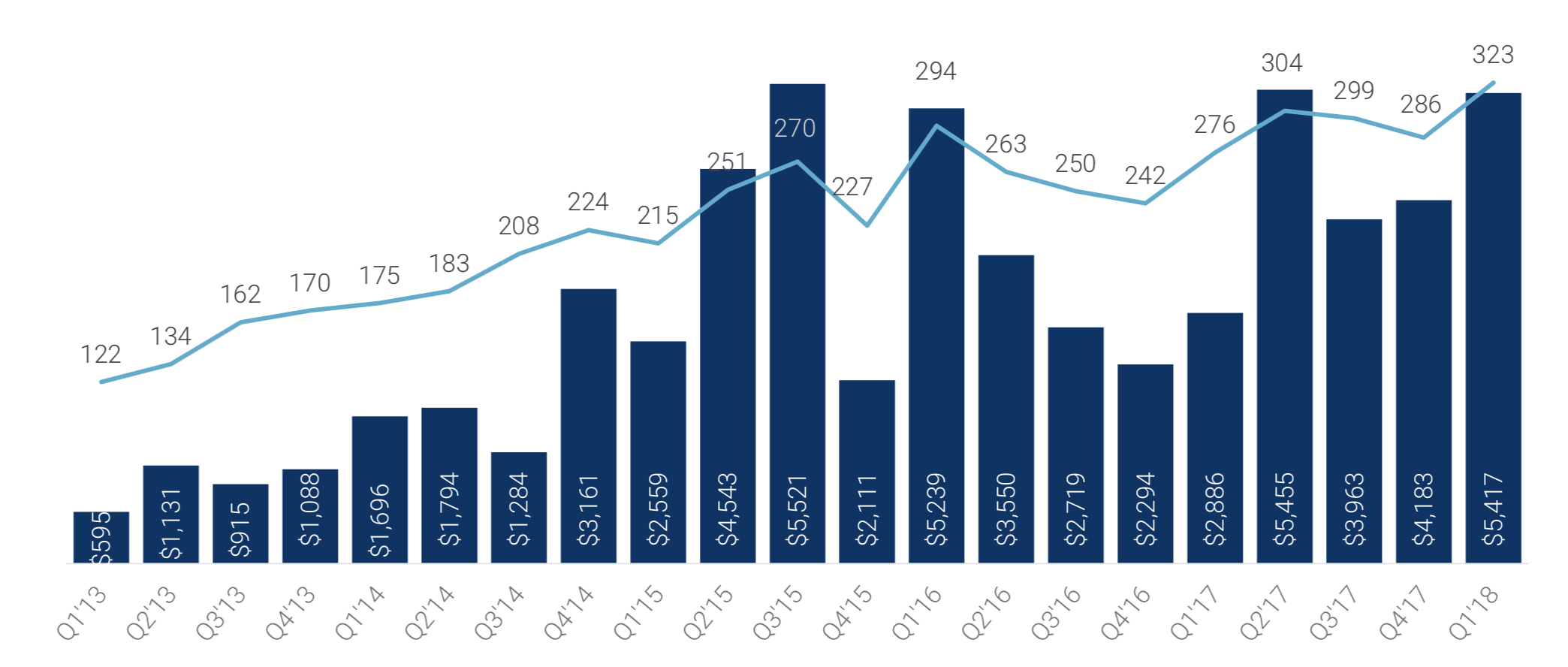 If the trend continues, then 2018 is set for a record breaking year in Fintech investments across the globe and especially in USA where a 38% increase has been seen.
But the bigger story here might be that Initial Coin Offerings are not far off from having raised as much as all Fintech companies, setting a record first quarter at $3.3 billion.
January set a new high at $1.6 billion for 170 ICOs, with the sector then slightly slowing down, but still raising half a billion in March for 113 projects.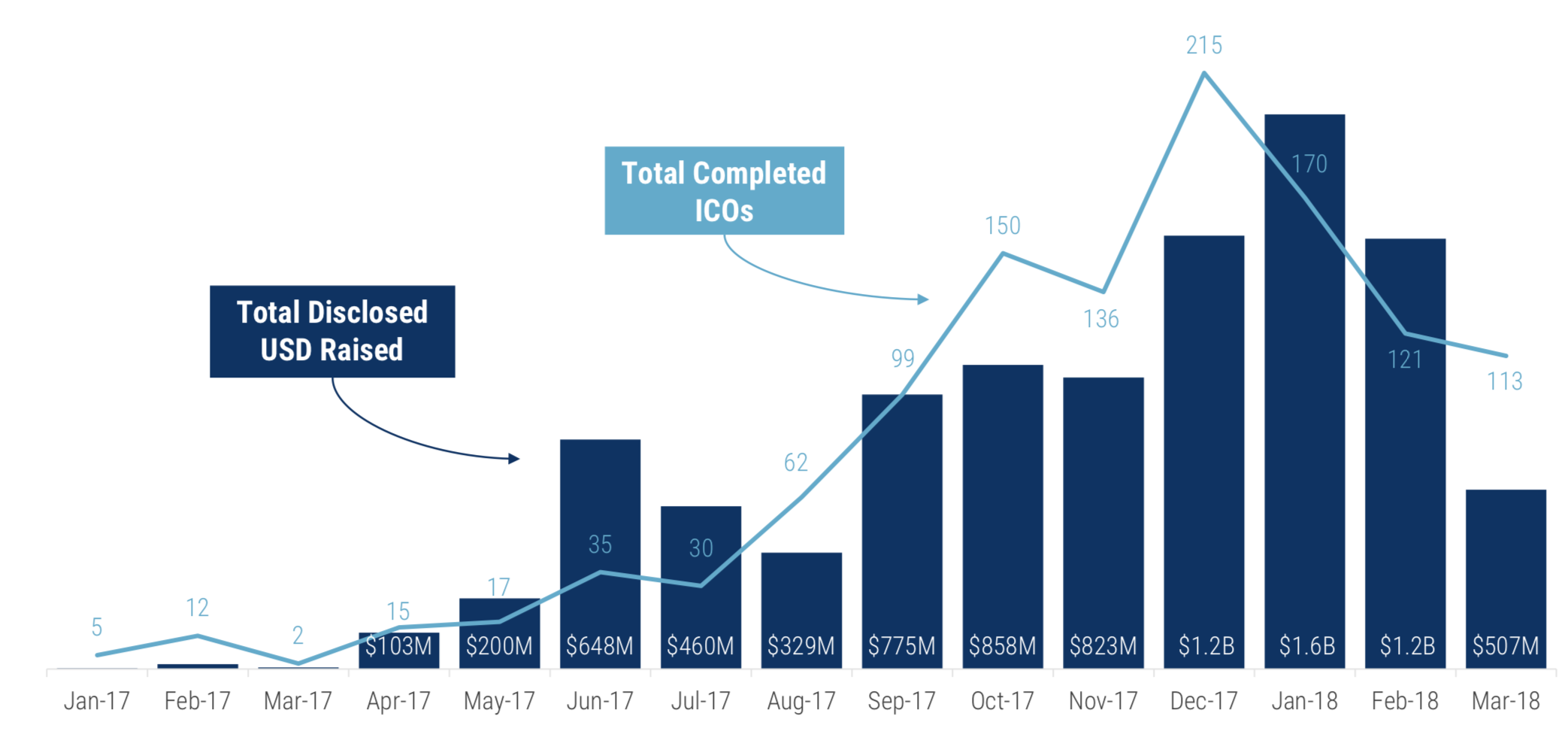 These vast sums now clearly show the industry is to be reckoned with, and while some regulation appears inevitable, the first to strike the right balance and to reach clarity might reap considerable rewards as ICOs may become a better way of raising funds for innovative start-ups and projects.
Investment in blockchain companies has also picked up during the first three months of 2018, with 30 deals raising $163 million.
While for all of 2017, around $700 million was raised, slightly more than just the month of March for ICOs. So showing what appears to be a shift underway.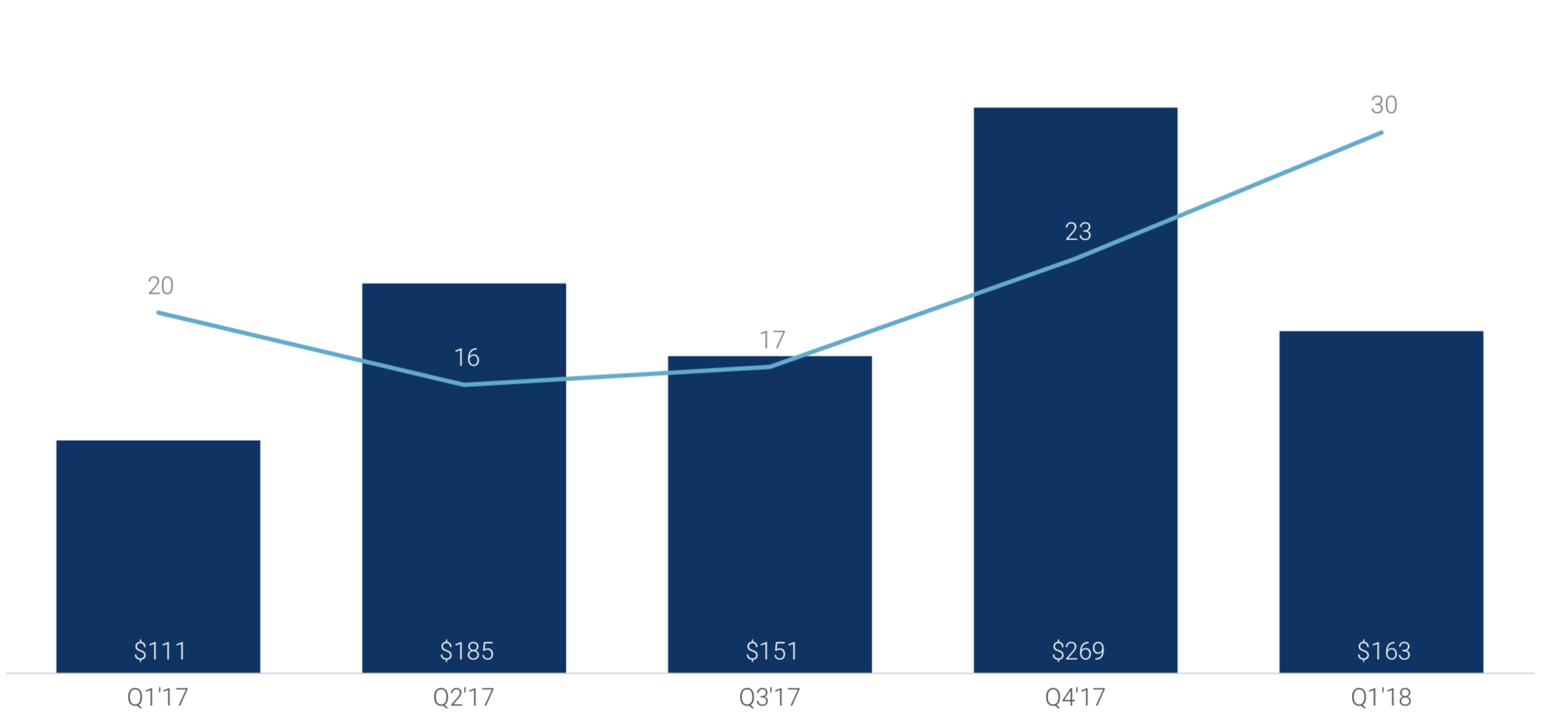 ICOs are clearly the big story here, with huge sums raised this year. That's even while the sector was under scrutiny as SEC undertook enforcement action to claim its jurisdiction.
That clearly hasn't dented the appetite of both entrepreneurs and investors for utilizing this new fund-raising avenue, suggesting an innovative regulatory approach might now urgently be desire to promote  the activity while minimizing and/or deterring scams and frauds.
Regulators could set-up a ladder scheme, whereby ICOs that raise say up to $1-$5 million are encouraged in non-binding regulatory guidelines to provide profit/revenue data if applicable, as well as some verification of experience. However, the only enforceable action would be in regards to fraud, deception or misrepresentation.
Regulators might then think ICOs raising $20-$100 million might need to provide audits, both for profits as well as for experience. While those that want to raise higher amounts might have to comply with full current requirements.
Yet, even if the discriminatory SEC approach is taken which has a different law for the rich and banks, and a different law for all others, full compliance for an Initial Coin Offering (ICO) to the public would probably cost only $100,000. Compared to $5 million for an IPO.
The problem there would be just how long SEC would take to approve. They took some 4 years for the bitcoin ETF, to then reject it at the very last minute.
Jurisdictional competition, therefore, might play a role, with Switzerland, and Zug in particular, so far winning. But there is plenty of room for other jurisdictions considering the significant amounts now at play.