Argentina's Central Bank has raised interest rates for the third time in a week to an incredible 40% as the country's fiat money dives.
Argentine Peso, which used to be pegged to the dollar, dived in 2016 below 0.01 and has continued to fall since, but this week it accelerated, down to just 0.045 per dollar.
"Risks to the peso have been brewing for a while – large twin budget and current account deficits, a heavy dollar debt burden, entrenched high inflation and an overvalued currency.
The real surprise is how quickly and suddenly things seem to be escalating," Edward Glossop, Latin America economist at Capital Economics, said.
Argentina defaulted on its debt to creditors in 2001 following an economic crisis, with the country reaching a debt restructuring deal in 2015 to pay off 76% of its $82 billion debt.
They have seemingly, however, chosen to inflate their way out of it, with inflation there reaching an eye watering 25%. Which means in simplified terms the 100 in your pocket becomes 75 next month and then 50 the month after.
"Any time you are hiking interest rates 12 per cent in a week to defend your currency it is past the point of crisis," Guy LeBas, chief fixed-income strategist at Janney Capital Management, said.
Despite all these troubles, Argentina (argent, silver) is a fairly rich country, with its 43 million inhabitants having a GDP of around one trillion dollars at $21,500 per capita.
Monetary mismanagement, however, even in upper-middle-income economies, is a story we now hear far too often as central banks and commercial banks continuously fail to resist the temptation of printing more and more "money."
According to Localbitcoin data, crypto interest in the country continues to rise, with volumes increasing considerably in recent months.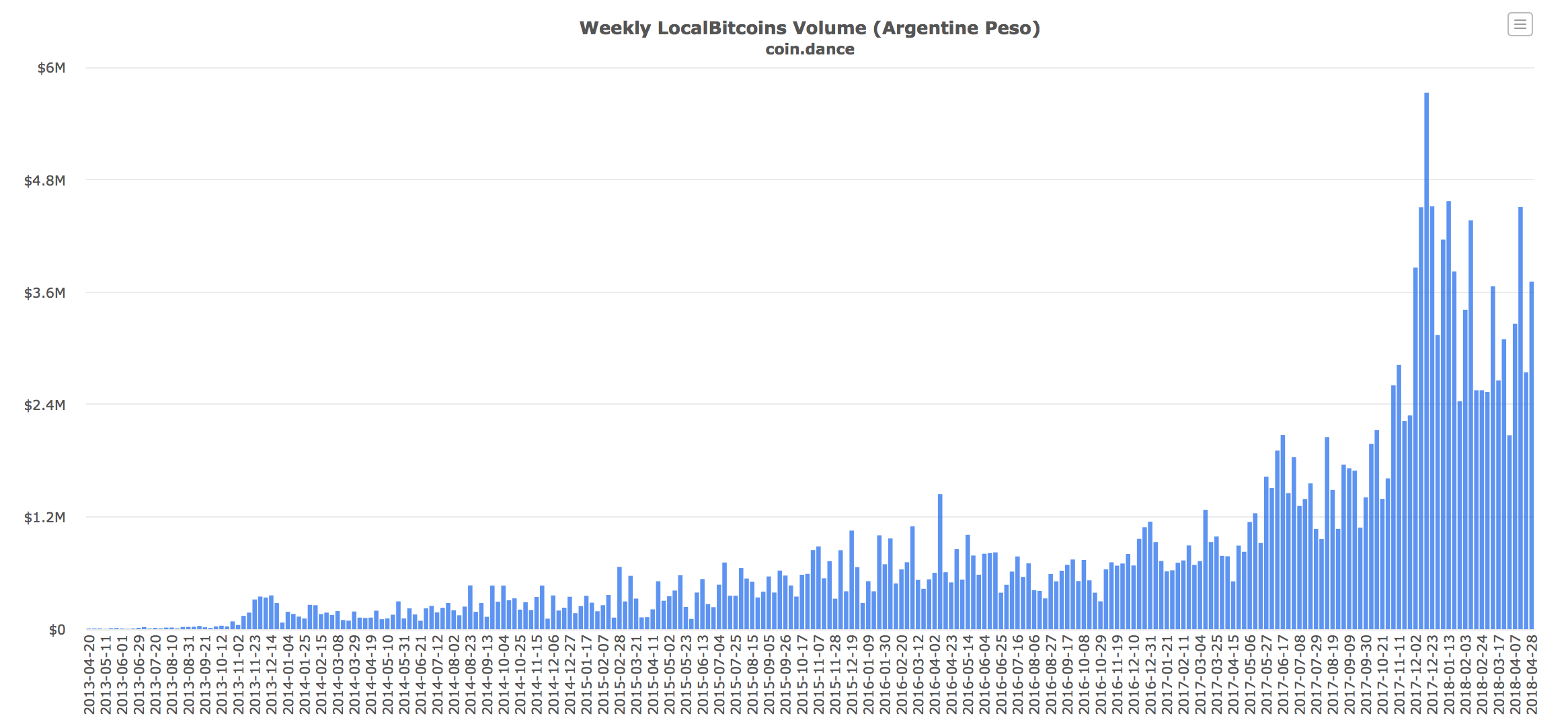 But, at just $6 million it does appear to be far too low for a country that is undergoing a financial and monetary crisis.
However, the above is for one of the least popular method of accessing cryptos, the direct peer to peer localbitcoin market, with most individuals and businesses probably choosing centralized exchanges where they can be sure to receive their orders.
Recently it was announced some 4,000 ATMs were to roll-out in Argentina. Their primary aim is cash dispensing, but uniquely they are furnished with an online wallet which can allow for crypto buying or selling at the ATM itself.
So suggesting the infrastructure for alternative money is being built in the country, as it becomes the latest in the list to be plunged into a mess only because of centralized incompetence or worse, due to abuse of power.
Copyrights Trustnodes.com