From Argentina to Indonesia, numerous countries have seen their currency fall as much as 5% this week as fears of a full blown emerging markets currency crises increase.
Contagion seems to have spread after Argentina saw its currency suddenly plunge, leading them to seek assistance from IMF for the second time in just two decades.
Yet what exactly happened is unclear, with a new report suggesting something strange occurred on or around the 19th of April 2018:
"About a month ago, the Federal Reserve reported a sharp drop of [US Treasury securities] in custody on behalf of foreign agents…. that was something like a collateral call. It happened the week of April 18."
That very week, the Argentine Peso crashed, as did the Indian money, Indonesian and Brazilian Real. In the past five days, South African money has sharply fallen, as has Turkish lira, with the contagion seemingly spreading even to Poland.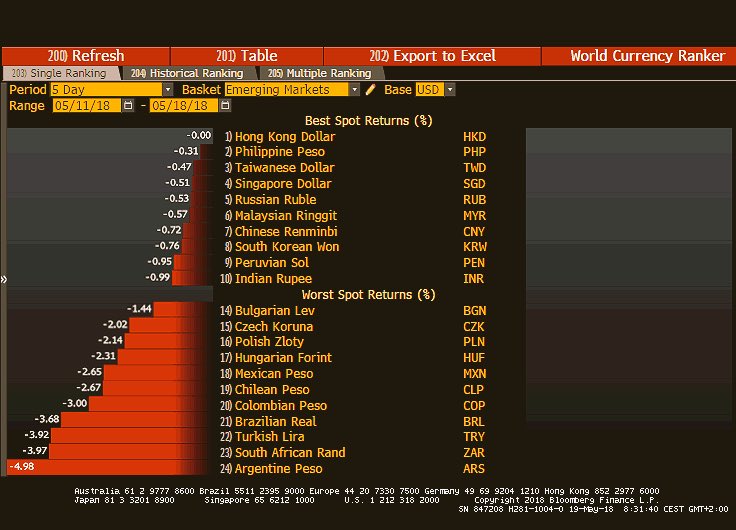 Argentina's President, Mauricio Macri, has stated the currency crisis is over. While the Commonwealth Bank of Australia doesn't think the currency crisis in Latin America will spread to Asia as it did in the 90s. In Indonesia too, their Central Bank has stated they have "a $22 billion buffer for defending the rupiah."
Russia, however, has been stockpiling gold, as have Iranians. With the question remaining just why did this all start, what happened on April 19th?
A repurchase agreement (repo) is a form of short-term borrowing for dealers in government securities. A repo fail is when the buyer or seller doesn't deliver. The report from Alhambra Investments says:
"FRBNY reports today that there were practically no repo fails last week. The total combined ("to receive" plus "to deliver") was $22.9 billion; not $229 billion, as had become almost the baseline, but a level so low we've not seen it in the fails data for seven years going back to just before the outbreak of the 2011 crisis."
They further say the data gave similar signals in 2008 when the banking crises blew up, and in 2011 when the euro crises went into full swing:
"The pattern itself is not unprecedented. In 2008 as well as 2011, when some of the truly worst stuff was going on repo fails were not a pressing issue. They had in both cases preceded all that, and indicated systemic problems that were likely breaking out in that way."
Whether this is indeed contained, as the Argentinian President said, or whether it has just begun, remains to be seen. But some flashing signs are seemingly showing up as monetary mismanagement once again hits frontpages.
Copyrights Trustnodes.com