The newest fiat money continues to be challenged with Greece, Brexit and now Italy raising the question: just what exactly is the European Union and where is the euro goin?
Italy now has a Prime Minister, Giuseppe Conte, a professor of jurisprudence who has no experience of politics or governing, but has a connection to the 5-Stars Movement.
It remains to be seen whether he will be weak and just a face, perhaps even intentionally s0, with the decisions to be made by Luigi Di Maio, leader of the 5-Stars Movement which won most of the votes and Matteo Salvini, head of the League, the coalition partners.
But the political system in Italy has seemingly changed from representative democracy to direct democracy, or at least that appears to be the aim.
"Italy's would-be coalition parties turned up the pressure on President Sergio Mattarella on Saturday to endorse their eurosceptic pick as economy minister, saying the only other option may be a new election." So says reuters today.
The 81-year-old economist Paolo Savona has been picked as the economy minister. He is a eurosceptic, with a min-showdown currently ongoing over whether the Italian President – which is just a constitutional figurehead somewhat similar to the Queen – will approve him.
The real battleground, however, has not even begun. Italy faces a monumental task, as does the European Union as a whole. The below chart probably tells much of the story: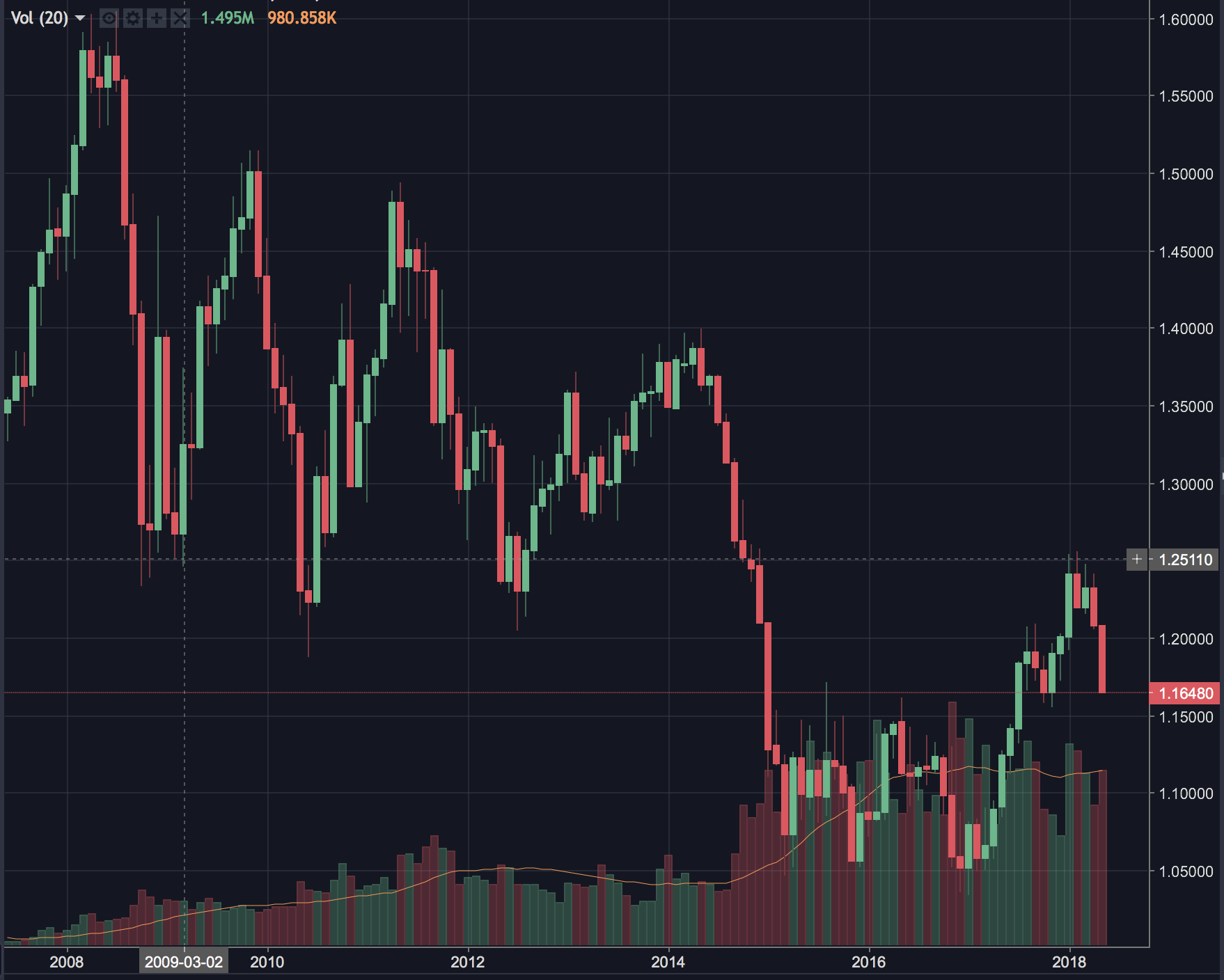 That's the value of one euro compared to one dollar. In 2008, one euro could buy you $1,600 worth of goods. Now it can only afford $1,100.
In simple terms that means europeans have become poorer than Americans and part of the reason is because the ECB has inflated its way out of debt more than USA.
Euro's monetary base has increased three folds from around one trillion to more than three trillion. Around 1.8 trillion of it has gone towards paying government debt holders. While some 500 billion euros has gone towards paying holders of corporate debt. A new working paper says, and we quote at some length:
"The ECB's QE program was enacted in January 2015 and took effect as of March 2015. Basically, this program means that all central banks buy back their own countries' government bonds in proportion to country size, as defined by the ECB's capital keys.
In addition, the ECB itself and the national central banks buy private sector bonds, even directly from private issuers. The overall size of the program encompassed government bond purchases worth a total of around 1.8 trillion euros by the end of 2017, as well as around 500 billion euros worth of private bond purchases.
More purchases are planned for 2018 and possibly beyond. To avoid national risks, it was agreed that each central bank keeps the (algebraic) excess of the interest earned over the ECB's main refinancing rate for distribution to its national government, while paying interest equal to the ECB's main refinancing rate into the Eurosystem's common interest pool.
It has to pay such interest with all money creating measures, including the provision of refinancing credit and all other asset purchases.
The interest income given to the pool is redistributed to all national central banks in proportion to country size (capital key) and from there to the finance ministries of the respective countries.
The QE purchases are being carried out with freshly printed base money. With an overall volume of 2.3 trillion euros by the end of 2017, QE constitutes a major expansion of the ECB's monetary base, which was just 1.2 trillion euros at the start of the program."
The ECB is continuing to print money to pay government debt holders at the rate of around €60 billion a month. That means the euro is becoming less and less scarce, and therefore the paper holds less and less value.
They are printing all this money because European governments are deep in debt. Almost all of them have violated their own laws requiring no more government debt than 60% of GDP. Germany, too, is in violation.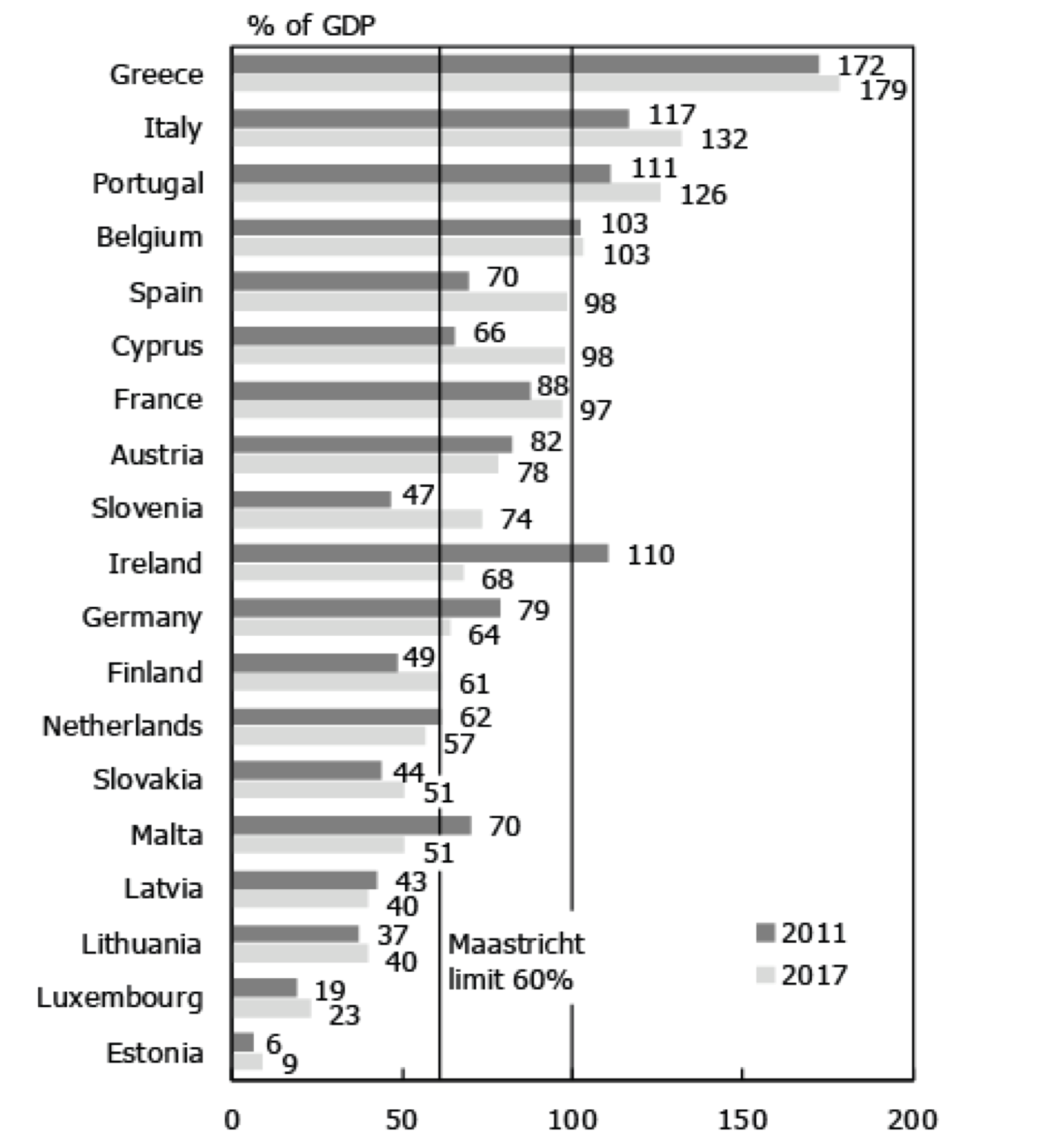 As can be seen, those debt levels are growing in most countries. Italy has added some 20% of its GDP to its debt levels in just six years.
The government there has plans to spend a lot more, while also promising to lower taxes. That's making markets very nervous, but in many ways this is a sideshow, a symptom.
All these countries are in debt because they are failing to produce, that includes pretty much all of Europe except Germany. Giving us a story of not two EUs, but of Germany and the rest.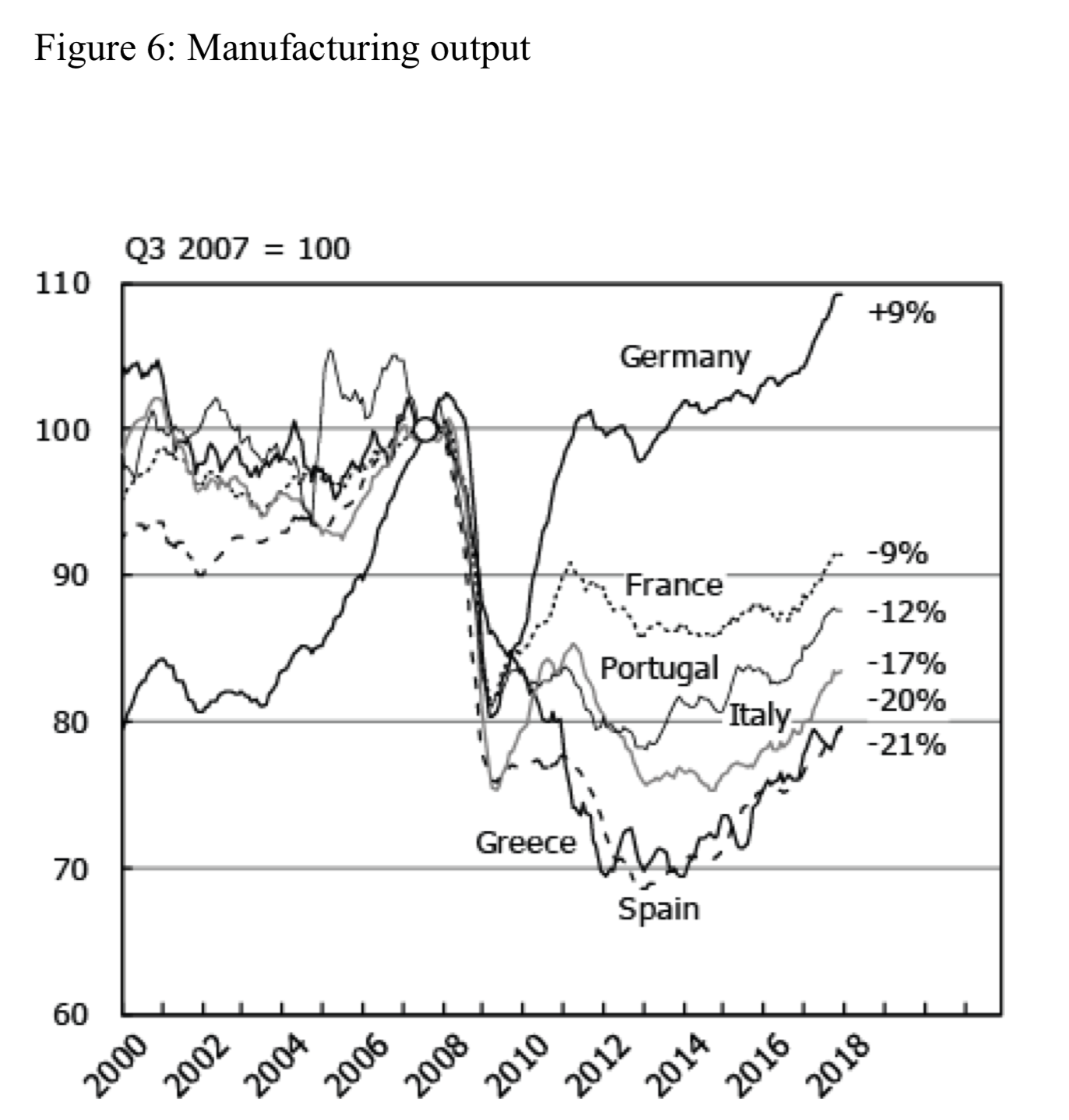 While debt is a symptom of not earning or saving enough, the above image clearly shows the qualities of fiat money have a significant effect on production and thus on how much one earns.
We can see there a sharp drop in 2008. Most have not recovered, not even France, but the above is zoomed in too much because something more important happened in the 70s – 80s.
As you can see, wages significantly fell. Why is unclear. It is unlikely to be one reason because a lot happened in the 70s to make it the most important decade where money is concerned.
First, New York went bankrupt in that decade and was forced to promise future taxpayer income to the banks. Otherwise said, the banks took over the running of New York.
Second, money was no longer pegged to any real thing that has limited supply, thus since then there have been no real constrains as to how many fake apples/money can be "sold" as the real thing.
Third, China and Russia begun their detente. China in particular since then has become a lot more competitive, with a significant new amount of labor "added" to the global market.
It is also in the 70s when the invention of computers begun. That may have acted as a counter-balance to all this new labor by creating new industries, thus new jobs.
As can be seen above, however, while wages averaged a 4% yearly growth after the 80s, thus usually above inflation, since 2008 it has stood at around 2%, lower than even official inflation figures and significantly lower than real inflation.
That means wage earners, which includes almost everyone, have been getting poorer since 2008 and that continues to remain unchanged. In contrast, in the 70s, when baby boomers were starting out, they were getting richer and richer by some 9% a year.
In addition to wage decreases, the constant money printing has inflated house prices and rents, so making wage decreases in real term quite drastic.
Italians blame the euro for all this, but while that might be justified in part as some of it might be specific to Italy, the challenge the millennial generation faces in much of the west is a lot bigger and far more structural.
To get back to 8% yearly growth, all this printed money needs to make its way to the real economy rather than housing bubbles or often sclerotic publicly traded companies.
That means for us to compete in this market with cheap labor from all sorts of places, there needs to be a lot more free market.
Barriers need to be removed where what we'll call intellectual work is concerned. Obviously we can't really compete at the manufacturing end, but the west is still very competitive where it concerns intellectual goods.
That includes things like websites and more importantly it includes things like dapps, smart contracts projects, and so on.
Currently we can't produce them unless we sink into debt or give 50% of our production to rich VCs. That's because ancient laws written by rich men prohibit this free market competition by cutting off one of the most effective source of funding, savings by ordinary men and women.
Many of the businesses that could start out to address market demand or inefficiency, therefore, can not start because the risk is compounded by requiring debt servitude. Likewise many of the inventions can not make it to market because they can not be funded.
With this avenue of investment for savers cut off, they have little choice but to buy houses, which makes their children poorer by inflating prices, or to buy stocks which usually makes very few men very rich, like Bezos, Gates, et al, so creating significant inefficiency due to concentration of value that will then be passed on to their children who may well squander it.
At the other end, without this means of competing directly individuals are limited to having no choice but to work for often inefficient bloated global giants who may squander their real potential to produce because they're not quite given the option due to the division of labor.
The supply of workers therefore is artificially inflated because they have no choice but to supply their labor as they can't fund the initial starting of a business or self-employment.
This lack of free market competition has seemingly led to a sclerotic and uncompetitive western market which is propped up by Keynesian money printing that gives the brief illusion of a recovery by hiding the underlying structural problems which eventually have to face reality.
The solution is more free market for some, and a lot less for others. Banks, for example, need to be tightly regulated and perhaps there even needs to be policy directions for they take from all of us every-time they make a loan by inflating money supply, thus they should be bound for some of their mortgages to go to the working poor by allocating some of their profits towards it, etc.
Likewise, global corporate giants and their founders should perhaps be forced to pay some of their stocks and shares to employees as a bonus or as a wage increase for if a man like Bezos has so much money he doesn't know what to do with it, we can tell him what to do with it.
At the other end, barriers to market entry should be reduced significantly. There should be no restrain whatever, for example, where it concerns fundraising up to $1 million except for criminal fraud.
There should be guidelines, but no requirement for registration or licensing, where fundraising up to $20 million is concerned, with the free-market allowed to self-regulate in addition to enforcement action where fraud is concerned.
We can first see how that works out before we can know better how policy and/or law should address amounts above $20 million. Up to that amount however there is no reason why the state should interfere with the free market or be in any way involved in voluntary civil contractual matters.
Without these simple reforms, we might not see real wage increases perhaps in our life-time for monetary policy is currently directing money towards inflating assets with very little of it going towards funding actual value creation.
Without the ability to engage in value creation and be rewarded for it due to the considerable risk one takes and the hard work one engages in, incentives drop, and thus so does productivity.
With productivity dropping we all become necessarily poorer which tends to have political consequences as we are seeing with Brexit, Trump and now what some are calling Italy First.
All these problems are however caused by governments meddling into voluntary affairs and can likewise be solved, at least in part, by the state minding its own business and leaving value producers alone.
That includes those who engage in Initial Coin Offerings, or token sales, or other crowdfunding matters. Market participants, so being closest to the action and thus most affected, necessarily know better how to address these fundraising offers than some bureaucrats in cushy jobs paid by the tax money of value creators.
Those bureaucrats, therefore, should use their limited resources towards taking enforcement action where real fraud, and fraud alone, is concerned and even there investors can sue them in civil courts.
But bureaucrats should certainly not require a permission slip in the way of a license or registration before individuals can willingly enter into voluntary contractual arrangements.
Because that's protectionist behavior which places barriers in front of free market competition and thus prevents a dynamic innovative environment that can increase productivity and wages.
While on the other hand the likes of Google and Facebook should certainly be investigated for probably engaging in non-competitive agreements regarding wages, an activity probably most public companies engage in.
So thus creating a different sort of economy, where these global corporations are accountable to the public, while at the same time the public is free to easily enter the market, as opposed to now where the likes of Google and Facebook run amok, while the little guy can't even raise $200,000 to start a nice business.
And while savers are, in a cruel twist, forced to send their money to the likes of Google and Facebook for an interest rate return that is worse than a savings account, instead of giving some of it to the little guy and so potentially see a 100% or 1,000% return within years as the start-up grows.
Copyrights Trustnodes.com