After a year long ICO and just a week of testing, EOS has finally launched live at precisely 14:00 London time on June the 10th 2018.
A livestreamed call by Block Producing (BP) Supernode Candidates started discussing the final points of launching beginning at around 13:30 PM London time.
With no apparent problems found at the last minute, they agreed to have the blockchain go live, opening it to voting whereby 15% of tokens have to choose at least one BP.
There are no voting tools with a Graphical User Interface (GUI). The only trustless voting tool is cleos, which has to be compiled, and then one has to vote through the command line.
Meaning you need some considerable technical knowledge to vote in a way that does not involve sharing keys with third parties.
That has led to some criticism that it may be only Block Producer candidates who effectively vote for themselves, especially considering the significant concentration of token holders in EOS.
The voting in EOS, however, is continuous and held every three minutes, but concerns have been expressed regarding the booting process whereby a secret Appointed Block Producer was running the blockchain until the 15% of votes were held.
That has led to suggestions that the launching process required far too much trust with little ability to verify votes.
At the very last minutes, some EOS candidates from Asia suggested there was a key mismatch which did not match the snapshot. "The active key is mismatching," they said.
"I run the validation 12 hours ago, and it was fine. I now run it again, and it happened," says another EOS candidate from Asia.
What apparently happened was that some transactions were flowing, but the transactions were not placed into blocks. The ABP confirmed a transaction was sort of in limbo.
Suggestions were made to unpause the chain, but they said it was about to be unpaused anyway and asked others to not make any transactions until it is launched.
Another error regarding ram quotas. Not an issue, two minutes before launch, should have raised it before. Go/no-go vote immediately. They all vote go and clap themselves. The chain launches at 2PM London time. Blocks flowing.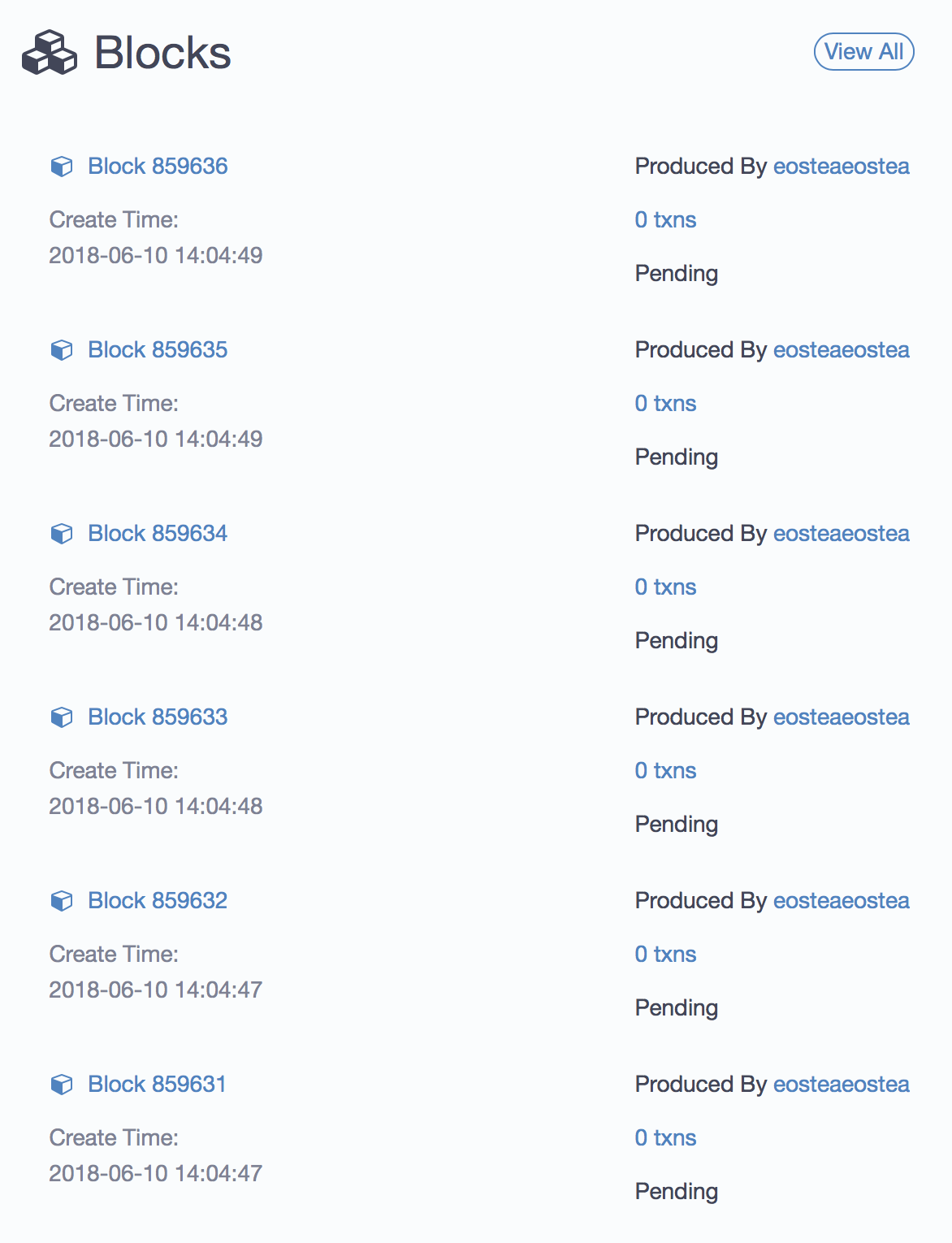 The above EOSmonitor shows blocks moving, but some other block explorers do not. There is a chain on eosportal which was booted on the 8th of June. It appears to be valid.

Complete confusion over how to vote. Some 20 minutes after the chain has launched, there have been no votes. There is meant to be a joint statement by Block Producers before all start the voting, but BP are currently talking about irrelevant matters on livestream.
The statement is now out: "Please verify before you vote that you match the chain ID posted here:
"chain_id": "aca376f206b8fc25a6ed44dbdc66547c36c6c33e3a119ffbeaef943642f0e906"
14:30 The voting has begun. Some 115,000 tokens voted almost immediately after the BP's statement. Little movement since:

14:39 0.00032% has voted, or 322,957.0529 EOS. This might be a long affair. Problems reported with a voting tool called scatter.
"I'm trying to use Scatter to vote but scatter says it can't find my account, anyone else have this problem?" – says Shelita Burke.
"Chris Dunn-Birch, [10 Jun 2018 at 14:24:05]:
How do we pick our 12-character account name?
The BPs have already got theirs so if there is not a way to do it they've had an advantage.
Roshan – EOS Authority admin, [10 Jun 2018 at 14:24:57]:
use your existing eos name and you can then create a new one with that
Riche Hamshillina, [10 Jun 2018 at 14:25:53]:
How do we do that? Instuctions?
Roshan – EOS Authority admin, [10 Jun 2018 at 14:26:12]:
BP's are just using cleos for now
Riche Hamshillina, [10 Jun 2018 at 14:26:27]:
And the command is?
Roshan – EOS Authority admin, [10 Jun 2018 at 14:27:10]:
cleos system newaccount –stake-net "4.0000 EOS" –stake-cpu "4.0000 EOS" –buy-ram-kbytes 8 YOUREXISTINGACCOUNT NEWACCOUNTNAME "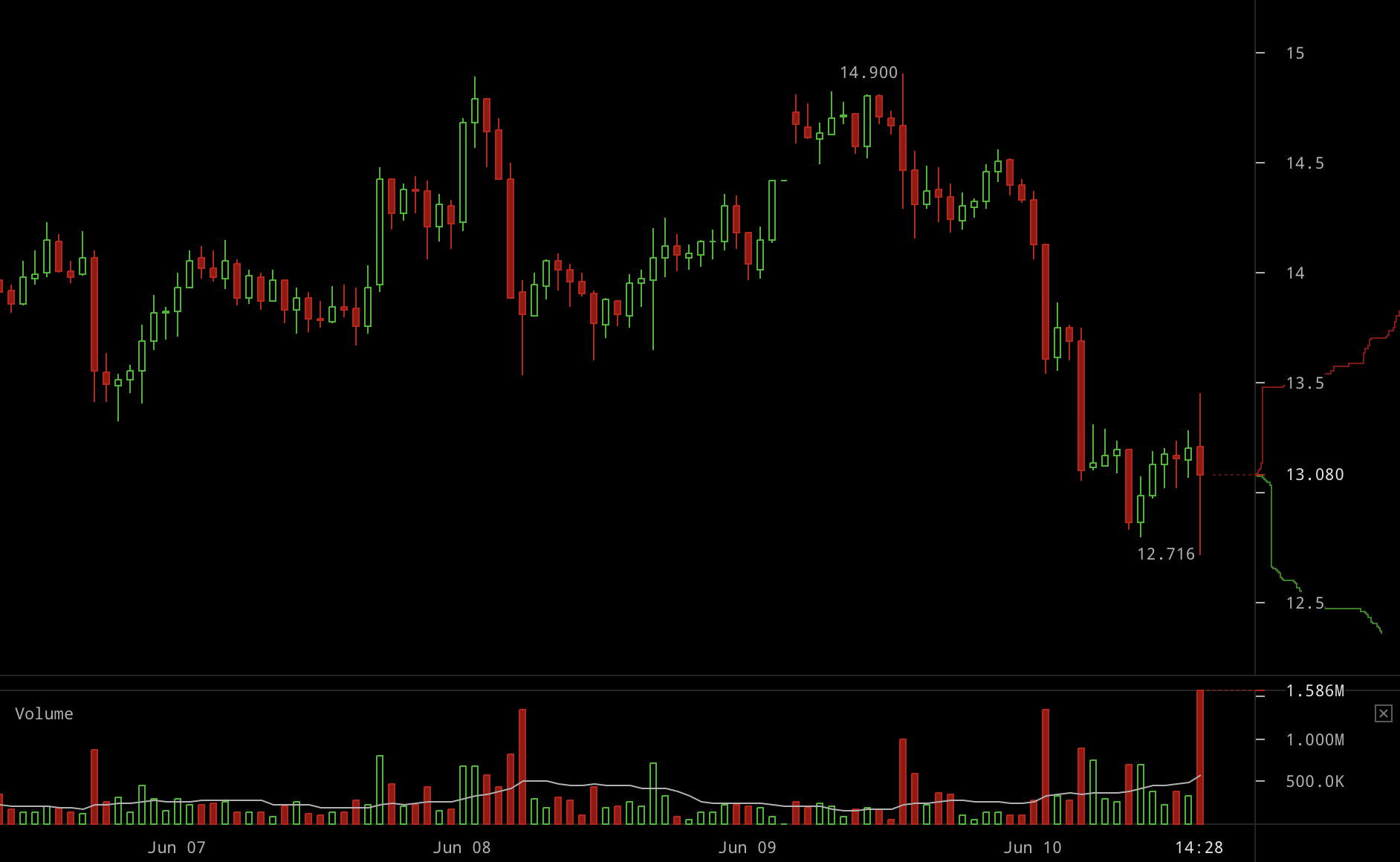 14:47 EOS is down some 10%, all other cryptos down, with the main ones lower by around 5%. The voting on EOS is almost not moving. Just 324,998.1201 EOS (0.032%) have voted nearly an hour after it launched.
This may itself show a problem with voters turn-out that has previously been raised. Just as an example, after a week long vote in ethereum regarding whether to unfreeze some accidentally frozen eth, only 4% of all ethereum's token supply had voted. This EOS vote, therefore, might be a long affair.

17:34 Only 0.3% have voted, hours after a much anticipated launch, suggesting voter turn-out here will be very low, and thus the very premise may be very flawed.
We thus close this live update.
Copyrights Trustnodes.com