A new study claims that bitcoin's price was manipulated through tether printing after finding that "less than 1% of hours with heavy Tether transactions are associated with 50% of the meteoric rise in Bitcoin and 64% of other top cryptocurrencies."
The study by John Griffin, a finance professor at the University of Texas, and Amin Shams, analyses data from CoinAPI, Coinmarketcap.com, Blockchain.info, Omniexplorer.info, and CoinDesk to algorithmically analyze the flow of transactions  and their relationship to price.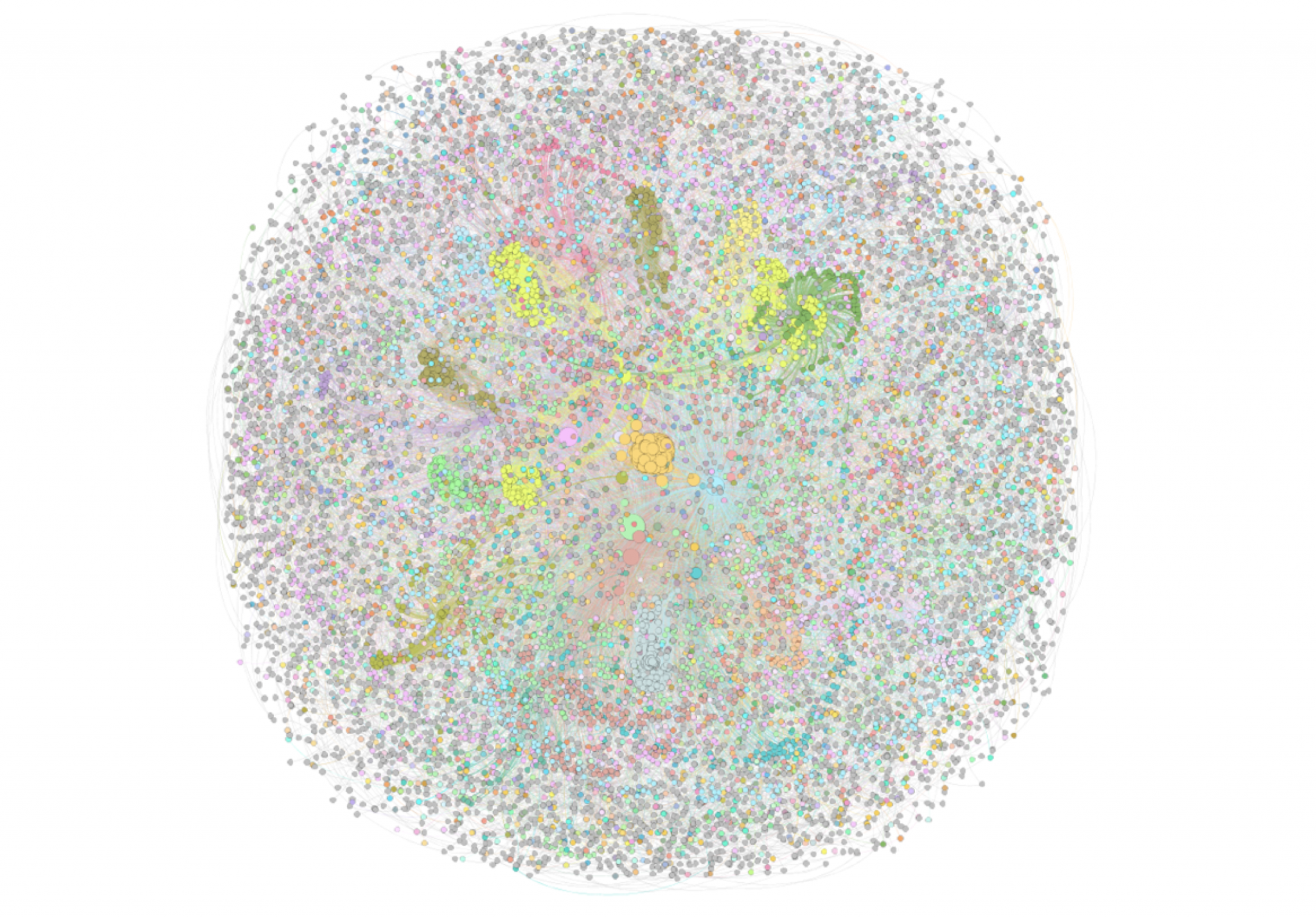 "From March 1, 2017 to March 31, 2018, the actual Bitcoin price rises from around $1190 to $7000 for a 488% return. In contrast, the price series without the 87 Tether-related hours ends at around $4100, a 245% rise.
Hence, the hours with the strongest lagged Tether flow, which account for less than 1% of the time-series, seem associated with 50% of the Bitcoin buy-and-hold return over the period," they say.
The study finds significant correlations between tether printing and bitcoin's price rise, with the authors arguing it applies more widely to other cryptos:
"The percentage of the buy-and-hold return that are attributable to the Tether-related hours range from 42% for Dash to 82% for Zcash.
Ethereum, for example, experienced near 2400% return during this period, while it would alternatively experience around 900% return if the Tether-related hours were excluded. Across the six other crypto currencies, returns are 64% smaller on average when removing the 87 Tether-related flow hours."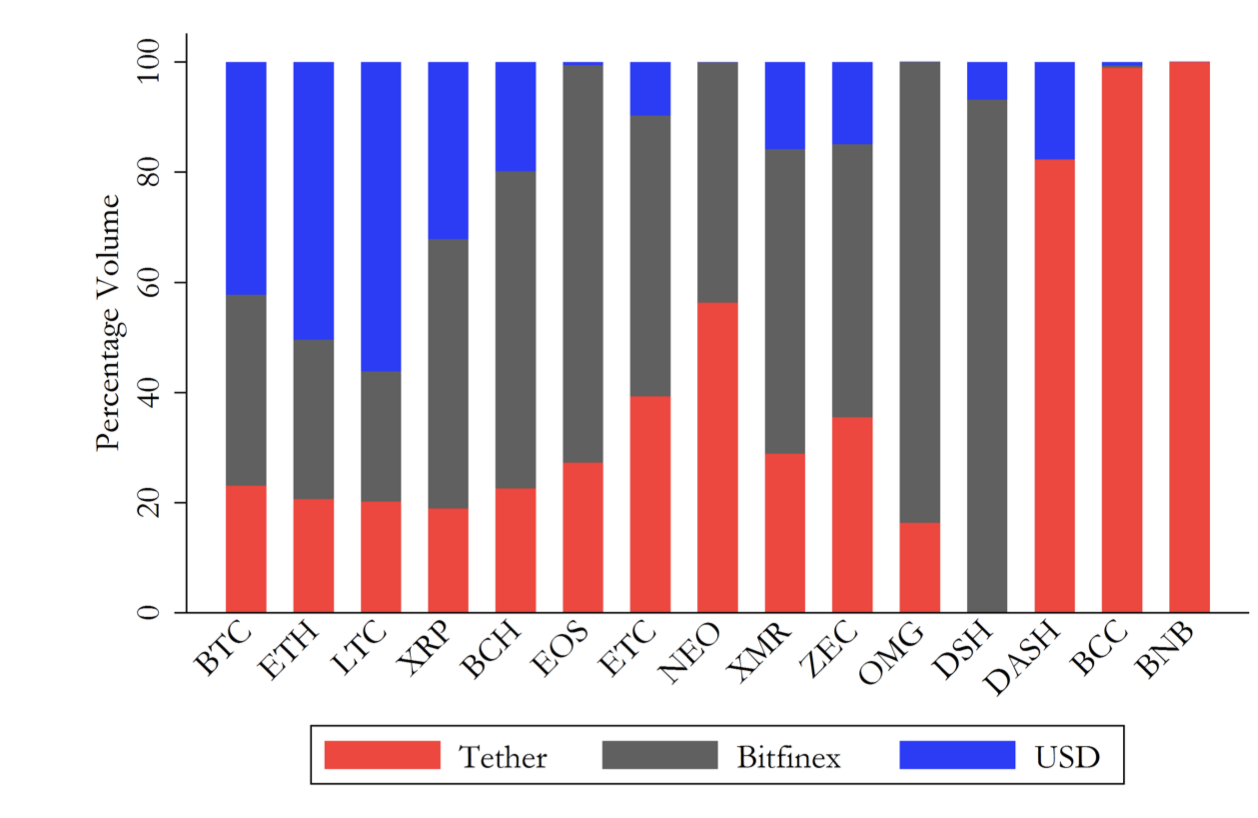 "However, the effect does not consider the selling price-pressure effect if the Tether issuers later sell the Bitcoin and move the proceedings into dollars.
Such a behavior would push Bitcoin prices down. However, it seems feasible that the issuers could sell the Bitcoin in a manner with considerably less price impact than their strong buying force, such as selling slowly, off the exchange, or in a non-transparent trading venue.
Overall, although it is difficult to fully assess the exact price impact of Tether on Bitcoin and other cryptocurrencies, these back-of-the-envelope calculations demonstrate that the effect is plausibly large."
In other words, the findings are not conclusive and the study is not extensive to consider how the relationship between Tether printing and crypto prices develops.
Instead they seem to have focused solely on a one hour window after the Tethers are printed or flow out from Bitfinex.
"By mapping the blockchains of Bitcoin and Tether, we are able to establish that entities associated with the Bitfinex exchange use Tether to purchase Bitcoin when prices are falling.
Such price supporting activities are successful, as Bitcoin prices rise following the periods of intervention. These effects are present only after negative returns and periods following the printing of Tether.
Indeed, even less than 1% of extreme exchange of tether for Bitcoin has substantial aggregate price effects. The buying of Bitcoin with Tether also occurs more aggressively right below salient round-number price thresholds where the price support might be most effective."
There has been suspicion for some time that Tether was propping up bitcoin's price with CFTC opening an investigation in January.  In March, however, they printed out 300 million USDT and in May printed out another 250 million.
Something which appeared puzzling considering the investigation, with the question remaining whether these tether tokens are dollar backed or otherwise.
If they are fully backed, then it would be difficult to consider it an artificial price rise, with Bitfinex promising an audit long ago, but failing to deliver.
Otherwise, if they are not fully backed, then while a considerable portion of the price rise was due to a significant increase in demand, some of it would have been due to money printing.
Copyrights Trustnodes.com