Zebpay, one of the biggest crypto exchange in India, has sent out a notice to its customers warning withdrawals could stop ahead of a legal showdown at India's Supreme Court on July the 20th 2018.
Each visitor to their website is warned by a short paragraph that says: "As per a recent RBI action, banks have been told to discontinue banking services to those dealing with virtual currencies. While our industry is challenging this legally, the outcome is beyond our control.
Hence, if you are holding any rupees, or depositing any rupees in Zebpay, there could soon come a time when we may be not be able to honor withdrawal requests."
A broad sell-off followed after the announcement which effectively told their customers to withdraw fiat money, with crypto prices in India significantly lower.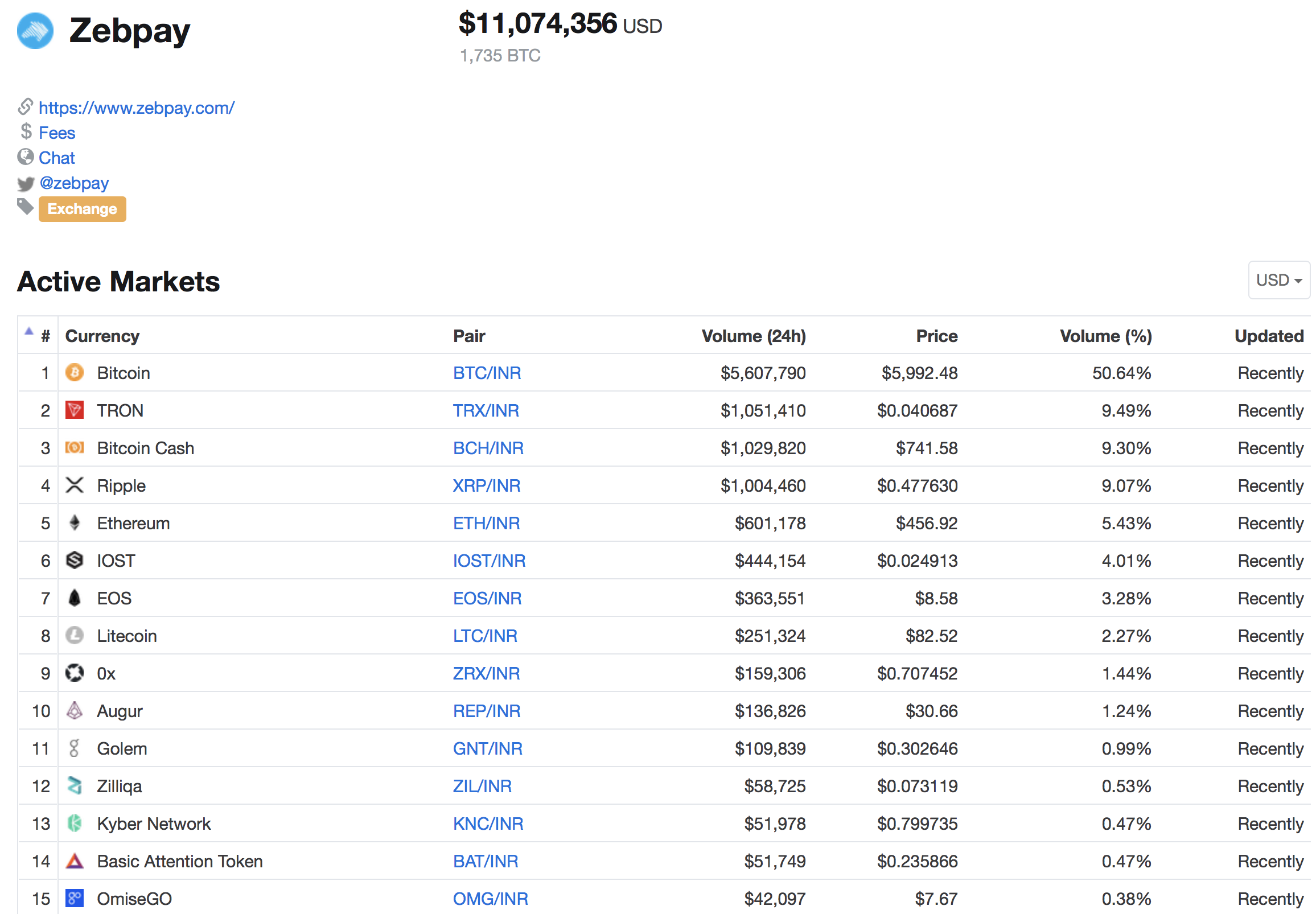 Bitcoin is seeing the biggest difference trading around $500 lower than in the west where it is currently priced at around $6400. Eth is $50 lower. All are lower.
That should make it a rare arbitrage opportunity as Zebpay says new accounts are being accepted with the KYC process continuing to be followed.
They say they will continue trading and currently they have banking services, but the Supreme Court ruling may well go against them, and thus they may be unable to serve fiat withdrawals. They say:
"Please note that you will not be able to withdraw rupees unless Zebpay has banking services that permit such withdrawal. Also, in case of disruption of banking services to Zebpay, you hereby indemnify Zebpay, and agree to hold Zebpay free and harmless at all times, against all claims, proceedings, expenses, costs…
Of course, since our bank accounts are functional at the time writing this announcement, you are welcome to place a withdrawal request for your rupee balance."
India's crypto community has been disrupted by a surprising diktat from the Indian Central Bank on April the 6th which ordered banks to stop serving crypto exchanges.
That order is being challenged as having no legal basis and for not following due process, with a recent request for information revealing the central bank had carried out no research prior to the circular.
The matter has now reached the Supreme Court in a class action lawsuit by numerous exchanges and interested parties with an historic hearing and potential judgment to be held on July 20th.
Ahead of it Zebpay is clearly preparing for the worst, but what the judiciary will rule is unclear as there are considerable practical basis to overrule the central bank, yet that would be a very rare event.
Rare because the Supreme Court may need to consider the policy implications, especially in light of the descent into chaos India saw in 2016 when some notes were ordered invalid overnight.
It is in that context of capital controls that the Central Bank has probably taken this decision, rather than AML or any real "criminal" concerns.
So joining China, in that regard, with both having a very weak currency which often devalues considerably leading to significant inflation and thus a search for appealing alternatives such as bitcoin or ethereum.
Yet a decision like this has not been taken in a century when money was decoupled from gold. Back then, the Supreme Court in America stood with the people, until the then president made a mockery of judicial independence and effectively fired them all.
Where the Supreme Court of India will now stand remains very much to be seen as their decision may well affect the technological progress India may enjoy as the world enters the second leg of the digital revolution.
Copyrights Trustnodes.com