The European Union Agency for Law Enforcement Cooperation (Europol) has become the world's first law enforcement agency to utilize the blockchain for the validation of conference speakers. They say:
"In order to practically demonstrate the benefits of the tamper-proof decentralised ledger technology, all speakers received Europol's certificates permanently stored and fully traceable within Bitcoin blockchain."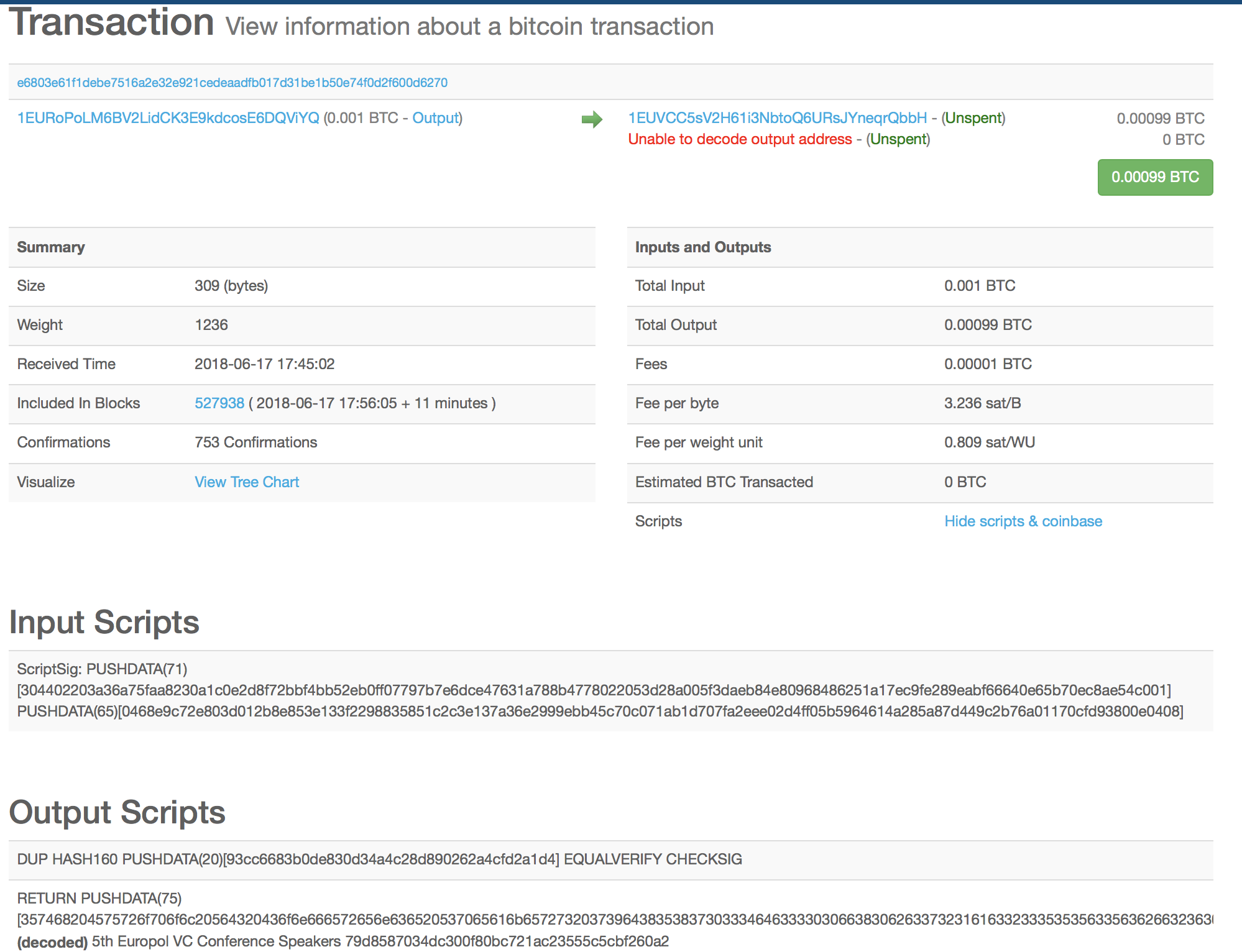 They've apparently created a vanity address that reads 1Europol and started using it on the 16th of June 2018. So now we have proof that there was a 5th Europol VC Conference speaker, but who that was exactly history won't know.
That there was such conference, however, there will be no doubt for as long as bitcoin runs for now no one can ever change that statement.
This was done as a sort of good will gesture to show that they like the blockchain and that it has decent use cases, but it also clearly shows they have some considerable blockchain related skills at the agency since you need some decent technical knowledge to get that fairly long vanity address and to encode the message.
The conference in question was held in Hague between the 19th and the 21st of June 2018 with 300 individuals participating from 40 countries.
That included a number of representatives from exchanges who Europol says "foster the legitimate use of [digital] currencies by implementing strong Know Your Customer (KYC) policies and working hand in hand with law enforcement.
Private sector participants included Bitcoin.de, Bitfinex, BitPanda, Bitstamp, BitPay, Blockchain.info, CEX, Coinfloor, Coinhouse, Cryptopia, Cubits, Kraken, LocalBitcoins, OKCoin, SpectroCoin and Xapo."
The conference focused on identifying methods for blockchain addresses to establish who transacted with who, when, and in what amounts. They say:
"The presentation focused, among other things, on tracing, attribution and demixing approaches. Twelve operational case studies were presented, where suspects were detected through cryptocurrency tracing, including phishing incidents, DDoS extortion, takedowns of dark web marketplaces and malicious cryptocurrency mining."
So suggesting that old fashioned detective police investigations work even with the very newest technology, but the far more interesting suggestions for some might be that Europol has bitcoins.
Copyrights Trustnodes.com