Bitcoin has never been lower since November 2017 with its price down by around $1,000 in the past two days to reach a new low of $5,800.
That makes it the lowest point in many months, lower than in February when it fell to $6,000, lower than in April when it stood above $6,000 and, save for a brief blip in November, lower than the price has ever seen since October.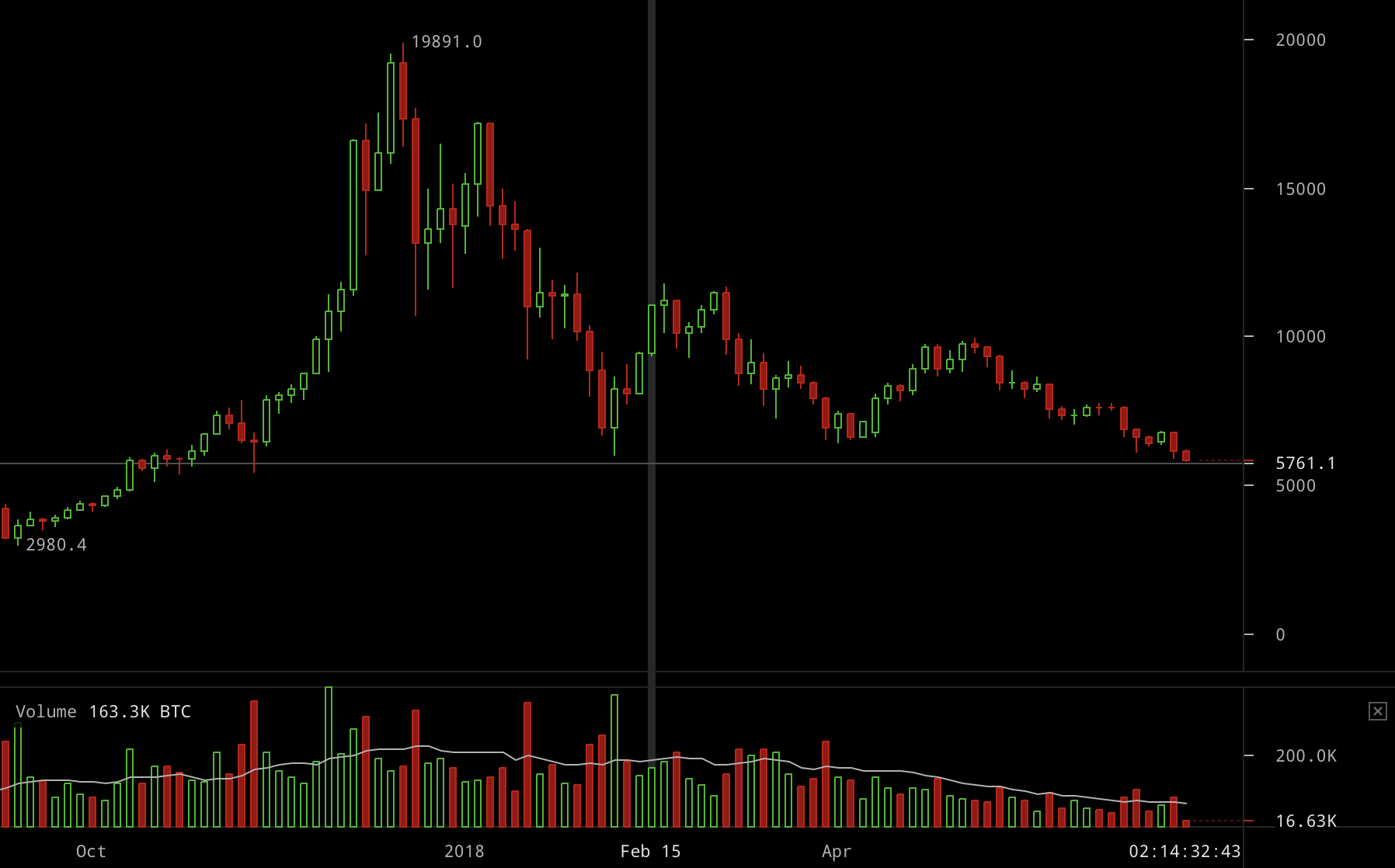 Its volumes have fallen too, back to around $3.6 billion, while its network capacity is now half used with bitcoin's blocksize down to 0.46MB.
That's considerably less than the significant backlogs it used to see, with bitcoin's blockchain now used less than even in 2015.
Its market share, however, is increasing, but its market cap is close to falling below $100 billion for the first time in many months.
One can't really see any one reason to stand out for this recent downturn. No exchange has gone down, no black swan event has been seen in bitcoin now in four years.
It may have therefore been a case of buy the rumor, sell the news, with the rumor being the scalability debate, and the news being the launch of the Lightning Network (LN).
The latter, as expected, has disappointed as far as it concerns the entire bitcoin network running on it, for it operates as an invoice system, making it quite different from a blockchain transaction.
It does have niche uses, but for everyday transaction the LN bitcoin becomes a bit more inconvenient in addition to plain bitcoin already being inconvenient by itself.
Usability has been a point made long ago and cryptos have gone some way towards addressing it, but now for bitcoin the task might be just a bit more challenging.
Yet no one seemed to care about usability, except when fees hit $70 and everyone started selling. The real explanation, therefore, might be plain supply and demand.
Supply halved for bitcoin in 2016, so price started slowly rising and rising, to then rise fairly quickly in December.
At the same time, more and more mining hardware came on. Now those two parameters of supply and demand are trying to reach an equilibrium.
Where that would be remains to be seen, and which miner is first to file for bankruptcy time will probably soon tell. In the meantime, perhaps bitcoin can get back to finding something other than price to talk about because price might get boring for a while.
Copyrights Trustnodes.com