One of the biggest retailer in the world with $10 billion in revenue and $2 billion in yearly profits, has joined the Enterprise Ethereum Alliance (EEA).
eBay has now become part of more than 500 members which include JP Morgan, MasterCard, Microsoft, Shell, AMD, Intel and far too many to mention.
They used to owns PayPal, but eBay announced plans to spin-off PayPal into an independent company which was completed on July 18, 2015.
So perhaps they're now looking at potentially offering crypto payment options, but why exactly they decided to join is unclear at this stage.
Foxconn, the Taiwan based company which employs 1.3 million people, has also joined. That coincides with Trump opening a $10 billion Foxconn factory in Wisconsin.
As a manufacturer, Foxconn might perhaps be interested to learn how ethereum smart contracts can be utilized in supply chains to keep track or for verification.
One of the big four accounting firm PricewaterhouseCoopers LLP (PwC) has also become a member, in addition to Deloitte which had previously joined.
Their interest in ethereum would probably be very diverse, ranging from tax advice to perhaps seeing how the ledger can be utilized in their own book-keeping as well as gaining expertise when they advise their clients.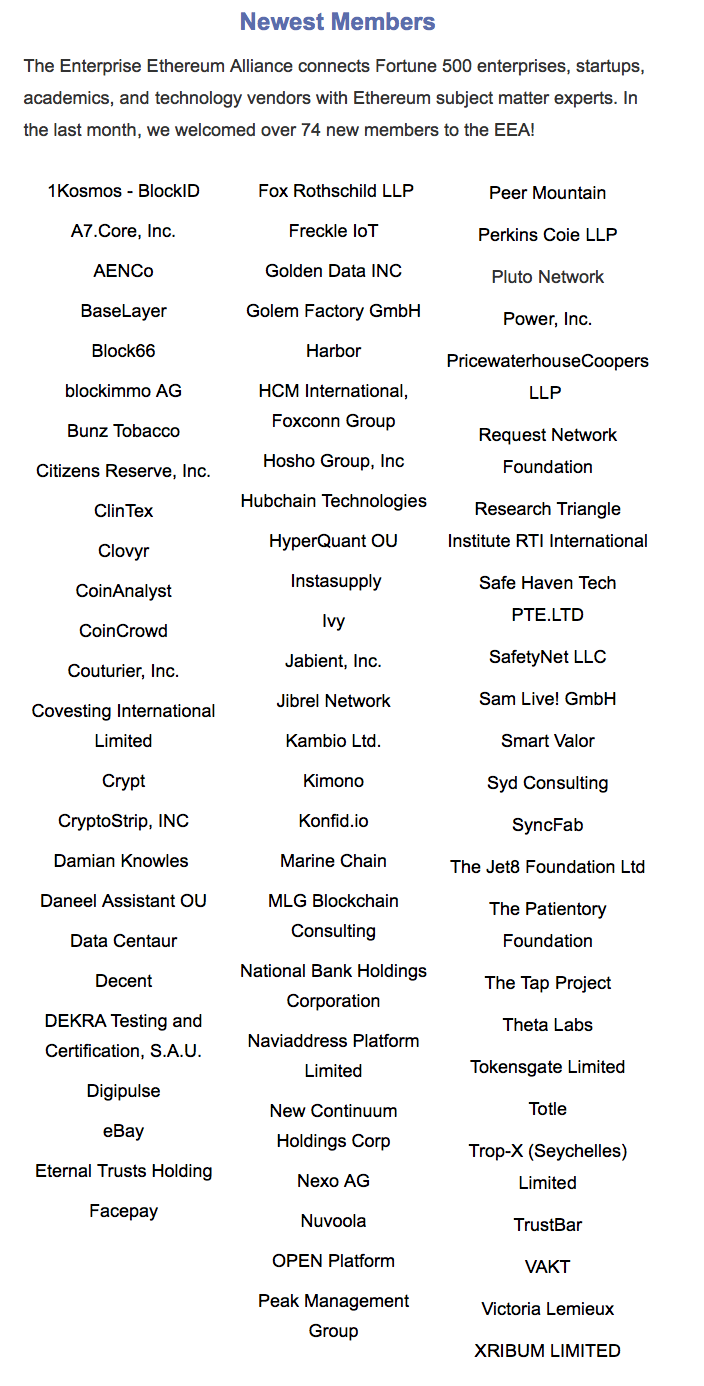 This addition of 70 new members makes EEA the biggest blockchain consortium in the world. The closest likewise consortium is Hyperledger which also announced 11 new members, including Lenovo, JD.com, BGI Shenzen and four other Chinese companies.
"Of late, it's been exciting to see the rush of innovation in China and other Asian countries, where we have a large and growing base," Brian Behlendorf, Executive Director at Hyperledger said before adding:
"However, we recognize that, thanks to our diverse community, enterprise blockchain technology is impacting companies and users around the world."
Both EEA and Hyperledger are trying to achieve the same thing. That is refining blockchain tech so that it can be utilized in an enterprise setting.
Hyperledger has built its own permissioned blockchain of sorts, while EEA has forked ethereum to create a permissioned blockchain called Quorum.
EEA hopes later on to connect that blockchain with ethereum's public blockchain, but for now it is mostly about gaining the skills, the expertise, the knowledge, and perhaps some trial runs to see how it all can be utilized.
Copyrights Trustnodes.com