An incredible $13.7 billion has been raised in Initial Coin Offerings (ICOs) during the first five months of 2018 according to a report by PwC in collaboration with the Crypto Valley Association.
Some 537 projects have ICO-ed this year, they say, with the first unicorn ICOs completing in 2018. Telegram alone raised $1.7 billion, while EOS has closed on $4.1 billion.

During all of 2017 there were more projects which ICO-ed, 552, raising 7 billion. Excluding Telegram and EOS, there have been 535 ICOs this year raising nearly $8 billion.
"After all the hype of 2017, this year has seen the ICO sector becoming more mature and established, with an improved focus on best business and legal practice, investor relations and fundraising," Daniel Diemers, Fintech Leader Switzerland, Head of Blockchain EMEA at PwC Strategy, says.
The report itself says ICOs are "rapidly gaining traction again," with hybrid models, where seed Venture Capital funding is followed by an ICO, "increasingly establishing themselves."
Interestingly, Britain has seen almost as many ICOs as the entirety of the United States and surpasses US in planned ICOs.
While Singapore has seen more ICOs by numbers which have raised even more in funding than America, potentially focusing the mind of Congress on just what the Securities and Exchanges Commission (SEC) is doing in this space.
Swiss based ICOs have raised almost as much as the British ones, both standing at around half a billion each, while Estonia and Lithuania are becoming a destination, raising more than half a billion in combination.
Cayman Islands and British Virgin Islands are both inflated as Telegram and EOS ICO-ed there, but an interesting picture is emerging here.
Singapore is clearly leaving the rest of Asia in the dust. They caught the crypto radar pretty early on when the Singaporean Monetary Authority tokenized their dollar through an ethereum based blockchain.
For America here the story is they are waining in influence, probably because the way SEC went about the matter left very much to be desired.
But the biggest story is arguably Europe. There's hot competition there with all of the top European destinations raising nearly twice the amount of USA based ICOs, while by the number of projects they have 113 in combination.
France or Germany, interestingly, are not registering here. The French finance minister has become very friendly towards this space, but that was a relatively new development so results are not yet showing.
Germany has significant opportunity where engineering ICOs are concerned, but they're almost off the crypto radar.
Israel, however, is seemingly trying to make an entrance. We haven't heard much from their regulators, but we hear the country has some blockchain tech skills.
And finally Hong Kong seems to be struggling to keep up when compared to Singapore. China's ban of ICOs and even crypto exchanges might have reverberated there too even though they are technically independent jurisdictions.
You'd think Japan or South Korea would be there somewhere, or Russia, but there seems to be a tendency towards a continental jurisdiction, except for in Europe where jurisdictional competition appears to be very fierce indeed.
It may get even hotter. America has effectively told its entrepreneurs go to Europe if you want to ICO up to around $10 million. Under EU crowdfunding rules, such $10 million cap would give you complete regulatory certainty while exempting the ICO from accredited investors rules.
In America that cap is $1 million, as a bit of an insulting joke presumably. We think a $20 million cap would be reasonable, but $10 million can work and we doubt regulators will hair-split if  it is good men and women ICO-ing.
The other interesting finding here is the changing role of Venture Capitalists (VCs). Many ICOs seem to prefer taking a seed VC round which can range from $100,000 to $1 million, and then ICO.
The reason is because it gives investors more confidence as they know someone has looked at the team and the figures, but there can also be misaligned incentives as the VCs might care less about the product and more about whether they can sell their tokens for 10x once it ICOs, called a flipping to others.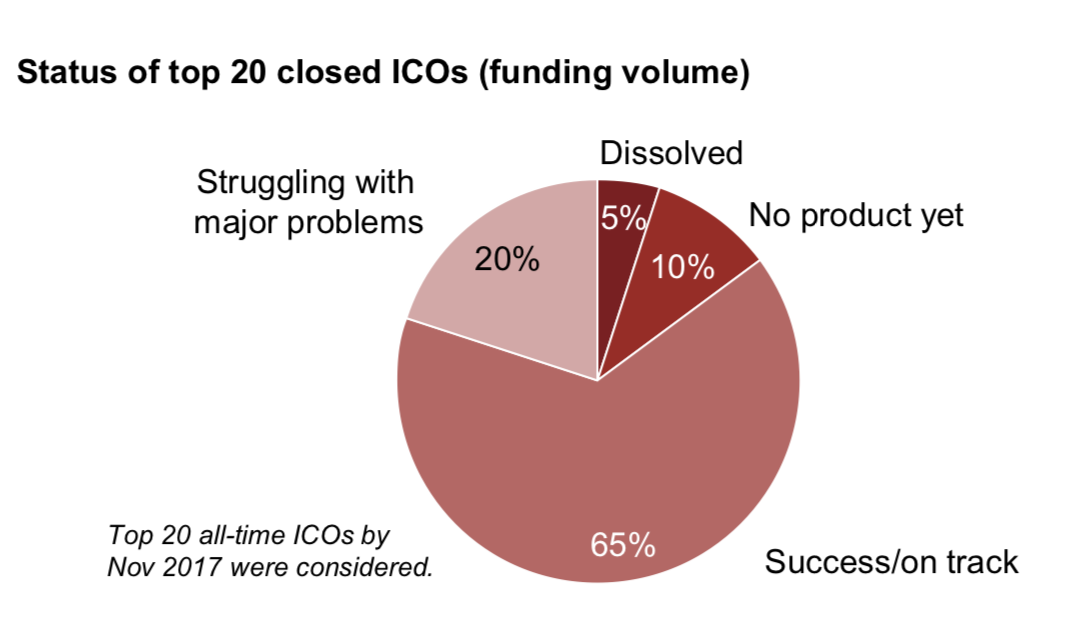 Apparently 65% of ICOs are on track to deliver, with just 5% failing so far, and another 10% having no product yet while 20% are struggling.
The figure, although it looks high, makes sense considering just how little time there has been since they ICO-ed, but it is limited to just the top 20 ICOs by funding.
The 20% there is presumably Tezos which has had some considerable inner conflict within their team, but that now appears to be resolved with the project ready to launch.
We can't quite think which ICO has dissolved, unless they mean the Slockit DAO. Nor what they mean by no product yet.
For all ICOs we'd think that chart would look a bit more balanced, but the overall picture here appears to be that the token phenomena is accelerating.
Copyrights Trustnodes.com