Sirin Labs, the company behind the $16,000 Solarin smartphone, has unveiled designs for its latest device, a new blockchain-based smartphone known as the FINNEY.
Named after Bitcoin pioneer Hal Finney, the FINNEY has been specially designed to bridge the gap between the blockchain ecosystem and mainstream audiences, with a more modest price point of $1,000.
The FINNEY features a secondary display called the "Safe Screen," which possesses similar functions to a hardware wallet that will allow users to access an embedded cold storage wallet for cryptocurrency storage.
According to Sirin Labs, the Safe Screen also runs on dedicated firmware that will be able to verify that FINNEY wallet transactions are being sent to the correct address before payment is sent.
FINNEY smartphones will also function on Sirin Labs' proprietary operating system, SIRIN OS, which is a 'fork' of Google's Android operating system.
The FINNEY smartphone is said to house an embedded cold storage wallet, a multi-layer cybersecurity suite, a token conversion service and a multi-blockchain dapp store.
With regard to its specs, the FINNEY is up there with the competition. The FINNEY comes with a Qualcomm Snapdragon 845 processor, the same processor that Samsung uses in its Galaxy S9 and Galaxy S9 Plus smartphones.
The Finney boasts a 6-inch display that features the same notch design as that of the iPhone X. It  also comes with 6GB RAM and 128 GB of storage memory, a fingerprint sensor, 12-megapixel camera and 8-megapixel selfie camera located on the front of the phone.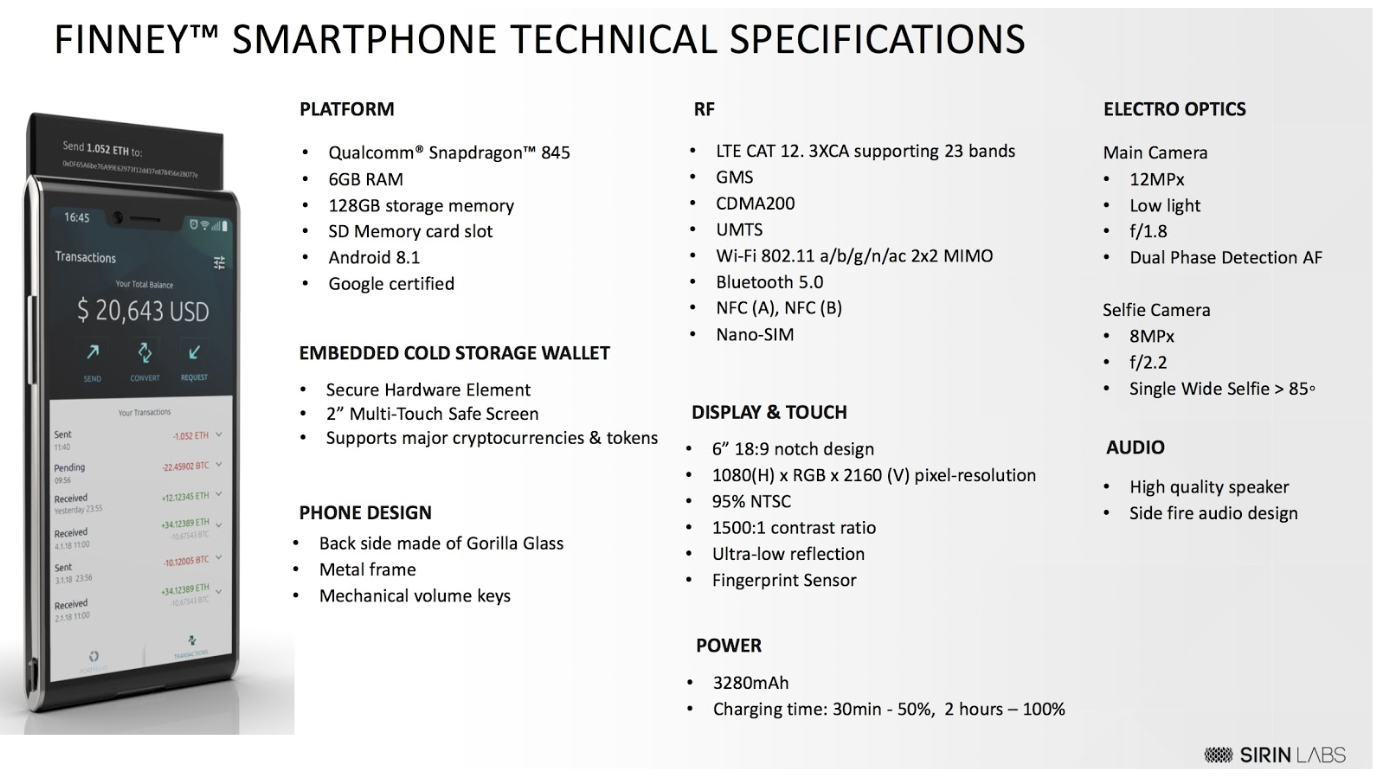 Sirin Labs conducted an initial coin offering (ICO) to help fund development of the FINNEY, raising over $157 million, the fourth largest crowd sale in history.
The FINNEY is set to hit markets in November, with the company recently signing football superstar, Lionel Messi, to help create awareness about the smartphone.
Copyrights Trustnodes.com