The grand jury for the district of Colombia has charged 12 Russian agents with hacking into Hillary's campaign during the 2016 elections.
In an extraordinary series of allegations, the US prosecution says the 12 agents, which they call conspirators, hacked DNC by sending phishing e-mails.
That is they spoofed the email addresses of well known Hillary campaign employees by changing a letter here or there, then directed them to phishing websites where they tried to fool them into entering their passwords.
The indictment says some of Hillary's personnel did fall for this, which then gradually allowed the Russian agents from an intelligence unit called the Main Intelligence Directorate of the General Staff (GRU), to install malware, keyloggers, and so on, translating to a complete vision over Hillary's campaign.
The Russian agents posed as DCLeaks and Guccifer 2.0, the indictment says. Guccifer shared the hacked data with Organization 1, they say.
They never name Organization 1, nor explain why it is not named. From the circumstances it is obvious they mean Wikileaks. They say:
Much of the hacking infrastructure, such as VPN and servers, was purchased in bitcoin, they say. Although they do add the alleged conspirators used a variety of currencies, including US dollars.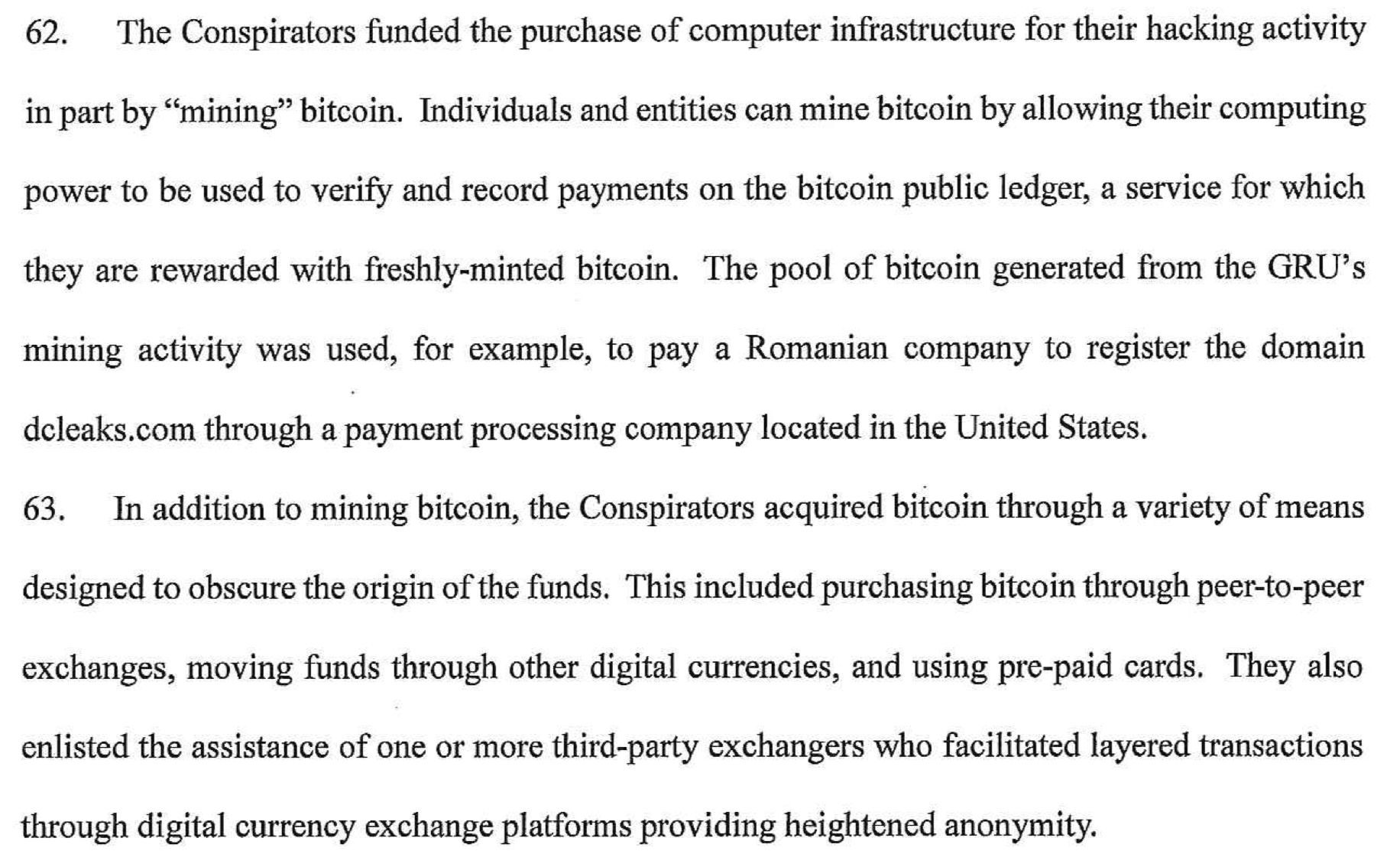 This indictment announced just a few minutes ago, arising from special counsel Robert Mueller's investigation of Russian interference in the 2016 election, was made at the very exact same time as President Trump shook the hand of Queen Elizabeth the Second.
The utterly sensitive political timing comes just days before Trump is to meet Putin one on one, without any aids, this Monday.
No evidence whatever is presented in this indictment. No bitcoin address is shared, although they claim to know at least some of the bitcoin addresses that were used.
There is thus no means of independently analyzing any of what is said in this indictment, and, it is unclear whether any evidence will ever be presented in public for if they are Russian agents then one can't quite see how they will stand trial.
Making all this very much allegations, but quite extraordinary ones for their nature is utterly political.
Copyrights Trustnodes.com