On June the 8th 2017, one eth was at $420. On July the 8th 2018 and today, one eth is at $430. As  such, there hasn't been much gain or loss, although $420 was very brief in 2017 with most buying below that.
That's if we ignore the November, December, and early January price rise to $1,400 so much depends on what date you want to pick.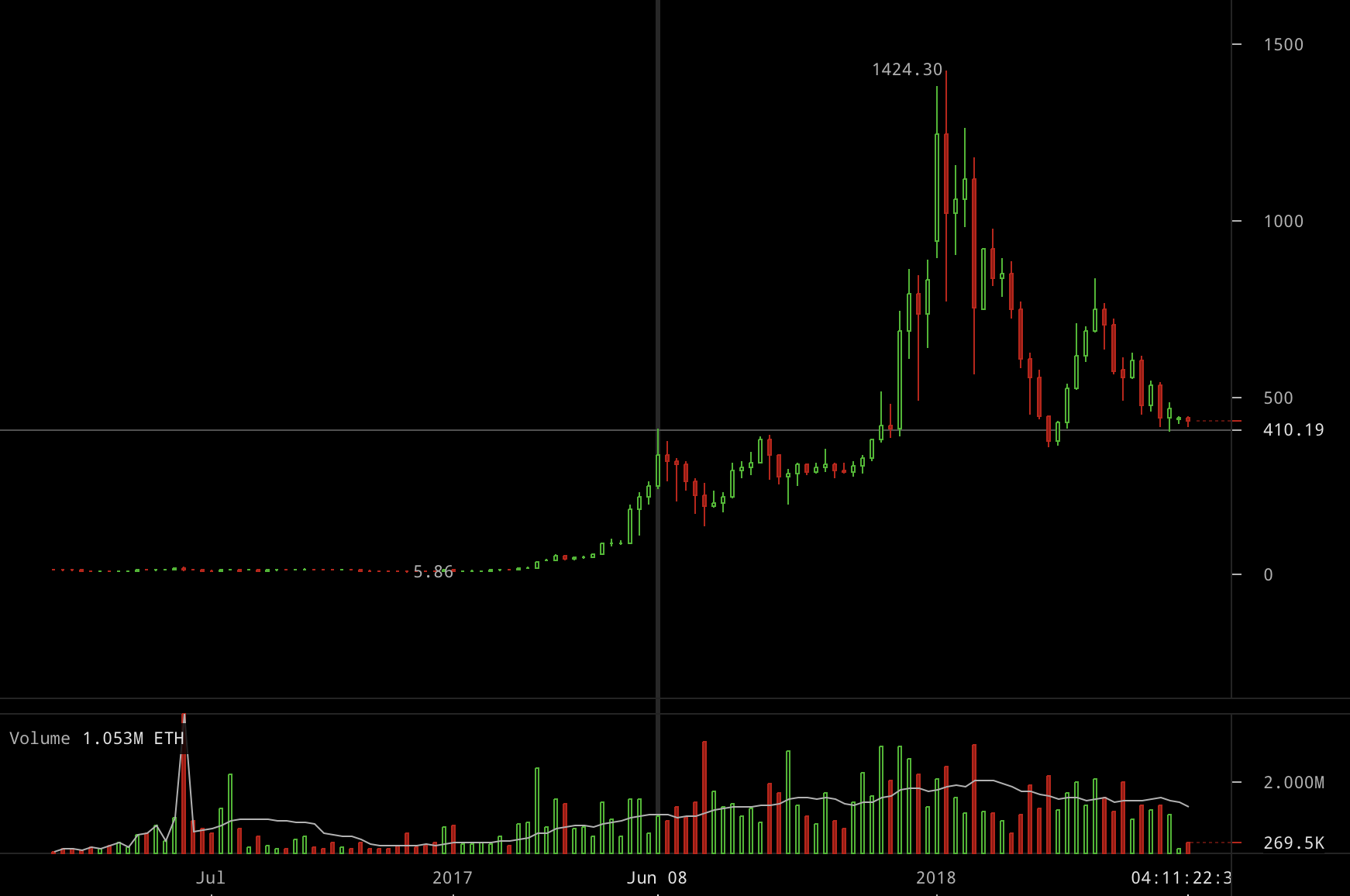 We can be fairly sure this is not 2014, at least so far and at least as far as there has been no blackswan, thankfully, but which year might it be? Let's start at the beginning.
Bitcoin rose to around $20 in 2011 when coders first heard of it. Then it "crashed" to $2. It rose to around $260 in 2013 when Reddit first heard of it, then it "crashed" to around $50.
In November 2013 bitcoin rose to a high of around $1,000 when China first heard of it. Then of course it crashed again in 2014 to as low as $150.
Much of 2014 was that crashing part, while 2015 was very much sideways. A slow rise begins in 2016, and then we have the euphoria high of $20,000 in late 2017 when ordinary Americans first hear of it. Then of course again "crashed" in 2018.
Ethereum rose to around $20 in 2016 when coders first heard of it, then it "crashed" to a low of $5.
In March or Spring 2017, ethereum rose to $420 when reddit or really bitcoiners heard of it, then "crashed." In November of 2017 it rose to $1,400 when South Korea heard of it, and then you know the rest of the story.
Now where do we begin? Well, MT Gox and DAO obvious similarities, but DAO was two years ago, while MT Gox was pretty much throughout but with the biggest bang in 2014.
Another point to address is can the Winter 2017 high for eth be considered as a sort of fluke, non real thing, mainly mechanical because of bitcoin?
That would be too out there, not least because so far there has been another similarity. When bitcoin crashed in 2014, it was the first time it fell below its previous all time high, that being below $260 which it reached in March 2013.
Ethereum's fall to around $370 this year is likewise its first time it fell below its previous high, that being $420 in Spring 2017.
So maybe it is 2014 after all as far as eth is concerned, but mind the much more condensed time lines in eth. It took bitcoin about two years to rise after its crash in 2011, for ethereum it was about seven months after the 2016 crash.
That's while 2011 and 2016 had a lot more in common as the MT Gox hack and the DAO hack are very comparable. While bitcoin 2014 and eth 2018 only have in common the price movement, at least so far.
Eth hasn't seen a calamity of the MT Gox bankruptcy scale, so the time-line might be even more condensed. Which kind of feels like more bitcoin 2016 rather than 2014 for eth 2018.
Of course, all of this is complete speculation, but it might perhaps suggest how cryptos grow in adoption. In waves, as the meme says.
That may be because this is all so new, when you first hear of bitcoin or eth you're naturally very skeptical and might even be idiotically hostile. And then when you hear it for the second time and third time you start wondering whether you should look into this thing.
The story for bitcoin for example where ordinary people are concerned might perhaps best be told by eth. Dictator Theymos and his brainwashing forums told everyone eth is a scam, rubbish, whatever, same yada yada the media uses towards bitcoin.
It is fairly effective, however, at least initially. You know, propaganda works, but less on free people or where there are free choices. So for a bitcoiner for example who first heard of eth, he/she probably went by hearing it's a scam and so didn't even look into it.
Then when bitcoiners started hearing more about eth, they begin wondering well is this, what actually is this thing. Then they look and they see all the fine brave new world.
All of that however doesn't necessarily have any predictive power. It doesn't mean eth will now rise to $20,000 like bitcoin did, especially as eth now is congested like bitcoin was when it rose to $20,000.
It's just that they've shared not only price movements, but also major events like Gox and DAO and even congestion, so far anyway. Which makes it all a bit interesting.
Copyrights Trustnodes.com