Ethereum is up today to around $470, rising by $20 since yesterday after taking $450, following a rise the day before to $430.
Trading volumes are finally up to more than $2 billion, with ethereum gaining against bitcoin today by rising 2.11%, the ratio now so standing at 0.071 BTC.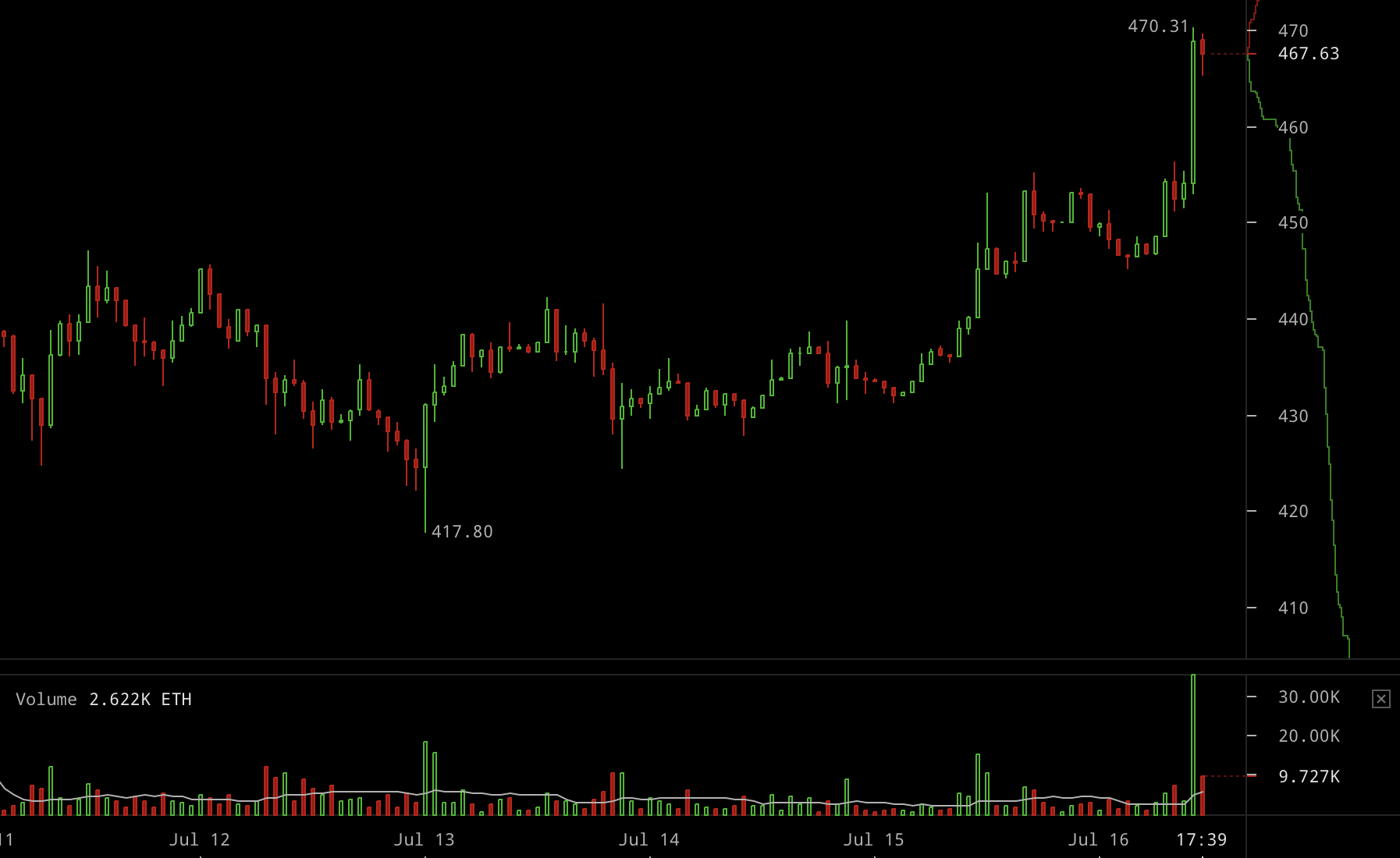 Interestingly, a new exchange has made an entrance with a bang. The Hong Kong based Coinsuper is topping the list of ethereum markets, handling just over half a billion in trading volumes on the ETH/BTC pair.
They reveal little about themselves on their website, except to say they are "a global elite team with extensive experience in financial advisory, compliance, wealth management and most importantly, cryptocurrency and financial technology."
They are handling $17 million in ETH/USD trading volumes, and nearly a quarter of a billion for BTC/USD, potentially suggesting Hong Kong is making an entrance.
Standing in second position is ViaBTC's Coinex. There too, it's the ETH/BTC trading pair, with some $120 million in trading volumes during the past 24 hours.
Overall, it looks like there has been a lot of movement in exchanges. Bitstamp, for example, is figuratively no where to be seen, with IDEX nearly handling more eth volume than they.
As can be seen, there's a lot of new names and even a new currency, CKUSD, which is a tether like dollar peg.
Interestingly, there's a CNY pair within the screenshot vision. So much for the People's Bank of China (PBoC) claiming victory.
Just as interesting might be the fact South Korea is no where here, or the Euro pair. Both are of course a bit lower down, but there have been a lot of changes since we last looked.
It may well be the price is rising because of those changes, with potentially new jurisdictions making an entrance, but it might also be simply because the global crypto market cap was sidewaying for three weeks.
So after trying to fall further and seemingly failing to do so, it perhaps thought to try a rise, with $470 now potentially a resistance level.
If that is taken, then bulls might stare at $520, which if too taken would give some confidence, but we'll just have to wait and see.
Copyrights Trustnodes.com