Bitcoin went ballistic yesterday, rising by nearly $1,000 for the first time since the 2017 bull run, from around $6,700 to a high of $7,500.
Its trading volumes are up to $6.5 billion, with global trading volumes returning above $20 billion once more.
More interesting perhaps is the fact the global market cap is now almost $300 billion, up by $50 billion in the past few days from $250 billion.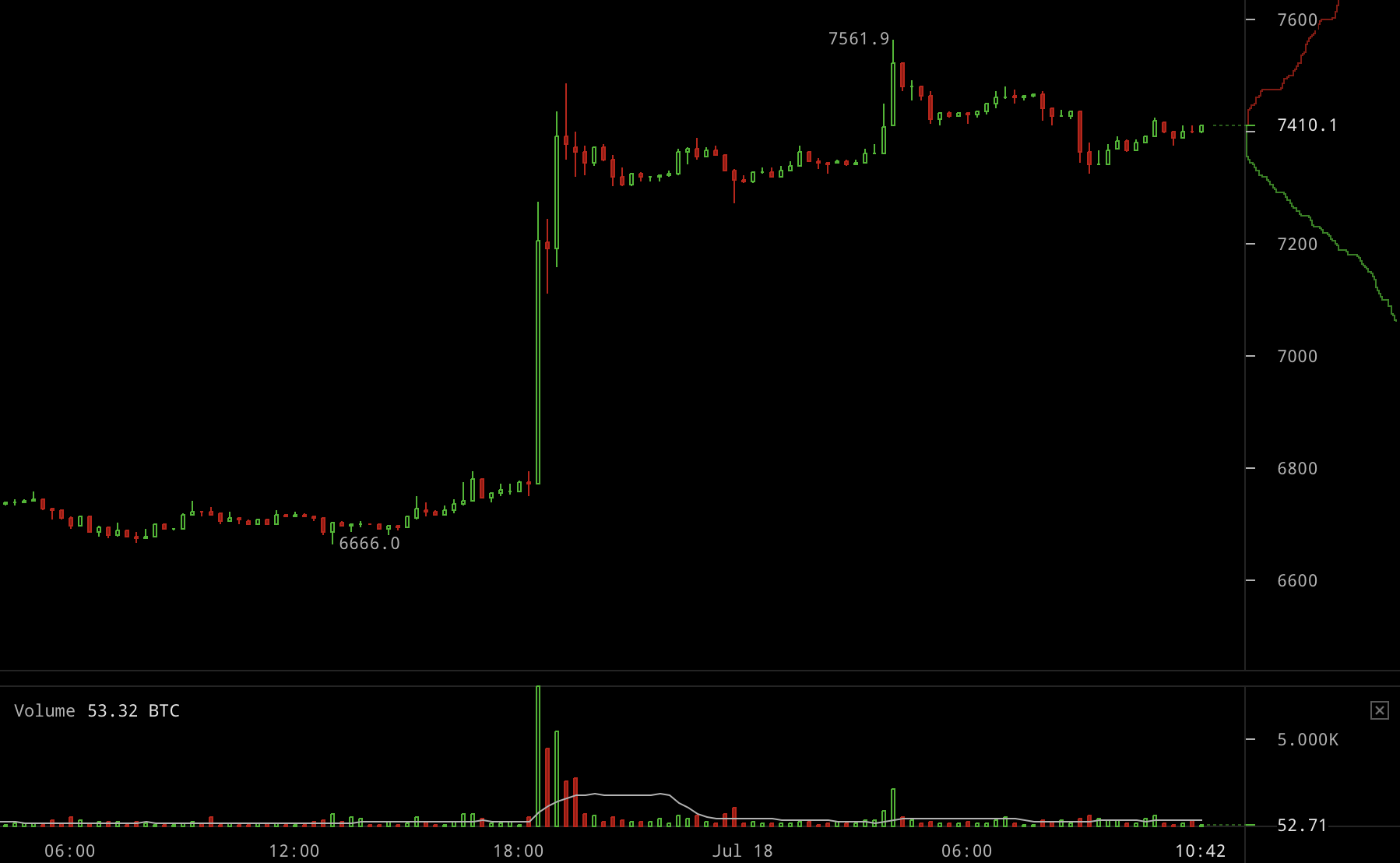 So what happened and what may be currently happening? First of all, there is no obvious reason for the spike. No reasonable premium, although the former BTC-e exchange now called WEX has a $2,000 premium, as does Fcoin.
It appeared for a moment that something might have happened in Japan as bitFlyer was going ballistic, but Jon Holmquist from bitFlyer told us:
"Just an average Tuesday in the markets. I haven't seen any big news break in the last couple hours, so I don't have any particular insights on this run."
Some are expecting a u-turn in India, and since many speak english there the news might travel faster. From Japan, or Asia, it takes about a week for news to arrive and for our news to make it there, but of course everything has exceptions.
It may however be the case that nothing particular has happened, but a lot of small news may have turned into an avalanche.
It is worth noting the fiat settled futures have a slight premium of $100 on CME for the August settlement. That is a rare sight because usually they sell at settlement time which is now, then buy. Now they seem to have reversed.
Congress is finally looking at the securities act. There are suggestions it is the first of many. We asked both the republican and democrat congressman and women who agreed the bipartisan bill some questions, but have not yet received a response.
The bill might have passed yesterday, and perhaps that is a good enough reason for a crypto rise, but cryptos begun turning timidly bullish about 3-4 days ago with eth and bch rising some 10% while bitcoin lagged. Now bitcoin seemingly got angry and started making noises again.
After seven months of a bear market, it appeared the point was reached when bulls turned bear, and bears turned bull.
Following three weeks of sidewaying, while much good news was pouring in and while a black swan remains avoided, cryptos have, what looks like for the first time in a long time, managed a higher low.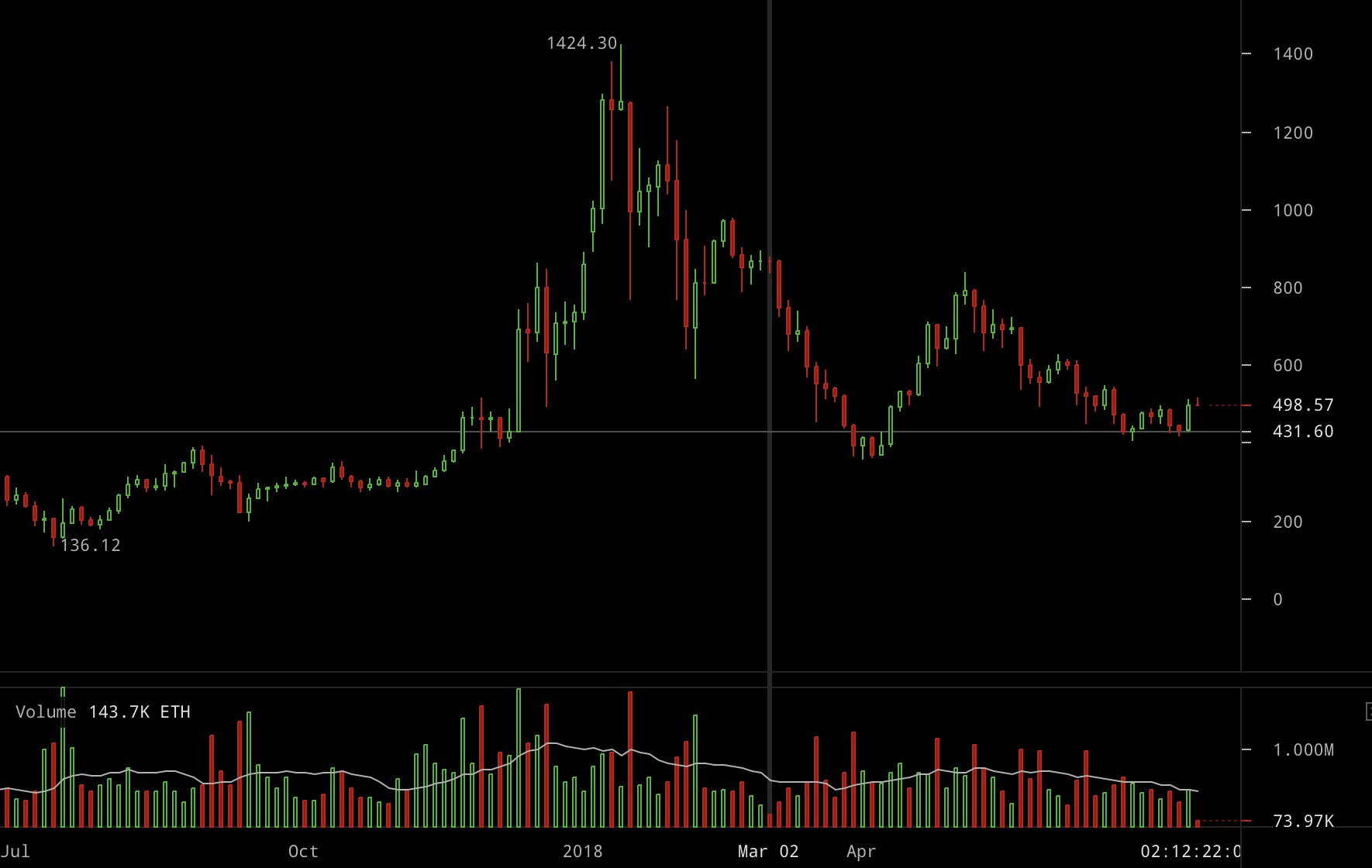 As can be seen, it is perhaps a bit too early to call it a low when you zoom out, but the last green candle is the biggest for months.
Eth, however, didn't cross $520, which is resistance, but if it does $570 might give some pause, then $620 and so on, with the biggest one probably being $900 if it manages to near it.
It may instead simply sideway a bit more after sidewaying for three weeks, or perhaps it might even go down again, who is to know.
Sentiment, however, appears to be a little bit better and there wasn't really any reason for eth to crash so that money that sent it to $1,400 probably hasn't gone anywhere.
That was seven months ago. Since then there has been growth, of course, although not in price,  with institutional investors now perhaps trying front-running ahead of eth's inflation slashing in a few months potentially in mid-2019, BCH's halving probably around the same time, then bitcoin's halving in 2020.
Which means there is plenty of reason to be bullish in a zoomed out time-frame, and little really to be bearish, but who is to know.
Copyrights Trustnodes.com