Bitcoin's price spike by almost $1,000 yesterday was seemingly due to new money entering the market, specifically USD.
Starting at around 6PM London time, bitcoin's dollar trading volumes significantly increased within one hour to their highest level for the month by far (featured image).
Some $55 million was traded in bitcoin within five minutes at around 6:40 PM, falling slightly to above $40 million at 6:45PM according to data from CryptoCompare.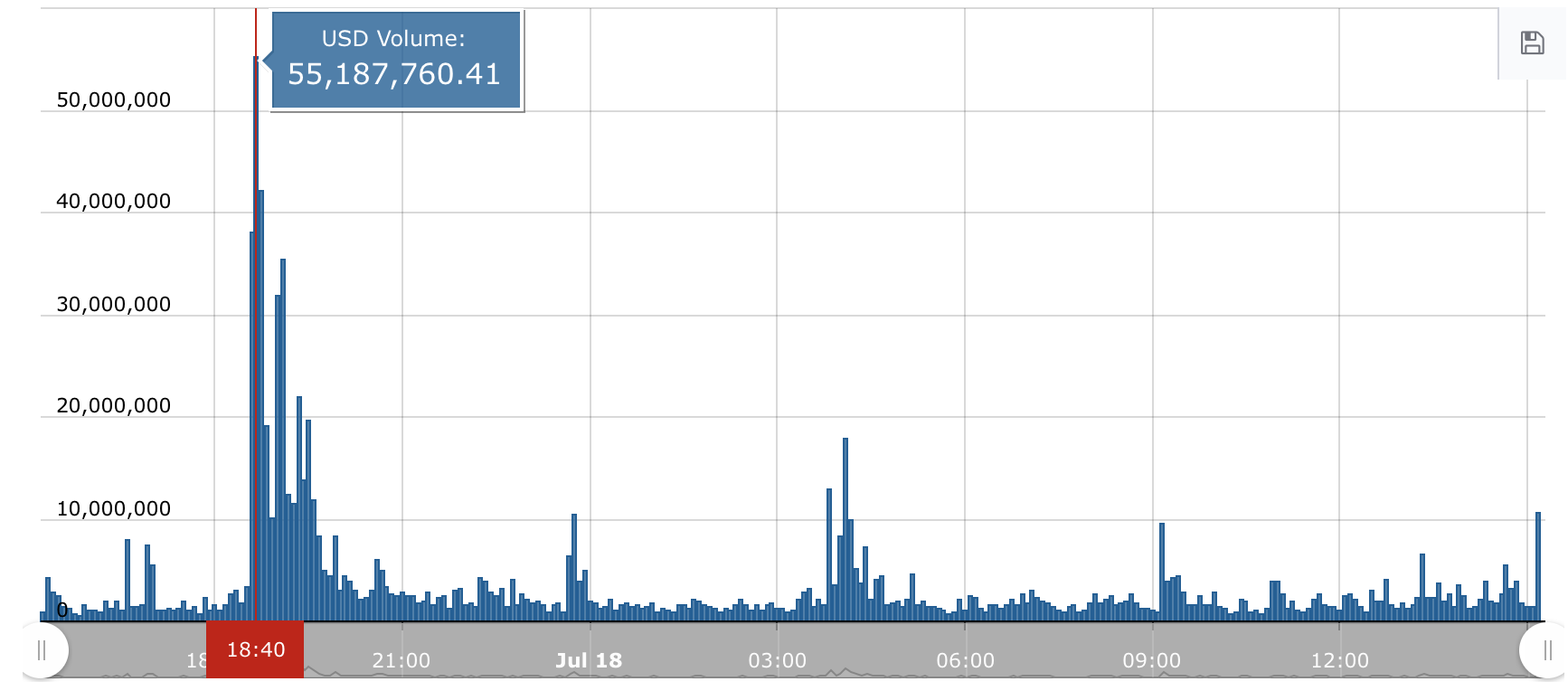 Trading volumes do not necessarily mean new money has entered the market due to wash trading, but there is evidence to suggest the price spike was due to an increase in dollar volumes.
If we look at ethereum, for example, such volumes went up but not at the same scale as in bitcoin. In eth instead it appears it was more of a "normal" high.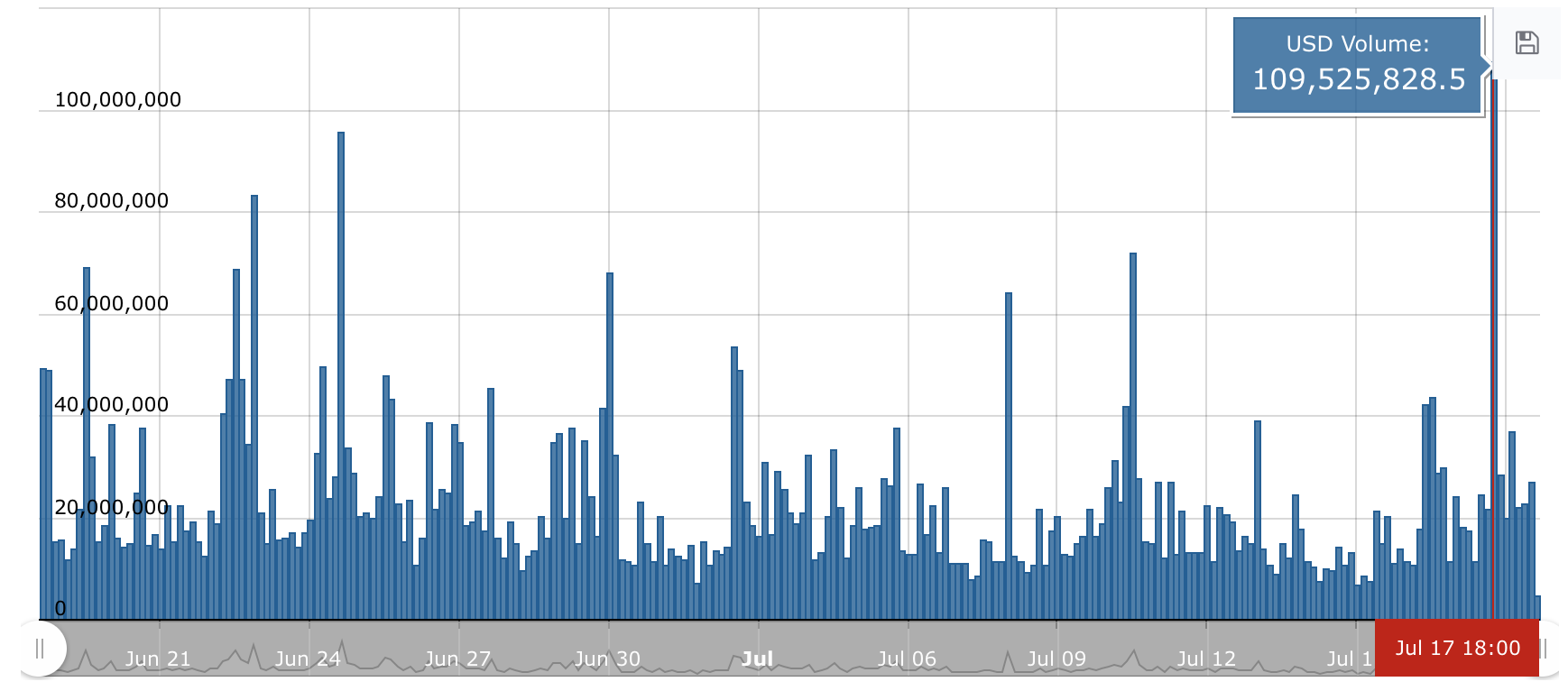 In bitcoin, in contrast, its high of $400 million is considerably more than its usual highs of around $150 million.
Moreover, the USD trading pair significantly gained against other bitcoin trading pairs at the time of the spike: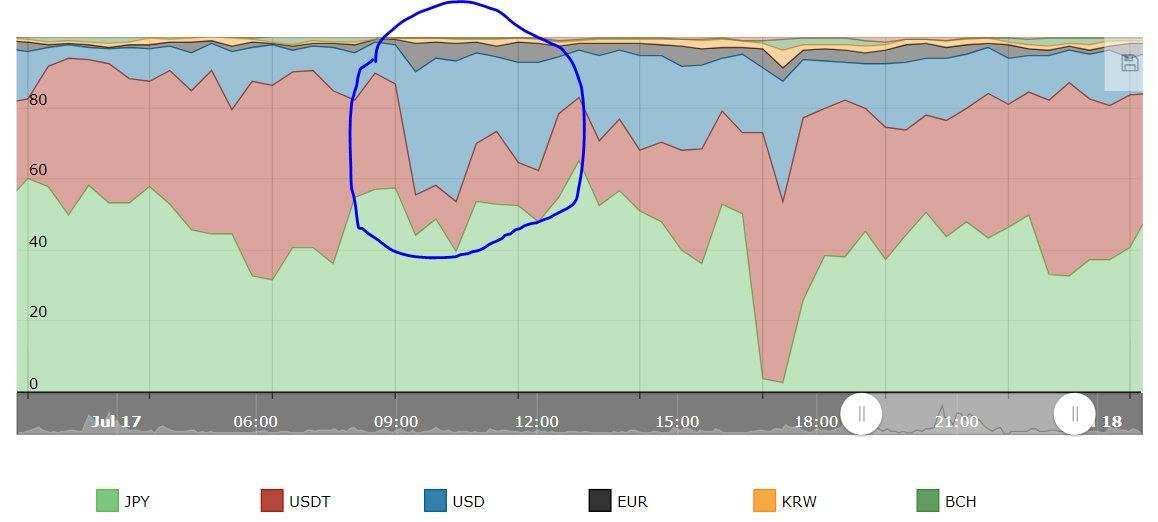 As can be seen there, the dollar pair in blue nearly reached 50% of all other bitcoin trading pairs, with Mati Greenspan, Senior Market Analyst at eToro stating:
"The fact that this surge happened on USD and not Tether might indicate that it is due to fresh money coming in."
He says there has been a "flurry of positive announcements this week," before further adding in a commentary:
"The market was quietening down over the last week, which is typical around market bottoms when investors lose interest and focus on other things. A great technical setup yesterday may also have helped spur prices forward.
Investors would be wise to remain cautious, as we saw a similar situation in April where some big short positions were squeezed causing the price to surge. That said, if bitcoin pushes past $8k, it'll indicate that the bull is back and prices could continue to climb further."
Whether it will do so remains to be seen, but it looks like bitcoin and cryptos more generally are seemingly once more attracting some serious new money.
Copyrights Trustnodes.com