Brave Browser's Basic Attention Token (BAT) spiked 20% today, rising from $0.32 to $0.41 with a market cap of now $400 million.
They've had plenty of good news recently, reaching 3 million active users with the project apparently growing fairly quickly.
They're also testing the bats for ads part, that is where you receive some bats for opting into ads, with the biggest news of course being Coinbase's statement that they intend to list bat.
We're not sure how well it's going as far as publishers are concerned, however. We've received about a fiver in the past two weeks, so it isn't nothing and clearly there is some activity on there, but it is pennies.
Augur's Rep token is up some 10% today, rising from around $30 to a high of almost $40 before settling at around $33 at the time of writing.
Their dapp finally launched about two weeks ago, with everything seemingly going fine, thus it looks like South Korea is rolling the dice.
Upbit is handling $32 million in trading volumes between rep and Korean money, toping the list for the token which has now reached a market cap of $360 million.
The bitcoin trading pair interestingly follows, while for bat it sort of dominates, suggesting this price rise may in part be due to bitcoin's recent bullishness.
Eth, however, isn't feeling much bitcoin love. Traders there are instead wondering whether they should just jump into btc, or whether it is a bit too late.
The eth/btc ratio has been going downwards since May with anyone's guess as to whether it has more to go or whether it will turn.
The eth/fiat pair however seems to have an upwards trend, making what looks like a third higher low since April.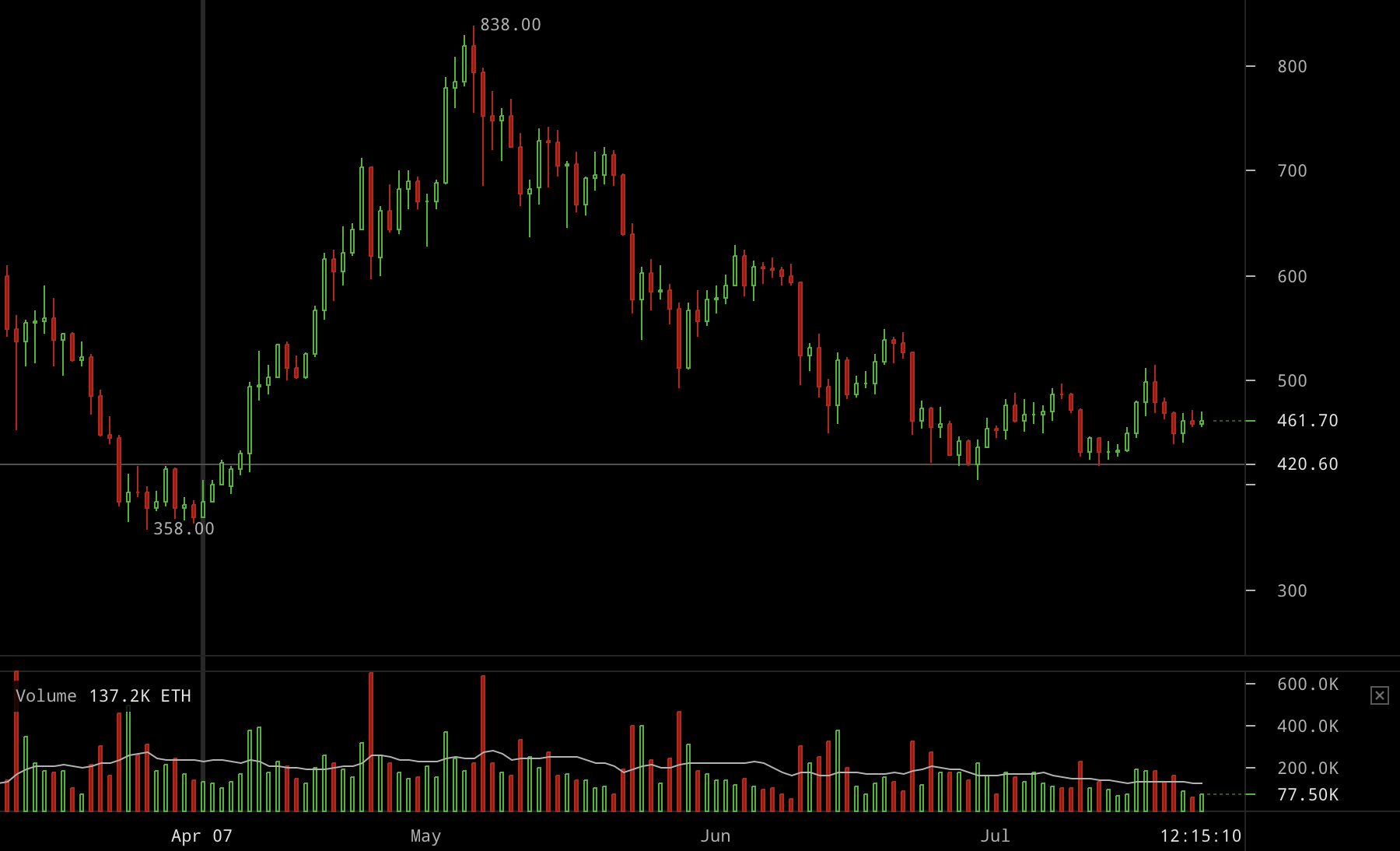 In a way it looks like consolidation for much of this month in a zoomed out time frame, and the reason for that might be the $470 resistance.
Eth managed to briefly pass it and reach $520, but that was seemingly due to bitcoin's surprise jump ~last week of some $1,000. Thus eth quickly gave up its gains and thus some of the ratio.
That event seems to have led traders to wonder whether eth will keep up and whether they are safer in bitcoin, with the atmosphere on ethtrader daily a bit depressing.
It may however be that eth is simply doing its thing in trying to "legitimately" overtake the $470 resistance, with a flight to bitcoin previously seen as most cryptos were down while bitcoin was up a few days ago, but currently it seems only eth is not moving while much else is up.
Some suggest the delay of Casper might be part of the reason. A potential bitcoin ETF fomo the other part. Yet a planned 30% reduction in issuance should cancel all that and more you'd think, but markets be markets.
Diversification is the name of the game, within cryptos and traditional investments, yet today it does slightly feel like the new game is the return of the old one: pick the next random 50% increase.
For today that's Bitcoin Diamond, or it was a second ago. Now it's 37% down. The craziest coin if there ever was one.

So cancel that, it's BAT, or would it be fair to say Holo which was just added to Binance making it jump 61%. They even have a website, and to be fair they have a github too where they say:
"Holographic storage for distributed applications. A holochain is a monotonic distributed hash table (DHT) where every node enforces validation rules on data before publishing that data against the signed chains where the data originated."
What that means we're not sure. A node apparently needs part of the data they say in this set-up, rather than all of it.
What we're fairly sure of however is that cryptos seem to have returned back to "normal," at least for today and really for much of this month.
Copyrights Trustnodes.com